Instruction
While preparing dough, make sure it is not beginning to Shine, it is a sign that the butter has melted. So, the dough will crumble and ill roll out. If this happens, cool it and roll out on a floured Board, then it will accept and retain any shape.
Thick chunks of cookie dough baked bad, so for cookies and cakes roll out a layer of 5-8 cm. Thick layers bake at a low temperature, and thin, on the contrary – high.
Try to keep the layers of dough for each kind of products have the same thickness, otherwise when baking alone, can burn, and other not grilled.
Grease the pan when baking dough is not necessary, since it is so oily and stick will not.
For baking articles of dough, place them on a baking sheet a few times prick with fork and bake in pre-heated oven.
The key to your success, of course, depends on the correct preparation of the test. If you knead it by hand, make sure that hands and the ingredients were chilled. It is important that the moisture that is in the oil that might evaporate in the process of mixing, and not before, otherwise the dough will loose. Kneading dough make two hands from the edges to the centre, gradually taking in flour. Always mix dry ingredients of flour, and a liquid – eggs.
Before you roll out the dough, place it in the fridge for about 20-30 minutes. For baking small items take the dough in small portions, and the rest store in the refrigerator until use.
If the pastry starts to burn, cover it with parchment paper. It can also put the baking sheet before baking.
Shelf life of cookie dough in the frozen 2-3 months.
The finished sand products have a light brown or Golden shade.
Advice 2: How to bake in an electric oven
Preparing food is not only important ingredients which enter into its composition, heat treatment. And if you decide to cook in an electric oven, you need to understand how to use it, not to spoil the taste and appearance of your dishes.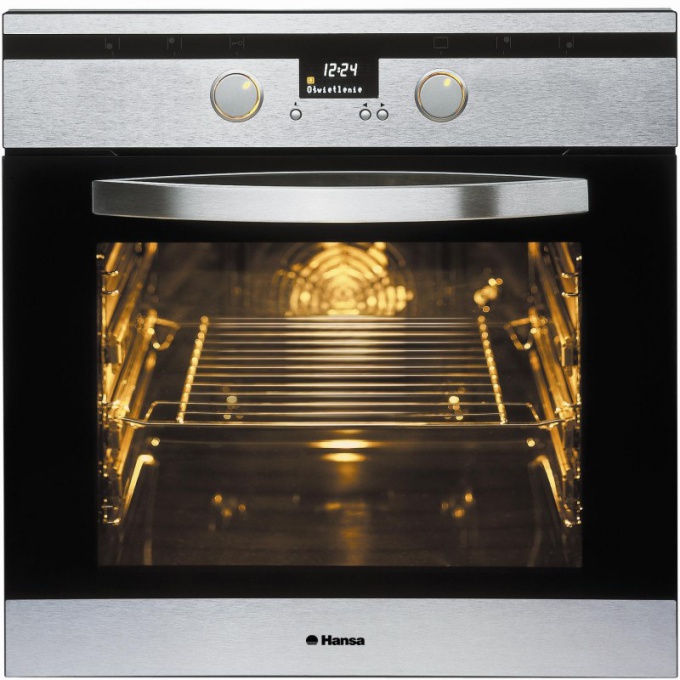 Instruction
Read the instructions before using your electric oven. There are likely to be given valuable recommendations for a particular model.
The first time you use new equipment calcined the empty oven at maximum temperature. This is necessary for getting rid of peculiar smell of new materials. After the treatment and cooling of the plate the oven must be washed.
Before cooking preheat the oven to the desired temperature. Set the thermostat to a suitable indicator and wait for a few minutes. This heating will shorten the cooking time and promote even heating and baking dishes.
Choose the right position for the pan. It is best to set it in the middle of the oven, however, in some situations, if you need more to cook the top or bottom of the dishes, the baking tray can be placed above or below.
Place the tray or dish in the oven. Use only heat-resistant utensils, other materials, such as plastic, can be dangerous. But allowed the use of metal kitchen utensils, like an electric stove does not impose such restrictions, like a microwave. If necessary, turn on the grill or convection.
If you are making a dish made of dough, especially from the rich, do not open the oven door too often - the batter may settle. It is best to observe cooking through the glass, the more there is a special backlight.
The willingness of the meals, check with a fork. Gently pierce her pie or casserole - on the Cutlery should not be raw dough. When you cook the meat with the gravy, do not forget to baste it with sauce in order that the top layer does not dry out. After removing the finished dish from the oven, don't forget to turn it off.
Advice 3: The recipe for a delicious pastry to kórnik
Among all the famous Russian pies are popular kórnik. This dish from ancient times is a favorite festive treat, so for all time of its existence has been invented many recipes for making this truly the most delicious cake. And best recognized kurnik from the surprisingly soft and crumbly dough.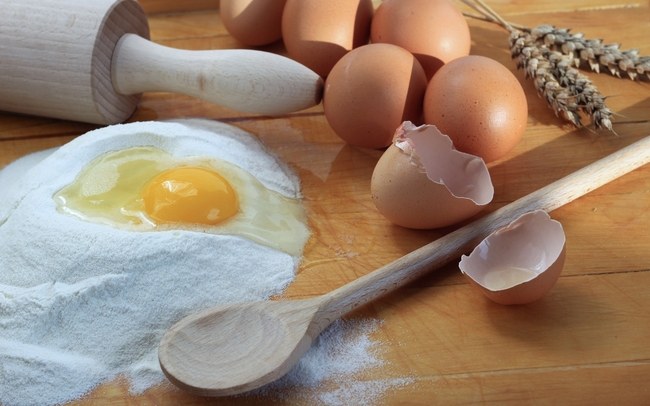 Before kórnik was served only on special occasions, such as weddings to treat the newlyweds and the guests of honor. Today it is baked not only on holidays but also in any spare time to please your family a delicious lunch or dinner.
You need to prepare kurnik
To prepare the kórnik takes a lot of time. As for the food, they also need a lot. But it's worth it, as a result, nobody is left indifferent. Cake is so hearty and delicious that it just can not please. Juicy filling in a tender shortcrust pastry just melts in your mouth, which makes this dish unique.
Satiety of the cake is achieved through the use of at least two kinds of stuffing and a special mushroom sauce. Each filling is made separately, and therefore time to cook kurnik out a lot. But if filled with more and less clear and its preparation, as a rule, does not cause special difficulties Housewives, kneading dough should be treated more seriously, as it depends on him how the taste will have a finished cake.
How to cook a delicious shortbread dough to kórnik
First you need to decide on the ingredients list, which should include:
- egg yolk – 2 pieces;
- baking powder – 1 tsp;
- sour cream – 200 g;
- butter – 200 g;
- sugar – 0.5 CH. l;
salt - of 0.25 tsp;
- flour – 2 tbsp.
Very tasty dough for kórnik not very heavy. Moreover, it does not take much time. Only some products from the list must be prepared in advance, namely, to get the butter out of the fridge and carefully sift the flour. Oil by the time of kneading the dough should be soft, that is why it is kept at room temperature for at least half an hour.
Whisk well the egg yolks with the sugar and salt, then add to the resulting mass sour cream and softened butter. Stir the mass until smooth. This can be done with a fork or mixer on low speed. Now add the sifted flour premixed with baking powder. To fill the flour in small portions, to avoid lumps.
Knead the dough. It should be smooth and uniform. After that, dough for kórnik wrap in cling film and store it in a cold place, about 20 minutes. After this time the dough can be used to make a cake.
Advice 4: Simple baking recipes shortbread
Shortbread goes well with tea and coffee, cocoa and juices. To prepare this delicacy is very simple, it does not require any special culinary skills and it is always consistently delicious. There are many options for making biscuits, here are some of them.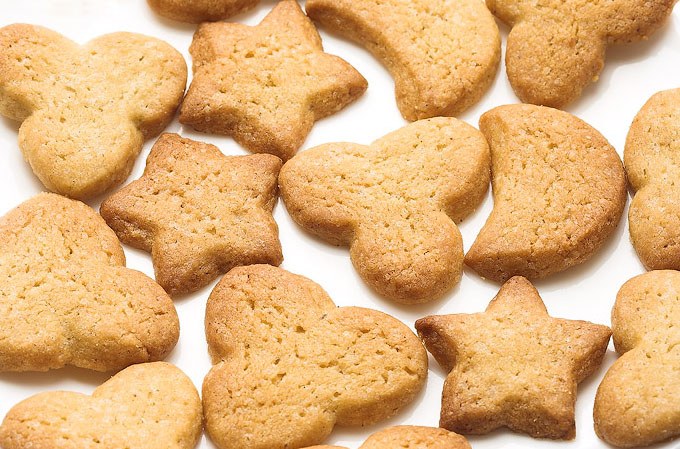 Shortbread cookies "For tea"


You will need:

- wheat flour - 2 glasses;
- sugar - 4 tbsp. spoons;
- egg yolks - 2 PCs.;
- butter or margarine - 200 g;
- vanilla - 1 pinch;
- powdered sugar 2 tbsp.

Mash the yolks with the sugar, add the softened butter or margarine, flour, vanilla. Divide the dough into small kolobochki and roll them on a flat surface, dusted with flour. Using molds for cookies cut out shapes and put them on a dry baking sheet. Bake cookies in a preheated 200oC oven for 15-20 minutes until it turned Golden brown. Ready cookies dusted with powder sugar, if desired, you can add a bit of vanilla.


Shortbread "In haste"


You will need:

- wheat flour - 300 g;
- sugar - 50 g;
- butter or margarine - 200 g;
- cognac - 1 tbsp. spoon;
- baking soda - 1 tsp.

Pre-softened butter or margarine RUB with sugar, in the mixture pour in the cognac. The flour very carefully and mix it with soda. Quickly knead the dough. It is not plastic and is pretty solid. Sprinkle work surface with flour. Separate from the dough small balls, roll them thick about 1 cm, then cut biscuit and pastry molds. Cover the baking pan with baking paper and bake the cookies in a preheated 220оС the oven for 5-10 minutes.


Shortbread for 5 minutes


You will need:

- wheat flour - 750 g;
- margarine for baking 100 g;
- sugar - 50 g;
- semolina - 50 g.

Mix in a deep dish of dry flour, sugar and semolina. With the mixture, grind to a homogeneous mass of softened margarine and knead tight dough. Make the dough into a ball and flatten it into a pancake is thinner than 1 cm Cover the baking pan with baking paper, and bake the layer at a temperature of 200-220оС in preheated oven until Golden brown. Hot Plast cut into pieces and cool.

Another option for baking this cookie in a microwave oven. In this case, cover the paper plate, suitable in size to the microwave, and bake the biscuits on high for 3-5 minutes, depending on thickness.


Shortbread cookies with nuts


You will need:

- wheat flour - 100 g;
- butter - 50 g;
- ground nuts - 50 g;
- sugar - 50 g;
- egg - 1 PC.;
- powdered sugar - 2-3 tbsp. spoons;
- vanilla - 1 pinch.

Boil hard-boiled egg. For this recipe you will need only the yolk. Wipe it through a sieve and thoroughly with sugar. Add the flour, butter, nuts and knead the dough. Make the dough small rolls and cut them in 2-3 places on the one hand, to make "branches", similar to deer antlers, and slightly bend them. Bake "horns" in a preheated 180 ° C oven for 15 minutes. The cookies sprinkle sugar powder, mixed with vanilla, and let cool.
Advice 5: Quick shortcrust pastry for open pies
If you want to taste a slice of the open pie, which has a sweet filling and crispy dough, then bake it for one of the two suggested recipes. The second is suitable for sweet and savoury toppings.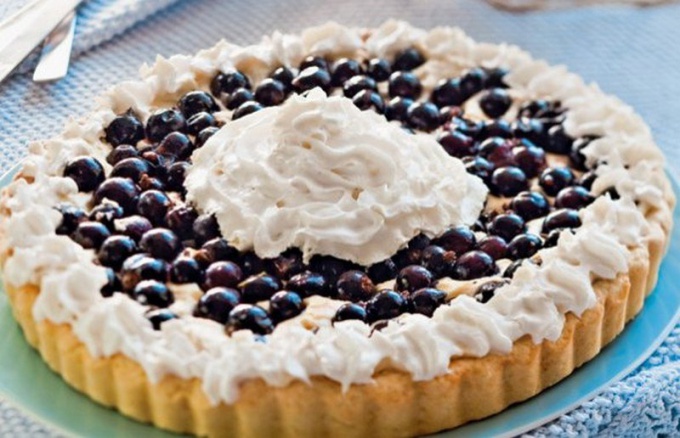 Recipe pastry for a sweet pie


Shortcrust pastry for open pie, you can make several recipes. In just 10 minutes you create an environment of baking, if you use the following. It requires minimum ingredients which are quite inexpensive. Here is what you will need:

- 1 pack of margarine;
- 0.5 cups of sugar;
- 1,5 teaspoons of baking powder;
- 2 cups of flour;
- 1 egg.

Before making a quick shortbread dough, freeze the margarine. Then grate it on a coarse grater. Stir in margarine, sugar, baking powder, crack in the egg. Start to knead the dough first with a spoon and then by hand. The basis of an open cake ready. For this recipe fit sweet filling. Prepare curd. To do this, take:

- 200 g of cottage cheese;
- 80 g of sugar;
- half a small packet of vanillin;
- 1 egg;
- 2 tablespoons of sour cream.

RUB the cottage cheese with sour cream and egg. Stir in the sugar, vanilla, mix the ingredients. First, roll out shortbread dough to have enough for the bumpers. Drag it to the form. Place on top the filling, gently fold the sides up. Put pie in hot oven, bake it at 190оС 30 minutes. When the top edges and stuffing is browned, remove culinary work. Remove the cake from the mold when it has cooled to a warm state. Then it would be easy to get two kitchen blades.

Prepare the filling for sweet shortcrust pie from apples. For that, cut them into wedges. Sprinkle with sugar and a little cinnamon.

Make a "cranberry splendor". For this cake mix Cup cranberries in a blender, add half Cup sugar. Put on the dough, fold the edges. 70 g of thick cream, mix with two tablespoons of sugar, pour the cranberry a lot. Cook also when 190ос 25-30 minutes.


The recipe is for an open pie with any filling


Very quickly done and the dough in the following recipe.

You will need:

- 100 g chilled butter;
- 200 grams of wheat flour;
- a pinch of salt;
- 1 egg.

Put the butter into the flour, cut him into pieces. Dip hands into flour, grind in between oil until a loose mass. It can be done with the help of a food processor. Beat the egg, add salt and mix the dough until smooth. Give it the form of a thick pellet, remove half an hour in the fridge.

Sprinkle a large wooden Board, inverted baking sheet or a kitchen table with flour, put on the surface of the dough. The rolling pin will also preporuciti flour. Roll out the dough slightly larger than the diameter of the mold, put it in her. Wrap up bumpers. Put on the dough dry beans or peas. Legumes must complete the test surface to the top of the Board.

Remove the form in the oven, preheated to 190оС. Bake the dough at this temperature for 10 minutes. Pour the beans. They fulfilled his mission, allowed the dough to keep the shape. Now you can fill the cavity of sweet or savory filling. Bake for another 10-15 minutes. Then open the cake is ready.