You will need
For a traditional chocolate sponge cake:

100 g of butter;
a Cup of sugar;
4 eggs;
200 g sour cream;
1.5 cups of flour;
1/2 Cup of cocoa powder;
1/2 teaspoon of salt;
teaspoon of baking soda.
For low-calorie sponge cake:
300 g of granulated sugar and flour;
a Cup of vegetable oil;
50 g of cocoa powder;
teaspoon of baking powder;
a pinch of salt and vanilla;
2 cups of water.
For sponge cake without flour:
dark chocolate bar;
4 eggs;
100 g of sugar.
Instruction
Traditional chocolate sponge cake prepared with eggs, sour cream, sugar and butter. Whisk softened butter with sugar until then, until the mixture whitens. Continuing to whisk, add one by one eggs, then pour the cream and bring the mixture to homogeneity. In a separate container, mix the flour, cocoa powder, salt and soda. Add the dry mixture to the egg-butter-sour cream and stir well.
Prepare a baking pan - grease the bottom and sides with butter. The form must be at least 24 cm in diameter, the cake will rise during baking, the dough should fill no more than a third of the volume. Bake the product at 180 degrees for at least an hour, readiness check toothpick. If the dough does not stick to it, then the cake is ready. After cooling it can be cut into cakes and coat with cream.
For those who want to lower calorie baking, there is a recipe of a biscuitand no butter and eggs. Mix the dry ingredients: the sugar and the flour, cocoa powder, vanilla, baking powder and salt. Add in the dry mixture vegetable oil and water. Knead the dough until smooth and place it in the pan with non-stick coating. Bake for 40 minutes at 200 degrees, check the readiness with a toothpick. The cake turns out very juicy. You can prepare cakes of chocolate biscuitand, to this end, the dough should pour into molds.
You can make chocolate cake without flour. Separate the egg whites from the yolks. Melt water bath a dark chocolate bar. Whites beat with a mixer with a pinch of salt until thick foam. The whisk yolks with sugar until white. Pour the melted chocolate into the yolks and mix gently with a wooden spatula. Then add whipped whites and gently stir. The resulting dough pour in a baking dish with non-stick coating and pre-bake in a preheated 180 degree oven for 40 minutes. This cake will have a rich chocolate flavor.
Advice 2: How to cook cream with chocolate sponge cake
To make the chocolate sponge cake is not possible without tasty and fragrant cream. Here you can use a cream filling. For this sponge cake, perfect cream of black chocolate or condensed milk with cocoa.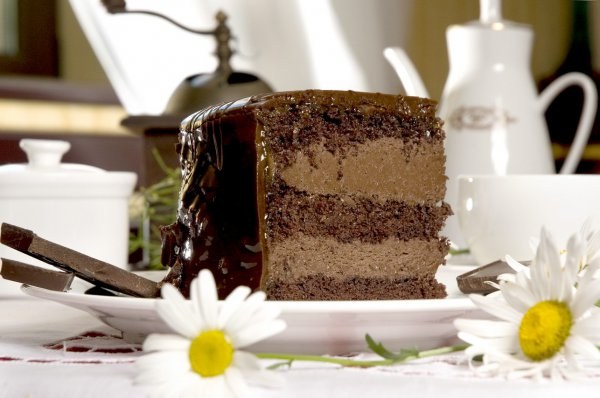 You will need
Recipe of butter cream
- powdered sugar – 2 tbsp;
- vanilla – 1 package;
cream (minimum fat content of 25%) – 500 ml.
Recipe chocolate cream
- cream (35% fat content) – 150 ml;
- powdered sugar – 5 tbsp;
- dark chocolate – 150 g
Cream recipe with condensed milk
cocoa – 5 tbsp;
- butter – 200 g;
- condensed milk – 1 Bank.
Instruction
Prepare the creamy filling. Take a container of medium size and put it in the freezer for 10-15 minutes. Into it pour the chilled cream. Start them beat with a mixer using the beater frame. Be sure to install the instrument at the minimum speed. When the cream begins to acquire a thick consistency, start them gradually pour powdered sugar.
Add the sachet of vanillin in the resulting mass. Whisk it again with a mixer for 2-3 minutes. To do this, use a little momentum. Please note that too long to whip the cream can not be, otherwise they can turn into a serum with pieces of butter. Use the finished vanilla butter cream for brushing chocolate cakes and cake decorating.
Start making the chocolate cream. Take the cream and bring to the boil. Unplug the burner, take the chocolate and break into small pieces. Add it gradually into the cream. Need chocolate carefully removed as completely he himself melt away will not. Use the whisk.
The resulting chocolate mass start gradually add powdered sugar. Stir it as best you can. You should avoid the lumps. The cream needs to acquire a smooth consistency. Then completely cool it. Then use the chocolate cream to lubricate and decorate the cake.
Use the recipe of the cream with condensed milk. Take the butter and leave it for 15-20 minutes to it a little melted and became to room temperature. Cut him into small pieces and place in a bowl for whipping. There add condensed milk and whisk start whisking the components. Should get a smooth consistency. In it add cocoa and stir. Then the cream is ready.
Note
You can use to prepare chocolate sponge cake multiple fillings. Then it will become even more delicious. Store the remaining cream in the refrigerator, but not more than 2 days.
Useful advice
In the preparation of cream for the chocolate sponge cake you can use chopped nuts. A great fit for this almond.