Instruction
The neonatal period is short – only one month. At this time, the child is just adjusting to the outside world and you need to ensure the most comfortable conditions both at home and on the street.
Traditionally it is recommended to dress baby as you would put yourself plus one layer of clothing. But this statement is rather General and does not take into account individual characteristics of the child. If he was born prematurely, is weak, you may need to dress warmer than big and strong baby.
The question of clothing
a newborn
is decided depending on your relationship to the fold. If you prefer a loose fitting diaper, dressing the baby outside, use them in various combinations with the blanket or envelope for newborns. In particular, at temperatures above +20 wrap baby in a thin and knitted diapers, from +10 to +20 in thin flannel (knitted) diapers, and envelope (blanket). Of course, the head
of a newborn
in need of the beanie in warm weather, you can do flannel or knit, and cool to complement the wool.
If you prefer clothes that do not restrict the child's movements, use the following guidelines appropriate to different air temperature on the street. May the weather is changeable, so consider all the options.
At temperatures from 0 to +10 put it on baby's bodysuit or blouse with long sleeves, sliders, scratchy, knitted beanie, Terry socks, track suit, woolen hat, warm overalls or envelope.
At a temperature of from +10 to +20 combination of clothes would be the following: a bodysuit or a blouse with short sleeves, scratchy, thin cotton overalls, knitted cap, plush socks, plush or woolen jumpsuit, if necessary, warm overalls or envelope.
If the street is above +20, put a newborn easier: bodysuit or blouse with short sleeves, scratchy, thin cotton overalls, knitted beanie, socks.
Please note that when you carry the baby in her arms, hugging her, he gets your body warm and will not freeze. If you take him in the stroller, bring a baby blanket, if necessary, to cover the baby.
Advice 2: How to put a newborn on the street
All new parents wonder how to dress a newborn baby for a walk, that it is not cold and not too hot. Pediatricians believe that the child is better to SuperCool than overheating. Parents should try to observe the Golden mean.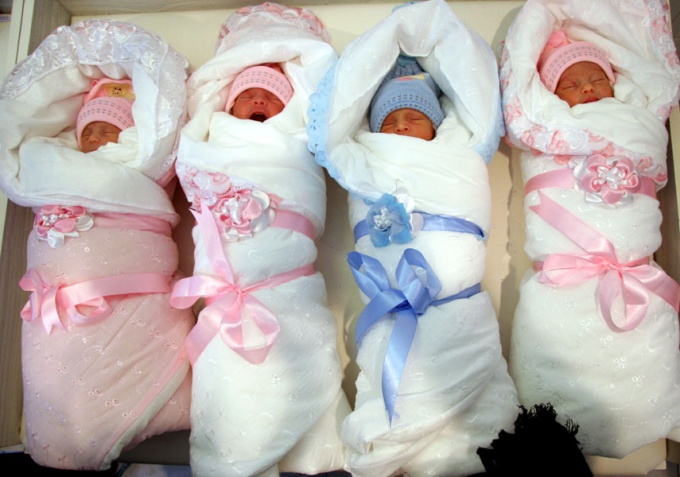 Instruction
First of all, note that for
a newborn
you need
to buy clothes only from natural fabrics. Pay attention to clasps and zippers, be careful that they do not hurt baby's delicate skin.
In the winter with a newborn is better to walk only at temperatures below -10C. Dressing baby needs a vest, baby Romper, warm jacket, warm socks, two beanies – thin and warm, wool. Blankets must also be two - light and warm cotton or wool. The child should be wrapped and tied the blanket strips so that it does not swing open. Very useful fur envelope for wheelchairs, but if not, place in a warm stroller changing Mat and top cover with a very light plaid.
Very convenient instead of quilts to use envelope – overalls with a hood, which you can buy at the store or make yourself. Fabric should be warm to the undercoat – wadding or batting (fur). Dress your baby up as described above, if necessary (depending on the temperature outside), wrap in a light blanket, and then put it in an envelope. The hood is worn over a warm hat.
Dressing a newborn at any other time of year, try to choose clothes in accordance with the temperature. For example, if the window is +25C and above, you can dress baby easily in the sliders and lightweight Onesie. Cap will be needed only in windy weather. If the temperature is below +25 - +20C - cap is required, you will need a thin blanket or a light jacket.
To understand the comfortable life of the baby, touch his neck – it should be warm and dry. Nose can be cool, even if the baby is not cold. If the kid on the street crying and can't sleep, maybe he is uncomfortable and should wear it differently. Remember that the main criterion for proper selection of clothes is the fact that the kid on the street is fast asleep, and when you strip his house, his skin dry.
Useful advice
If you are going with the baby for a walk is better to wear it layered, so you can remove anything, if he gets hot. When it's chilly outside, it will be useful blanket – just cover baby, if he starts to freeze.
Advice 3: How to dress a newborn
When a family has a newborn, the parents get a lot of hassle and worry. Especially if it is a firstborn, and they have no experience in baby care. A seemingly very simple question: how to dress your baby after a swim or a walk? If you wear too easily, the baby can freeze if too warm to overheat.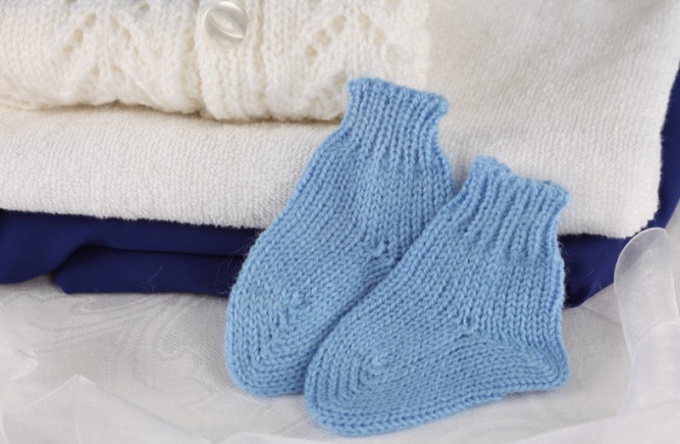 Instruction
Focus on the ambient temperature. If the baby is at home, at 23 ° and above it is enough to put him in a cotton t-shirt and Romper. If around 20-23°, on top of the shirt should wear more flannel vest, and on his feet on top of the sliders – thin socks. At a temperature of 18 to 20oC instead of flannel undershirts are better to wear with a thin knitted suit with long sleeves. Instead wear cotton socks baby wool. Well, if the house is cool enough (temperature below -18 ºc), on top of a thin knit suit, wear wool or wool blend suit.
When you are preparing to take the baby for a walk in the summer, in hot weather (over 25 ° C) is enough to put him in cotton underwear and a light cap or a hat to protect from sunlight. If the temperature of 22 to 24C, add a thin cotton Onesie Romper; if from 20 to 22oC, it will not hurt to wear a thin knit suit with long sleeves and thin socks.
In the cooler season (spring, fall) dress your child in the following way: if around 16 -18 ° C, on top of summer clothes for wear lightweight wool or wool blend. Headpiece replace the more dense, for example, a knit cap. If the temperature is 14-16оС, put the child wool beanie and wool (wool blend) socks. At a temperature of from 10 to 14 ° C add to this
clothing
Romper autumn. Well, at 0-8ºc needed another layer of clothing under jumpsuit: warm tights and a sweater. Wear also the child's extra pair of wool socks, and under a dense wool blend cap – light cap.
In winter, additionally wrap the baby in a blanket and frequently check his nose. At temperatures below -20oC walk on the street with a newborn is not recommended.
Useful advice
Remember that the things a newborn should only be made from natural fabrics. Also, they should not be close.