You will need
milk;
butter;
garlic;
parsley
dill, etc.;
salt;
towel;
the potato masher or mixer.
Instruction
For a family of 4-5 people you will need about one kilogram of potatoes. Take the tubers are of medium size, wash them, peel them, rinse again and cut into halves lengthwise (so they cook faster). If you have available only the large tubers, cut them into four pieces.
Immerse the potatoes in boiling, lightly salted water. Simmer until then, until it becomes soft. To find out whether cooked tubers can, puncture them with a fork or by reducing the noise of the water in the pan if the potatoes are "silent", it means it is cooked. 2-3 minutes before turning off the fire, put in a saucepan a clove of garlic and a couple Bay leaves.
While cooking the potatoes, prepare the milk for the puree. Take a glass of milk and 50 g of butter, mix them and heat, not boiling. If you pour cold milk into the potato, it will turn black. Dissolve in hot milk a pinch of salt (to taste).
Once the potato is cooked, carefully drain the water and mash the tubers. For this you can use a mixer, a wooden potato masher or a special kitchen tool stainless steel (round potato masher with holes). The mixer is not always convenient to use, as some parts of the potatoes he can't capture (on the bottom).
When the potatoes will have no lumps, pour into it the hot milk with butter and mix well, as if whisking the potato puree.
Keep in mind that the milk should be enough to let the potato puree will be rather liquid, after a while it still thickens.
Let puree stand for a bit (half an hour), do not forget to wrap the pan in a towel. So it will retain heat and does not require additional heating.
Serve potato pureewith a small piece of butter and sprinkle with dill or other herbs.
Useful advice
Instead of milk you can use water in which potatoes are cooked.
Advice 2 : How to cook mashed potatoes
To prepare mashed potatoes the best potatoes that had a little lie down than once dug out of the ground. Mashed potatoes with various additives is the basis for many dishes: casseroles, croquettes, cutlets. So properly brewed potato puree is not only delicious dish but also can be a billet for lunch the next day.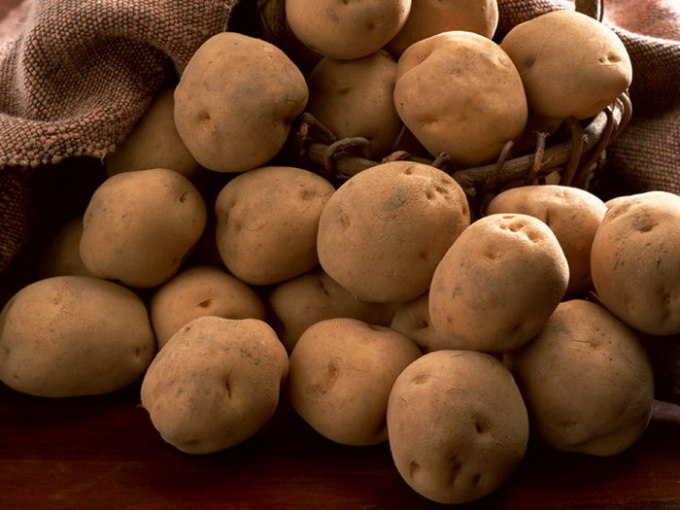 You will need
potato (1kg);
milk (1.5 cups);
butter (2 tbsp.);
greens;
salt to taste.
Mashed potatoes with carrots:
potatoes (0.5 kg);
carrot (0.5 kg);
milk (1.5 cups)
butter (2 tbsp.);
salt to taste.
Instruction
Put on fire a pot of water.
Wash the potato tubers and peel them from the skin. Try to do it before cooking the potatoes, or the vegetable will darken quickly, and if it is lowered into the water for safety, part of the nutrients leaves.
Cut the potatoes into large chunks and drop into boiling water. Bring to a simmer. As soon as the water again begins to boil, immediately add salt.
Drain the water from boiled potatoes. Put the saucepan on slow fire or in the oven for a few minutes to evaporate remaining moisture. Just be careful, the potatoes must be dried, not burnt.
Place the milk in a saucepan on the fire. Bring to a boil, make sure that the milk is not spilled on the stove.
Mash with a potato masher soft hot potato. Make a well in center of mashed a hole and pour into it the hot milk. Beat with a whisk to puree was a lush. Add the butter and stir.
Serve hot mashed potatoes right on the table. Sprinkle it with fresh herbs. The remaining potato mixture in the pan cool and refrigerate. It will come in handy the next day for other meals.
Potato puree with carrots. Remove the skin from carrots and potatoes. Cut them into large pieces and pour boiling water so that it only slightly covered the vegetables.
Cook at a low boil. Salt the vegetables before it is done.
Drain through a sieve. Mash the vegetables with the pestle.
Pour mashed mixture into the hot milk in a thin stream. Stir well and add the butter.
Useful advice
Instead of carrots in mashed potatoes, you can add other ingredients: spinach, pumpkin or rutabaga.
Advice 3 : How to make mashed potatoes
From the ordinary potatoes you can create hundreds of dishes: the first, second, snacks. The potato is a permanent component of many salads. And yet it is a win-win for garnish. One of the most common and favorite dishes of the hosts is mashed potatoes.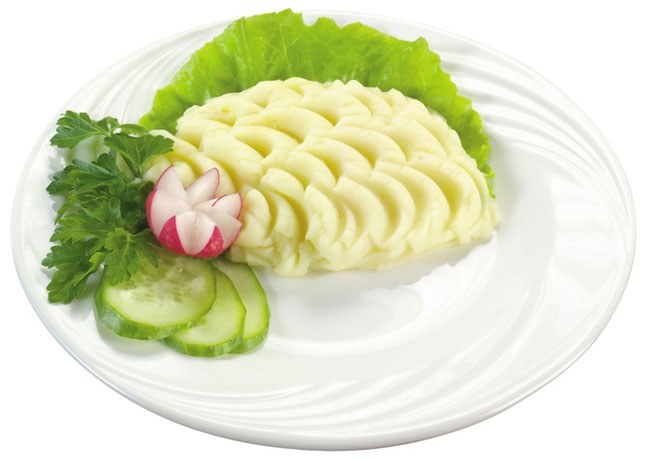 You will need
salt;
butter;
melted butter;
sour cream;
milk;
greens.
Instruction
Serve potato puree – the problem is simple. To perform it, even a teenager. The most important thing is to determine a recipe of mashed potatoes. Because variations of this, at first glance, a simple meal enough.
To begin, prepare the potatoes. Of the varieties rich in starch, mashed potatoes will razvestis, without lumps. Potatoes with low starch viscosity. The most successful varieties for mash are the "Rosamunde", "Symphony", "Blue", "Marlene". If the variety of potato is unknown, notice its appearance. It is believed that a more crumbly flesh and a good "Razvitie" properties are tubers with yellow and white skin.
Make your choice of potatoes, choose medium-sized, smooth tubers, at the rate of 2-3 pieces per serving. Wash. Clean it from the skin. It is believed that the useful properties of potatoes - vitamins B, B2, B6, C, PP, D, E, carotene, folic acid, magnesium, organic acids, phosphorus, calcium, iron, potassium are closer to the "skin", so cut off a layer of the rind, as thin as possible. Peeled potatoes, not to be darkened, immediately immerse in cold water.
Prepared potatoes, rinse and place in a pan, pre-cut each tuber into four parts. Pour water so that it slightly covered the top "pieces". To the potatoes retained when cooked, its beneficial properties and quicker boiling, pour it with boiling water. When the water boils, add salt. Although many Housewives prefer to do it immediately as soon as I put the pan on the fire. In this case, the water will boil a little longer. Reduce heat and cook for another 30 minutes.
When the potatoes become soft and razvesti, the water in which it was cooked, to drain. Preferably in another bowl: a bowl or deep plate. Potato "broth" may come in handy while preparing mashed potatoes for "regulation" of its density.
Remember the potato special "pestle", it is in every set of kitchen utensils. Then add to the saucepan a bit of butter or ghee. Let it "melt away". Once again, remember the potatoes, carefully mixing it with oil. The mash is ready. This recipe is the most common. Hereinafter, variations of the dish, with extra additives, and accordingly, a different taste.
If you love potatoes "fatter", put in the mashed potatoes one or two tablespoons of sour cream. And stir it again. However, when choosing a cream you must be careful. Too acidic – will only worsen the dish.
To the potatoes turned out "air", add a little milk. It is best if it is slightly warmed, then the potatoes will remain white and "light".
Break into the saucepan of potatoes one chicken egg, and quickly whisk the potato-egg mixture, so that she wouldn't "curl up". Thanks to the egg, your potatoes will be much "more plastic". This option is often used for cooking where it is important plasticity - potato cutlets, potato pancakes, croquettes.
So, your side dish is ready. Serve it on plates and add the greens, meat, fish, sauce. Given that potatoes goes well with almost all vegetables and food, your imagination can be limitless. Bon appetit!
Note
Potatoes when cooked should be covered in water, but do not overdo it.

To puree without lumps, the potatoes should be fully cooked. The degree of readiness can be determined by piercing knife or fork.
Useful advice
The consistency of the puree can be adjusted by adding water in which boiled potatoes, or milk.

For flavor during cooking of the potatoes in the pan, you can add a few peas of black pepper, 2-3 Bay leaves, garlic cloves, carrots and onion.

To make the potatoes cook faster, cut it smaller.