You will need
- remover for oil paints;
- solution of caustic soda;
- rubber gloves;
- gauze bandage;
- Mel;
- slaked lime;
- soda ash;
- vinegar;
construction Hairdryer;
triangular spatula;
- metal brush.
Instruction
Get the store ready for a wash of oil paint, or use a caustic soda solution (20-25%). If the surface was painted not very long ago, they are well up to the task. Before use wash carefully read the instructions. Work with it be extremely careful, wear rubber gloves and a gauze mask.
For old coatings, prepare a special paste: mix the chalk with slaked lime (1:1), carefully pour the 20% solution of caustic soda, stirring with a wooden stick. The paste is applied on the painted surface for 2-3 hours, after that the paint should be easily removed with a knife. In those places where it will remain, the treatment should be repeated. Another version of the recipe: mix soda ash, crushed chalk and burnt lime (7:25:12), carefully diluted with water. After removing the paint first wash the surface with water with vinegar, then clean water.
We can use the so-called construction a Hairdryer heated the paint reared and easily removed with a scraper. The disadvantage of this method is that the surface cannot be processed all at once, but only small fragments. Experts advise: wood surfaces, e.g. of furniture, every
paint
is best to remove a triangular spatula, so less chance of damage to the Foundation.
If none of the above methods did not help you, there is only one mechanical paint removal. You can use the nozzle on the "grinder" is a special wire brush. After removing the paint surface is cleaned of large sandpaper.
Note
Paste for removing paint should be the same thickness as a conventional filler.

The tool, prepared based on caustic soda, can be used multiple times. It should be stored in a tightly sealed container in a cool place.
Useful advice
Old oil paint can not be removed: if it is very tight, a new cover can be arranged on top of it. For example, tiles on the bathroom walls, it is possible to put, without removing the layer of paint, but only by making it common notches and handling the pre-primer. After that, the tiles are "lies" any adhesive will reliably stick to the walls.
Advice 2: How to dry oil paint quickly
Anyone who's ever painted floors, knows that the best paint than oil, it does not invented. She is beautiful, smooth, shiny, and even inexpensive. One bad - dry for a long time. However, there are ways to accelerate this process.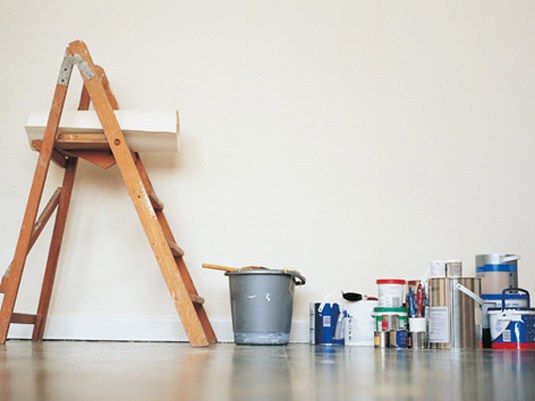 Instruction
The drying rate of oil paint is more dependent on external factors, ambient temperature, humidity, illumination, as well as its recipe. The paint hardens by evaporation of the moisture (where its not), but because of oxidation of the oil film. Therefore, in order to speed up the drying process of oil paint, it is necessary to accelerate the process of interaction of the paint with oxygen.
To accelerate the formation of persistent oil film, apply the paint with roller or brush on previously prepared surface in a thin layer. Paint dries in approximately 24 hours. If necessary, reprograme or uneven coating repeat the procedure.
To accelerate the oxidative processes in the oil paint film can heat it. For example, many young artists their paintings dry on the radiators. But this is a special case. Just put in a room where there are just painted with oil paint surface heater or heater. By the way, the heating of the oil paint increases its durability and resistance to alkalis, in other words, soap. The only caution - do not leave the heating device unattended, lest a fire.
There are chemical ways to accelerate the drying of oil paints. This addition to paint of the so-called driers – drying. Add them in small quantities (in accordance with the instructions on the package) to a jar of paint and mix thoroughly. The driers allow to dry painted surface much faster and do not affect the quality of oil paint. In General, as experts recommend before you buy oil paint, read everything that is written on its packaging. A good oil paint contains no less than 10 components.
Note
Oil paint is a mixture of pigments, fillers, and drying oils, can be prepared from natural oils, or artificial substitutes. Oil paint is used for painting wooden and metal surfaces, walls, roofs and floors. When painting, the paint film protects the surface from penetration of moisture vapor. Therefore, metal pipe and construction of buildings are often painted with oil paints, selecting a color to match the main color of the room.