Instruction
Select the format of your future resource. Determine what you need in one beautifully designed page, multi-page website or a forum for communication. Based on this, you will be able to choose the best option.
If the site is needed for commercial purposes, think about how to entrust it to the creation of a professional web designer. The creation of such a website will cost you about 10-15 thousand rubles, with this you get it is a quality resource corresponding to the status of a commercial enterprise.
If you are going to earn on your site and the issues of prestige do not bother you, create a page on one of the free resources. For example, here: http://www.ucoz.ru This is a free website Builder with a large enough capacity. You can have a multi-site, forum, chat, guestbook. The only disadvantage of the resource can be considered as rather Intrusive ad banner that opens on each page. It can be removed for a fee of about one hundred rubles a month.
Another very reliable and convenient service for creating free websites is a service Borda - http://borda.qip.ru/ opportunity it is a bit behind the service is Ucoz, but it does have its advantages. In particular, static banner located at the top or bottom of the page and does not interfere with its viewing.
If you don't want to pay for no ads on your page or to put up with her presence, you can create a website on the service http://narod.yandex.ru/ to be able to create your page, you just need to register on Yandex mailbox with the desired name. You will automatically be given a place in your website.
To create your page, you have to learn the basics of the HTML language. It is very simple, you will be able to master its basics during page creation. For ease of writing code, you'll need a special editor with syntax highlighting – for example, Cute HTML. It is easy and convenient editor allows you to create pages and immediately see how they will look in the browser.
If you want to create a great website use Dreamweaver. This is a visual site Builder, allowing you to quickly create very complex projects. Its advantage is that you can use a ready-made website templates. Such free templates on the Internet much – try any open in Dreamweaver. You will just have to adjust it to your needs – insert text, pictures, etc.
If you are creating complex multi-page project with lots of links and difficult navigation, download Denwer. It will allow you to view resides on the website as if it is already in the network. Will work for all transitions between pages, you will be able to catch any errors and fill in the hosting is fully ready website.
Advice 2 : How to create your page for free
No company or public organization anticipates the opportunity to Express themselves via the Internet. Companies providing services for the creation and promotion of sites abound, but if the company needs just an information resource to its wide range of possibilities, allowing
you to create
your
page
for free.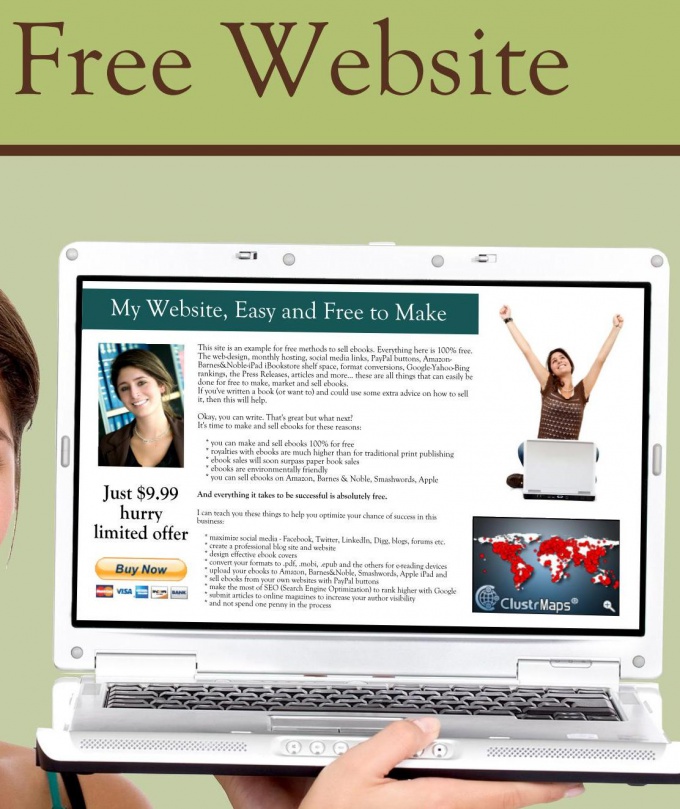 You will need
- computer
- Internet connection
Instruction
Create your page on sites that offer second-level domains for free. These sites provide in addition to website free graphic designer, with which you can create a simple website and fill it with information.
The second option is the creation of his page in the online diaries and online blogs. Quite a bit edit the appearance of your page, and includes its own free page with news and comments. It's very simple and transparent, the functionality is almost the same as that on the websites that provide free domains of the second level, except that it is much simplified the process of adding news.
The third option – creating public pages in social networks. This public page will be available to all users of the Internet, but to create it, you need to be registered in this social network. Comments can leave only registered users, but you will be able in real time to track their target audience and communicate with everyone online.
Note
When creating your page, consider the status of the organization: a major company not to have a website on a free hosting.
Useful advice
Try to work on the design thoroughly, as is the face of the organization.