You will need
sorrel – 2-3 beam (fresh or frozen);
beef broth – 3 liters;
boiled meat (chicken
beef) 300-500 g;
2-3 eggs;
dill
parsley – a few sprigs;
salt;
pepper;
lemon or a few grains of citric acid.
Instruction
Prepare the meat. For this pre-frozen must be defrosted in advance and fresh or thawed thoroughly rinsed with water.
Take a pot, pour water into it, about two third, put on the fire and get cooking basics for soupand broth. Very aromatic and rich, the meat must be put into cold water. If you rely on the delicious meat, add it to boiling water.
While cooking meat, be engaged in the preparation of the potatoes. The tubers should be carefully selected, it is better to choose medium size, wash, peel and rinsed again with water. Cut potatoes into strips or small cubes.
Once the meat is cooked, remove it from the pan, cool. Cut into small pieces or tear into "fiber".
In the broth add the sliced potatoes. Once the broth with the potatoes starts to boil, add salt and a little pepper. Add the meat.
At the same time wash the sorrel and finely shred it. This can be done with a knife or scissors.
Once the potato is cooked, in soup you need to add the egg. You can do it two ways. For the first egg to cook hard-boiled, remove the shell, cut into small cubes and pour in the soup. Second method: raw eggs break in a bowl, lightly season with salt and whisk with a whisk in a thick foam. Then the resulting mass in a thin stream, pour in the boiling soup. Broth while constantly stirring with a spoon, so the egg turned out a kind of "spider." Let simmer the soupanother couple of minutes.
Add to the pan a few drops of squeezed lemon juice. If lemon on hand was not, it is possible to replace citric acid. Just don't overdo it!
In the end the soup add chopped sorrel in advance. So the greens have not lost the color in the pan with a dish add a few grains of baking soda.
Do not be redundant in the soupe dill and parsley. They go to sleep for a minute before removing the pan from the heat. When serving the soup garnish with half of an egg, greens and sour cream.
Perfectly in this soupe carrots, garlic, parsley, black pepper. Egg during cooking, you can exclude or add it only in the form of jewelry. And as a "thickener" to add flour. To do this, melt in a pan a piece of butter, stir in a tablespoon of flour, stir the resulting mass, dilute it with the broth from the soupand pour the mixture in a thin stream into the pan. Bring to a boil. Now the dish can be removed from the fire.
Note
It is possible to make "lean" version of sorrel soup. In this case, the main ingredients in it are water, potatoes, sorrel, parsley, lemon. This soup can be eaten cold.
Useful advice
If desired, for thickness of the soup you can add one tablespoon semolina and mix well, not allowing to form "lumps".
Advice 2 : How to cook soup with sorrel
Cooking recipes
soups
very much. The most common in the summer, is a soup with
sorrel
, which is also called "green" because of the predominance of greenery. His sourness he brings in a distinct, not similar in taste. Sorrel has a positive effect on the body and helps revitalize the various internal organs. Recipe of soup of sorrel is very easy to prepare and contains many components.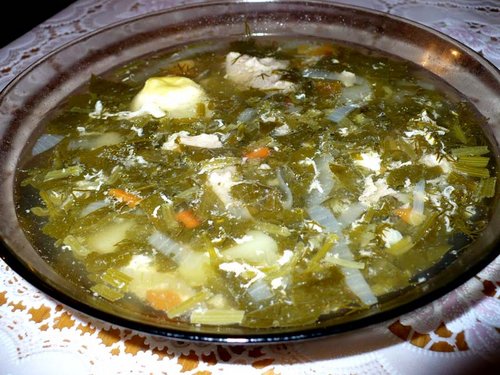 You will need
Chicken breast fillet (2 PCs.);
potatoes (4 pieces);
eggs (4 PCs.);
greens;
Bay leaf (2 PCs.);
salt;
black pepper chicken (4 PCs.);
sour cream.
Instruction
Chicken fillet wash and cut into strips. Dip it in a saucepan, cover with cold water and put on fire. When the water boils, then reduce the power of fire, remove formed on the surface of the foam.
Peel the potatoes, wash and cut it into small cubes. Put in a saucepan. Simmer for twenty minutes.
Wash the sorrel leaves, dry and cut into thin strips.
Put to boil two eggs. After they are cooked,fill them with cold water. Then peel and finely chop. Put in a saucepan.
Take greens, wash thoroughly and Pat dry it. Then finely chop.
Clean the onions, rinse under cold water and finely chop. Put in a saucepan.
When the potato is almost ready, add in boiling water chopped sorrel. Season with salt and pepper. Simmer about ten minutes.
Meanwhile, whisk the remaining 2 eggs and add to them a hundred and fifty grams of sour cream and carefully pour, while stirring, the oxalic Cup of hot broth.
Then, repeat the procedure – pour in another Cup of broth. Should get a homogeneous mixture, which very carefully, thin stream, put it into the pot with the sorrel, without ceasing to stir.
Then add two tablespoons of lemon juice and turn off the stove. The table can be served as chilled, and hot, sprinkled with chopped greens.
Note
For soup it is better to use a more Mature and dark sorrel, and the first fresh leaves to leave for the salad.
Abuse sorrel should not be, especially those who suffer from kidney diseases, as this plant contains large amounts of oxalic acid, irritating the liver.
Useful advice
To decorate the soup with the sorrel can be boiled more eggs, cut them in half and put in each plate half.
To vitamins better preserved, washed in running water, immerse the greens for 2-3 minutes in boiling broth. Then RUB it through a colander or chop with a knife. Green mass simmer for 5-7 minutes and put in stock ready.
Advice 3 : How to cook sorrel soup
Summer is the time of vegetables, fruits and herbs that grow in your gardens. They are a source of vitamins and minerals. For example, sorrel is known of the contained acid, which is extremely important for our body. Sorrel soup - an essential first course in the summer.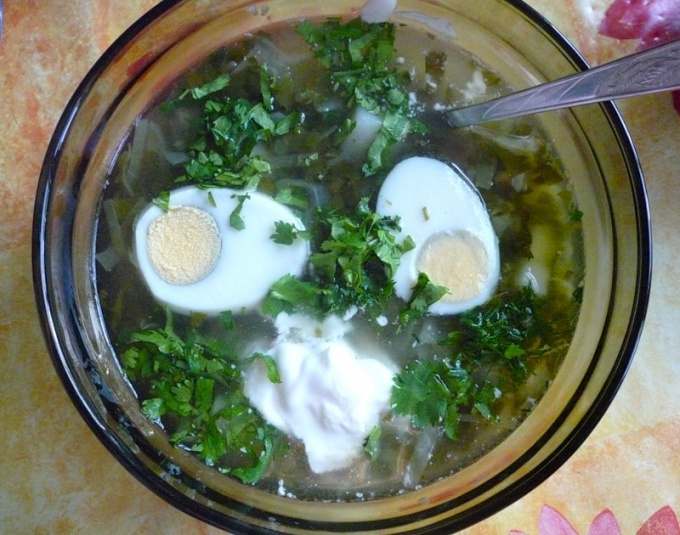 You will need
4-5 PCs of potatoes;
fresh sorrel;
onion or green onion;
1 carrot;
green bell pepper;
parsley;
Bay leaf;
salt;
black pepper.
Instruction
Put a pot of water on the fire, put the meat and salt. A few minutes before the meat is cooked add the sliced potatoes. Alternatively, you can cook sorrel soup without meat, then it will be very lean, while adding other vegetables even more nutritious.
Fry carrots with onions, add them to the broth. In a sauté or directly in the soup to produce a flavor and a pleasant taste, you can squeeze the juice from the garlic or finely chop a couple of cloves and send them in the finished soup.
Simmer the soup over low heat until the potatoes are done. Don't forget to remove the white foam that formed during cooking.
Rinse the sorrel, remove the hard stalks and finely chop. Add in the soup sorrel, stir, cover pot and turn off the heat. Thus, the chopped sorrel will have time to become soft, but will not have much soft after boiling and lose vitamins.
Give your soupto steep for 10 minutes. You can add finely chopped herbs, spices (to taste). Sorrel soup, full of vitamins, ready. Bon appetit!
Note
Please note that, as a rule, sorrel soup with meat served hot and without meat — cold.
Useful advice
When cooking soup, you can also use spinach, wild garlic, Basil, celery, zucchini and cut into small julienne sweet peppers, because they will give the dish a special taste and smell, and fill it so necessary for all nutrients.

Carrots, in contrast to the onions, fry is not sure, you can just slice it in small cubes and add to the soup 10 minutes before end of cooking.

Plates or soup, you can decorate cooked and cut into halves egg, and sour cream.
Advice 4 : How to cook sorrel
Sorrel – delicious doctor on our table. It is actively used in the recipes of folk medicine and for the preparation of delicious soups, soup, salads and pies. Including food from sorrel to your menu, it is possible to avoid vitamin deficiency and diseases of the gums, and also to increase hemoglobin and improve the functioning of the liver and intestines.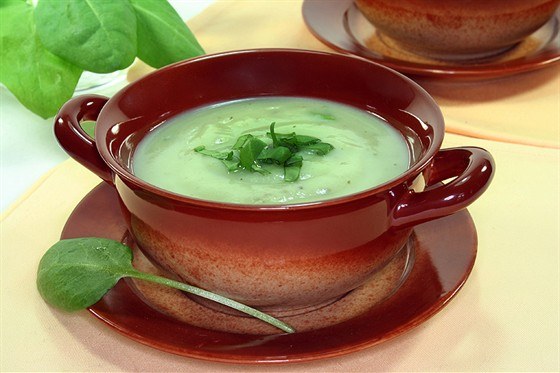 You will need
500 g of sorrel;
the feathers of young garlic;
2-3 tablespoons of vegetable oil;
1-2 tablespoons of flour;
3-4 pieces of potato;
greens;
salt.
For a summer soup:
500 grams of meat;
500 g of spinach (nettles);
200 g of sorrel;
parsley root;
1 carrot;
1 onions;
1 tbsp flour;
2 tablespoons butter;
Bay leaf;
black pepper;
salt;
sour cream;
1 egg.
For oxalic filling (preparation for winter):
800 g of sorrel;
100 g of arrows of garlic;
50 g parsley greens;
1 glass of water;
5 g of salt.
Instruction
Spring soup with sorrel
Sort, wash, finely chop the sorrel and the feathers of the young garlic. Stir, put in a pan with hot oil and cook under a lid. Add the flour, mix thoroughly and gently pour boiling salted water. The soup should be of moderate density. Peel, wash and cut into slices potatoes. Put it into the soup and continue to cook until tender. Before serving, sprinkle with washed and chopped parsley.
Soup summer
Cook meat broth. Sort through the spinach or nettles, rinse well and boil in boiling water until soft. Drain in a colander, drain and RUB through a sieve. Sorrel sort and rinse, large leaves cut. Parsley root, carrots and onions clean, cut into small cubes and lightly fry in butter. Sprinkle the vegetables at the very end of frying the flour and mix thoroughly. Then put in a pot of pureed spinach, roasted roots, dilute with hot meat broth, add the Bay leaf, pepper and cook for fifteen or twenty minutes. Ten minutes before the end of cooking, put in a pot the leaves of sorrel and salt. Summer soup is recommended to be served with sour cream and cooked hard-boiled egg.
Sorrel
dressing for the winter
Sort through the leaves of the sorrel and remove the damaged. Then wash very well under running water. Keep left of the sand. Wash young shoots of garlic and chop them finely along with the sorrel. Put all in an enamel saucepan, pour water and add salt. Put the saucepan on a slow fire and bring to a boil. Boil the greens for five minutes and immediately pour the filling into a clean, pre-sterilized banks. Cover with lids and roll. Then turn the jars upside down and leave until cool. Keep oxalic dressing in a cool place. Use to make green soups and soup.