You will need
For pellet from a simple yeast dough:
1 kg of flour;
2 cups of water;
1 tsp salt;
25 g sesame seeds;
30 ml of cottonseed oil;
30 g of yeast.
Instruction
Bake a simple cake (Obi-non), designed for home use, from simple yeast dough. Heat two cups of water, dissolve it in a teaspoon of salt. Take an enamel bowl, dissolve yeast in small amount of salted water, take wheat flour first or higher grade.
Pour the flour into a basin in parts, vimosewa and again adding water and flour. Knead the dough until smooth, cover the bowl with a cloth, wrap the top with a blanket, leave in a warm place for three to four hours. During this time, you need two or three times to press down the dough to besiege hands and again cover and leave to ferment. Soak in the cotton oil, sesame seeds
Put the dough on the table, divide it into pieces two or two hundred and fifty grams, roll from them balls, put the balls next and cover with a napkin. Roll them in pellet with a thickness of half an inch in the middle and two inches around the edges. In the center of tortillas make nakoly (or a special instrument called cecic or fork). Formed pellet cover with a towel.
Let the cakes rasstoyatsya for fifteen to twenty minutes. Brush each loaf with cottonseed oil with sesame seeds. Bring the temperature in the tandoor up to 300oC, then slightly reduce the heat, put on cotton hand glove, lay a glove pellet back side up, sprinkle her with salt water, stick to the hot wall, cleave a few pieces, increase the heat and sprinkle them with water, and bake three to four minutes.
Separate the pellet from the walls of the oven with a slotted spoon, pick up the hand protected long cotton MITT.
Bake cakes in a gas oven: rakalite her to 300oC, grease the pan with vegetable oil, put in it the finished pellet, spray them with salt water, place baking sheet on top shelf of oven, bake for about five minutes.
Advice 2: How to cook Uzbek flatbread
Uzbek flatbread is famous for its special flavor, high caloric value and complexity of the preparation. This Uzbek dish should be baked in a special oven called tandoor.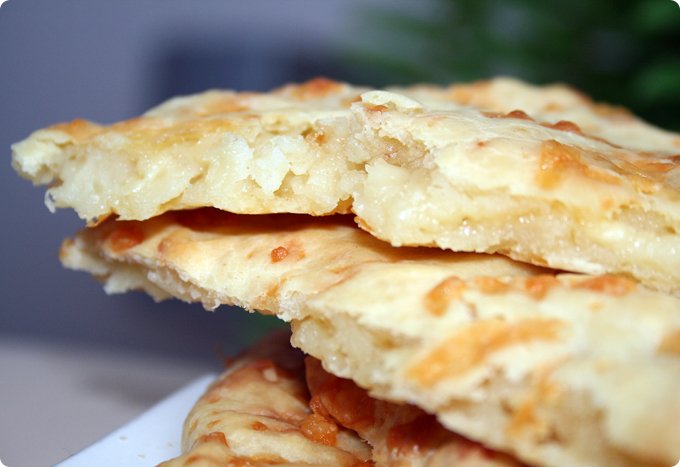 You will need
1 kilogram of flour;
30 grams of fresh yeast;
water;
salt.
For the second recipe:
1 kilogram of flour;
30 grams of fresh yeast;
water;
salt;
the set of herbs.
Instruction
To prepare simple home-made scones, take a bowl and dissolve 30 grams of fresh yeast in two cups of salted warm water. Gradually add to yeast 500 grams flour. Knead the dough and add 500 grams of flour, diluting with water so that turned out not too stiff dough. Cover the bowl with a towel and leave the dough to ferment in a warm place. The fermentation process can last for several hours. Readiness test will be reached when its volume will be doubled and out will pop the bubbles.
Turn the dough out onto cutting Board and cut into pieces weighing about 300 g. shape each portion into a ball shape and cover with a cloth. From billet make pellet, the thickness of which in the middle of not exceeding 0.5 centimeters, and the edges – 2 cm. In the center of tortillas make a few punctures with a fork. Nasilivata tandoor for 15 minutes. Place the scones on the rapid, slightly wet with salt water and put in the oven. As soon as the pellet will become browned, remove them from the oven and cool.
For the preparation of tortillas on herbal infusion knead the same dough as in previous recipe, only instead of water use an herbal infusion. For its preparation take one part of the shoots of mint, shepherd's purse, pigweed, dandelion, sorrel, spinach, purslane, greens, garlic and onions. Pass all ingredients through a meat grinder and pour the resulting meat one liter of warm water, strain the infusion and mix into a dough. Once the dough has risen, cut it into pieces weighing about 300 grams. Roll from them balls, cover them with a cloth and allow to stand for 15 minutes. Made of solid pellet with a thickness of 1.5 cm, prick the surface all over with a fork and bake in the tandoor, as indicated in the previous recipe.