Instruction
Find out
the zodiac sign
according to Western astrology, the day and month of birth. If a baby is born between 21 March to 20 April, his zodiac sign is Aries. And from 21 to 31 March ruling planet - Mars. A characteristic feature of these Rams will be the hardness, strength, bravery, courage. From 1 to 11 April the strong influence of Saturn, which will give born in these days of nobility, generosity, ambition, pride. Born from 12 to 20 April, the kids will be under the influence of the planet Venus. It will be of a nature passionate, impulsive, tender.
Zodiac sign by date of birth from April 21 to may 20 – Taurus. Patronizing from April 21 to may 1, the planet mercury gives the person is in good mental powers, the Moon (from 2 to 22 may) - daydreaming and nobility, and Saturn (from 12 to may 20) – pessimistic and unsociable.
From 21 may to 21 Jun little ones are born under the zodiac sign of Gemini. Jupiter (from 21 to 31 may) will give them such traits as intelligence, intuition, religiousness; Mars (from 1 to 10 June) – aggressiveness, sarcasm; the Sun (from 11 to 21 June) – arrogance, vanity, irritability. Cancers born between 22 June to 22 July. They exercise a strong influence of the planet Moon and mercury. This is a good, interesting, ironic, sensitive, Bohemian people.
The ruling planets of the zodiac sign Leo (July 23 to August 23) are Saturn, Jupiter and Mars. They give the strength, intelligence, authoritativeness. The next zodiac sign according to date of birth 24 August-23 September Virgo. The sun, Venus and mercury gives the representatives of this sign the feeling of harmony, humility, resourcefulness. Harmonious Libra (24 September-23 October) patronize Venus, Saturn and Jupiter. Under the influence of these planets people sign Libra very gentle, discreet, friendly, sensual.
Zodiac sign Scorpio covers the period from October 24 to November 22. Due to the ruling planets Mars, the Sun and Venus are people generous, emotional, enthusiastic, but sometimes frustrated and careless. Sagittarius (23 Nov – 21 Dec) under the influence of mercury, moon and Saturn can be brave, athletic developed, persistent, sensitive, with a great imagination.
Zodiac sign by date of birth from December 22 to January 20 - Capricorn. It's a calm, calculating, passionate, hard-working nature, which at the moment of birth under the influence of Jupiter, Mars and Sun. For Aquarius (January 21 – February 20) significant influence of such planets as Venus, mercury and the Moon. Aquarians are sensitive, shy, smart, gentle, truthful. Pisces (February 21 to March 20) under the influence of Saturn, Jupiter and Mars, honest, sensitive, sociable nature.
Note that despite some influence of the planets on human character, has not been canceled educational function of the parents. To your child growing up joy to you and others, develop a positive traits and correct weaknesses. And remember that not a Western horoscope, but the man himself is the architect of his happiness.
Note
We present to your attention a convenient table to determine the zodiac sign by date of birth. Attention, the day when the Sun enters the zodiac sign may vary slightly from that indicated here, depending on the year and place of birth. To learn more detailed and accurate information about your sign need to be a professional astrological horoscope, which you can order at this link.
Useful advice
The sign in which the Sun was, at the time of birth of the person is sometimes called his "sun sign" (in the press very often used the term "zodiac sign" or "sign" that from the point of view of many professional astrologers is not correct). Zodiac signs can be defined as a tabular method for the date of the civil calendar, calculated on the basis of the position of the Sun in the Ecliptic. In contrast to the signs of the zodiac, in astronomy the periods of the passage of the Sun through the zodiacal constellations are very unequal...
Advice 2 : How do you know your zodiac sign
In astrology there are 12 zodiac signs. To find out which one you belong, you can easily by date of birth. Knowing
the zodiac sign
, it is possible to characterize the main features of human personality.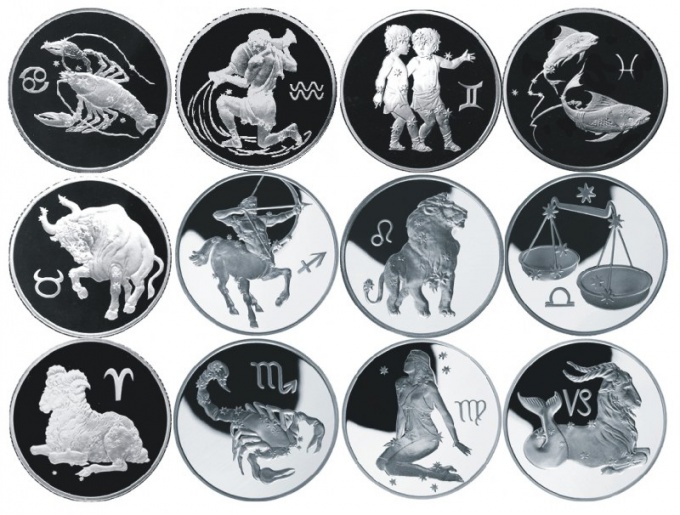 Instruction
March 21 - April 20. If your date of birth in this time interval, you are Venom. Aries - symbol of fire, passion, championship. He loves to achieve their goals, loves socializing and is often the center of attention.
April 21 - may 21. If you were born in this time, then your zodiac sign is Taurus. Bulls are distinguished by the loving and self-confidence. They are calm, often slow, like art.
22 may - 21 June. Born in this period - the Twins. Gemini often have a dual nature. They are sociable, ambitious, friendly. The twins tend to move, easy to adjust to the change. They have a lot of talent.
June 22 - July 22. This time interval is under the sign of Cancer. Cancers are economical, responsible and introspective. Like to fall into a state of melancholy. This is a good and loyal friends.
July 23 - August 23. If you were born in this time, then you are a Leo by zodiac sign. Lions are brave, purposeful. They make good leaders. These people love praise and compliments. At the same time they are kind and generous.
August 24 - September 23. At this time is dominated by the Virgo. Virgo live in the real world, they are prudent, practical, hardworking. Love to criticize, I think your point is more correct. This smart and tidy people.
September 24 - October 23. Born in this time, people are Weights. Libra love everything beautiful, this is what they do. Take care of themselves, love cleanliness and order. Libra are charming, they know how to please everybody. They are subject to various conflicts.
October 24 - November 22. If you were born in this time, so you're a Scorpio. Scorpions are strong. They have a powerful energy which is difficult to resist. Scorpio is the most passionate of all signs. Can be vindictive. Easily find common language with people.
November 23 - December 21. Sign Sagittarius. This is one of the happiest signs of the zodiac. The archers are agile, cheerful, sociable. Love sports and gambling. They are friendly and have many friends.
December 22 - January 20. If you were born in this time, you Capricorn. Capricorn - the sign of reliability and stability. These people set goals and go for them, avoiding all obstacles. They are alien to romance, but they can always rely on.
January 21 - February 18. The Age Of Aquarius. Born in this period - a beautiful and gifted people. Aquarians appreciate friendship, they have few friends, but they are real. Aquarians are the inventors, they all love the unknown and incomprehensible. The main thing for them is freedom. Aquarians have a highly developed intuition.
February 19 - March 20. People born in this period, Pisces. Fish gifted people, do not tolerate criticism. They are generous and dreamy, have developed imagination.