You will need
- wood ash;
- potassium permanganate;
manure humus or compost;
- peat;
- organic and mineral fertilizers;
- copper sulphate;
- watering can with fine nozzle;
-
Instruction
Spend processing of seeds of onion. For better germination and protection from diseases, before sowing seeds wrap in a cloth bag and dip for 10-15 minutes first in hot water (45-50°C), and after 1-2 minutes in the cold. Additionally, you can infuse one liter of water 2 tbsp of wood ash and load it on 10-12 hours, the pouch with the blacktop. Sow after this treatment it is possible after 2-3 days.If you bought seed in the market, disinfect it. To do this, prepare a pale pink solution of potassium permanganate and put into him the seeds for 30 minutes.
Prepare a bed for sowing of black cumin. The bed should be placed in an open Sunny position. Onion grows well in areas where previously grown cucumbers, tomatoes, potatoes, cabbage, peas.Make manure into the soil humus or compost (3-4 kg per 1 sq. m) and peat (2-3 kg). Do not forget about fertilizers, add 1 m 1 tablespoons nitrophoska and superphosphate and 3 tbsp of wood ash. Distribute the fertilizer evenly around the area allotted for the garden bed and dig the soil to a depth of 18-20 cm.
Form a low bed with a width of 1-1,2 m. Lightly tamp it with a shovel. Pour a copper sulfate solution (1 tablespoon per bucket of warm water) at the rate of 2 liters per 1 square meter. Cover with plastic wrap for 1-2 days.
Sow the seeds (in the middle lane Russia, it is usually from 20 to 25 April). For convenience, label the flower bed: back 10 cm from the edge and take along 3 grooves at a distance of 5 cm from each other. The depth of the grooves 2 cm and Then back off to 12-15 cm and again swipe along the grooves 3, etc. This location is the most convenient for further care of the crops.Sow the seeds in furrows and sprinkle the earth. Lightly compact the topsoil and pour a flower bed at the rate of 2-3 l of water per 1 square meter.
Further watering (before sprouting) make very carefully in order not to blur the bed and not to wash the seeds out of the grooves. Watering from a watering can with a fine nozzle every three days. To provide friendly and quick germination can cover the bed with tape or covering material in 1 layer.
Reduce watering when the seedlings. At favorable weather in may and June water the garden 1 time a week, and when it is hot and dry 2-3 times a week 6-8 liters per 1 sq. m. In July, watering is still reduce, because in this period in the maturation of the bulbs. Watered as the drying of the soil, preventing the decay of the pen.For watering use a watering can with a nozzle in the form of small sieve, try not to break the feathers of the bow, they have a small bulb, very gentle, but they help to form the onion.
If the shoots are very frequent, be sure to thin out their.
Loosen the bed with excessive soil compaction. Just in this period will be very useful those wide aisles that you made in the labeling. Loosen soil in them to a depth of 3 cm, trying not to touch the plants.
Regularly proplyvaya the bed, not allowing to root weeds. Vypalyvaya large weeds, you might pull out and the neighboring bulbs. However, the bulbs just enough to budge, and they will stunt and die. Before weeding carefully pour the garden, so weeds were removed easily.
Feed onion sets. Dissolve in 10 litre bucket 1 tbsp. liquid HUMATE of sodium (or 1 tbsp. of urea, or 2 tbsp of fertilizer is Ideal) and pour a flower bed at the rate of 3 liters per 1 sq. m.
Useful advice
Matures onion sets in late July – early August. Visually you can tell by the yellowing and lodging of the pen. Pull the onion and place in a thin layer on 1.5-2 weeks for drying. Then remove the dried-up pen and leave the onions to dry further for another 3-5 days. This additional drying will prevent the onion from sheykovoy rot and downy mildew.

Store onion sets in cardboard boxes at room temperature.
Advice 2: How to grow large onions
In the European countries grow onions directly from seed. For this purpose there are special varieties, which require strict observance of farming, intensive use of fertilizers and protection from pests. Many gardeners use this technology in Russia.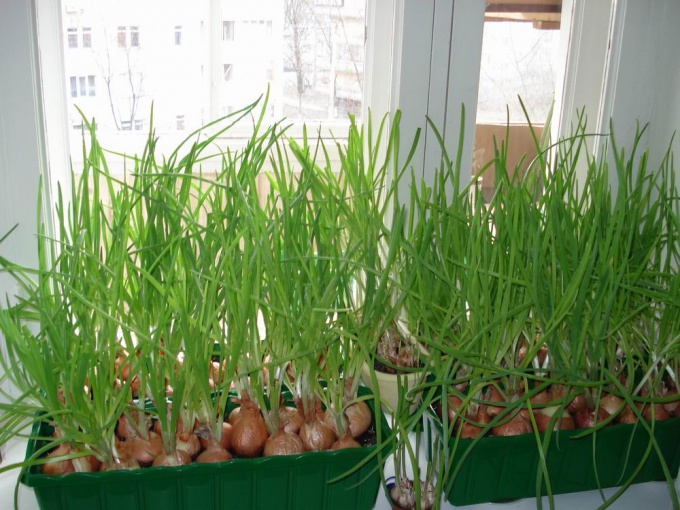 Instruction
In the middle lane of the big distribution has received a two-year method of growing onions. In the first year engaged in the cultivation of seeds of onionsand sets. Little bowovki planted after winter. By next summer they turn into a full bowavici. If there is no opportunity to grow onion on your own, then it can be purchased in the spring market. You can buy a sufficient amount of planting material.
A good harvest usually begins in the spring, but for bowand – in subsequent years. This culture does not like the same place. Re-seeding in the garden is best done after four years. Otherwise, a good harvest will not. It is recommended to put on the beds where it grew cabbage, cucumbers, tomatoes, courgettes and early potatoes.
Time of sowing has a significant impact on yield. Planting is best in the first third of may. If planting will be done later, it will decrease productivity. Early planting can result in formation of arrows and flowering, to reduce the probability of which will help winter storage sets at temperatures below 18 degrees.
If the sets are small, it strelkovanie less likely. Large bowovki larger than one and a half inches in diameter should be planted in April for an early green pen. A few weeks before planting, seeds need to be heated. This is done for 8 hours at a temperature of 40-45 degrees. This fully will increase the resistance of plants to disease.
For bowand more suitable for Sunny places where there is loose soil and plain topography. Before you dig, land to feed. Per square meter you need to make about five pounds of compost, 30 grams of ammonium nitrate and superphosphate, 20 grams of potassium chloride. If you are planting on peat soil, be sure to take care of phosphate fertilizers.