Reliable insulation – the key to reliable operation of the building

With a reliable insulation of roof, walls, Foundation can significantly reduce the cost of space heating. The most efficient materials for long lasting insulation are isobox, roofing, stekloizol.


The roofing material is produced by impregnation of a roofing cardboard with a special bitumen. Manufactured in accordance with the requirements of GOST, a modern roofing material is moisture resistant and does not rot.


As a waterproofing material stekloizol is also used. It is qualitatively different from other bituminous materials. In its composition does not include polymer additives. This means that the lifetime of the stekloizol less than others.



Dignity roofing materials

According to experts, stekloizol outperforms roofing felt and other materials. Fiberglass and fiberglass included in this material, provide excellent quality stekloizola. There are several varieties stekloizola: roofing, cushioning. Material thickness 3-3,5 mm, standard roll width of 1 meter. Laying of roofing material can be carried out at very low temperatures, but even at high temperatures the material completely retains its properties.


There are several types of products designed to insulate buildings. Each type differs in composition and functionality. In the manufacture of roofing material used in polymer modification and fillers. Chalk, limestone, clay and other items increase the performance of moisture and heat resistance.



Features of roofing material and stekloizola

In the same way as stekloizol, roofing material has several varieties: rubemast, stekloruberoid, ruberoid and roofing. Unlike conventional roofing material, roofing materials based on bitumen binder have a high density basis and the presence in its composition of various fillers. Before buying you should check with the roofing is a roofing felt or underlay. The manufacturer indicates the density and type of bedding.


Production technology stekloizola and modern roofing similar to each other. But, on some indicators, stekloizol, nevertheless, inferior roofing materials. Its main plus - affordable price. Functionally, stekloizol combines several functions. The presence of a special layer of water-repellent gives you the opportunity to use the heater as gidroizolyator.
Advice 2 : Roofing: types and application
The demand for roofing material among consumers does not decrease, despite the emergence in recent years a large number of new roofing and waterproofing materials. The popularity of the roofing material provided by its low cost, ease of installation and excellent performance. Roofing material as used in roofing and for the waterproofing of foundations, beams, log, etc.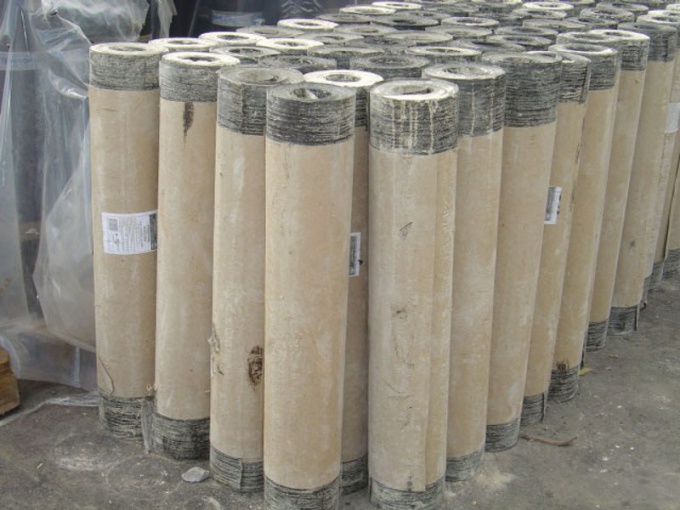 Manufacturer of roofing material


The traditional roofing material on the basis of a mastic of bitumen were produced in the early 20th century. The technology of manufacture of roofing material since then has not changed: a layer of roofing paper impregnated with a soft fusible or road construction bitumen with a softening temperature of 34–, 50 degrees, and then on both sides a cover layer of refractory bitumen with a softening temperature below 80 degrees containing powder mineral Foundation. Powders fillers are based on sand, limestone or dolomite flour, talc or gypsum are used to improve heat resistance and moisture resistance of the coating. Then the upper part is sprinkled with sand or talc to prevent sticking of the layers during storage, and the cloth is wound into rolls. The result is a reliable and durable waterproofing material – the roofing material.


Labeling of roofing material


The roofing scope is divided into underlay and roofing, they differ in the thickness of cardboard and grit. Topping at roof roofing material larger than the lining, the cardboard layer is also thicker. They may differ not only thick cardboard base and size of the grains spreading, but thick bituminous coating.

In the manufacture of roofing material, the following types of signs:
1. Material: "D" roofing.
2. Purpose: "To" - roofing, "U" lining.
3. Type of topping: "K", "M", "P", "H" - coarse, fine, powdered, flake.
4. The density of the cardboard base: 300, 330, 350, 400 g/m2.


The main types of roofing material and their application


The RCP-300, RKP-350 - roofing roofing material with pulverized grit from both sides of the door. Used as both upper and lower layers of roofing, and waterproofing of building structures.
RPP-300 – soft lining roofing material with pulverized grit from both sides. Applies only to the lower layer of a roofing carpet.
RCP-350У – roofing felt paper with increased thickness of the bitumen coating.
The RSC-400 – roofing roofing material with coarse grit. Used as the top layer of the roof.


Varieties of roofing material


Varieties of roofing material include the following materials:
1. Glassine paper is a rolled material obtained by impregnating bitumen roofing paper.
2. Roofing cardboard impregnated with tar with mineral grit on both sides.
3. Rubemast – differ from roofing material a high content of bitumen on the inside. Fit method podplavleniya the bottom layer.
4. Stekloruberoid – rubemast with fibreglass backing.
5. Ruberoid – modified roofing material based on glass fibers, impregnated outer layer of a mixture of bitumen and polymer additives. Applied method the resulting weld has a longer service life.