You will need
- flower seeds;
- flower seedlings;
- plan the planting.
Instruction
Draw a sketch of the flower bed on the sheet of paper and shall describe next a detailed plan. What is the illuminance of the place, what's the soil composition and humidity. Then think about flowering time of the flower beds. You can pick up the seed so that it blossomed all at one time or succeeded each other during the whole summer season.
Make a bed so that it was not empty. Flowers that bloom for one or two weeks, plant among those plants that bloom after them. This will close the free space, leaving no bald spots. Then you won't need to constantly dig the flower garden.
When selecting flowers for flower beds pay attention to their compatibility. Because some beautiful flora can inhibit or completely destroy other representatives.
Consider the color scheme of flower beds. It can be monochrome if you pick up close by coloring flowers, or colored when the flowers will be planted in a certain order, making a premeditated pattern. Flowers of cold colors are the perfect backdrop for one or two accent plants.
Place the flowers in the flower bed depending on the shape of the flower bed. For square or rectangular flower bed make a pattern of geometric patterns or waves. The circular flowerbed planted plants in a spiral or circles. You can make bright rays from the center.
Try to avoid too colorful and fine pattern on the bed, if this does not imply a specially chosen pattern that will fit into the surrounding landscape.
Calculate the height of the plants in the flowerbed. To front squat to plant the plants, and the closer to the center, the flowers can be higher. On the edge of the flower beds can be planted creeping species.
Try to plant plants so that they were not closely in the same bed. They will grow and survive each other, and your bed will lose a well-groomed appearance.
Note
Bulbous plants should be fertilized with nitrogen fertilizers, and most perennials, it will cause abundant foliage growth and not flowering. Keep this in mind when forming beds.
Advice 2: What perennial flowers to plant in the country
Buying garden inexperienced gardeners often don't know what perennial flowers to plant in the flowerbed. In this case it is important to choose low-maintenance plants, which would not require complex care, but each year delighted its owners with lush flowering.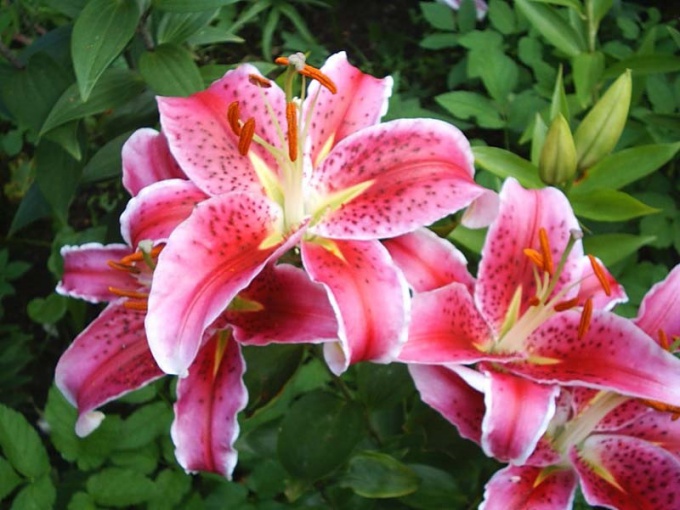 For novice gardeners will be the perfect undemanding perennials for gardens that do not require annual planting. Once planted, for many years they will continue to please their owners graceful blooms and pleasant aroma.
Herbaceous peonies: planting and care
The recognized leaders among this category of plants is evading the peonies (herbaceous). This name perennial flowers for the garden fully reflects their characteristics. Plants are able to bloom luxuriantly in one place for more than 20 years without requiring special attention. Even after flowering, the area will decorate their glossy, carved dark green leaves. Landed on your site a few varieties of herbaceous peonies, flowering at different times, it is possible to decorate the site for the whole holiday season.
Despite the fact that this is a sustainable and low-maintenance plants, some of the requirements to care for evading peonies still exist:
To ensure abundant flowering annual, twice per season to feed the plant complex fertilizer.
After flowering you need to remove the stems without touching the foliage.
For the winter should be cut off the entire aboveground part of the plant and cover with a thick layer of mulch or twigs to protect it from freezing. This condition is very important to observe in regions with severe winters. In a mild climate peonies perfectly winter without shelter.
Transplanted peonies need deviating only when necessary – if the Bush is too wide, and the flowers began to grow shallow. In General, the planting and care of herbaceous peonies don't require much time.
Lilies Asiatic Hybrids – for the inexperienced growers
Another kind of undemanding perennials – lilies types of Asian Hybrids. The name perennial flowers for the garden have given the selectors who brought flowers amazing beauty of wild species Daurian Lily. They are not afraid of frosts, which are not particular to nutrition and the composition of the soil. The only thing these flowers – the abundance of sunlight, moderate watering and occasional feeding. Planting some bulbs of these plants, you can create a gorgeous flower garden that will be envied by all the neighbors and guests. Modern breeding offers lilies Asiatic Hybrids with a variety of flower, height, flowering at different times, from spring to autumn.
Other hardy perennials for the garden
Rose - a real decoration of the garden. Choosing and planting garden seedlings canadian roses of different varieties, you can enjoy the fragrance and lush blooms for many years. All canadian roses are not afraid of cold, almost not damaged by pests and diseases, and lush, flowering rose bushes may continue with the first half of June until the first frost. The name perennial flowers for the garden are descended from species selection – this type of rose was launched over 100 years ago in the harsh canadian climate.
Popular with gardeners, Phlox perennial, too, can become a real decoration of the site and the pride of the hostess. These plants bloomed profusely, you need to replant them once in 3-4 years, giving Bush perennial Phlox needless to segestica.
Astilba – another undemanding perennial. Graceful panicles and the delicate foliage of this plant is decorative not only in summer, but beautify the garden until the first frosts. They are used in mass plantings in lawns, to create a decorative background for other flowering plants for decorating unsightly foundations and fences. The planting and care of astilbe does not require special knowledge, it can grow for even a beginner.
Using a combination of different species and varieties are undemanding perennial flowers in the garden, you can create a unique flower bed that will remain decorative all season and do not require special care.
Advice 3: How to plant beautiful flowers
Beautiful planting flowers is an art. You must have not only good taste, but some knowledge and practical skills. First, you need to choose a strategy of a flower garden, suitable for beginners strict form and hardy varieties. Deposit chic beds for the novice grower - tight fit and a contrasting color.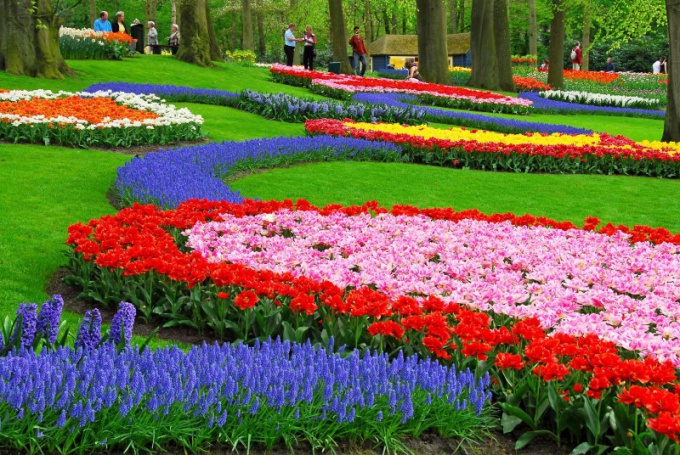 Instruction
When organizing a flower garden, it is very important to place the correct emphasis. Place it in the center of some beautiful flower bed. This will allow more advantageous to place the flowers attract maximum attention. The Central flowerbed can be a standalone part of the landscape and a certain element, overlapping with the secondary components of the flower garden.
Remember that it is better to create one great flower-bed, than be sprayed to the planting of many small. The simple lines will allow you to succeed. Large composition always looks more attractive, so plant flowers so that they were integrated. Well, if you are able to select varieties with a long flowering period, this will allow the flower garden to look fabulous throughout the season.
To make the flowers look maximum well-groomed, prefer dense planting. This will help to get rid of weeds, they just have nowhere to develop. To initially have a clear idea of the result, use grown flower pots or already flowering plants.
You will be easier if you will plan the flower garden, for example, draw an approximate outline on a sheet of paper. In addition, you should compile a list of plants you plan to plant by breaking them into groups by height and colour scheme. When selecting varieties it is necessary to consider the requirements for watering and fertilizing, and light conditions, some plants simply are not compatible with each other.
If you are creating a flower garden for the first time, you can use ready-made schemes too. In addition to colors and geometric shapes, diagram of the flower beds usually means a ready-made list of all the necessary plants. This method of creating a flower garden will allow you to gain experience in this field, and in the future you will be able to bring their own imagination, adding to an existing track or creating a new one.
For beginners in floriculture win-win solution could be the creation of ridges. This kind of garden, densely planted with flowers. Especially beautiful ridges, located along the garden paths on a background of grass, they almost do not need any additional decoration, and the narrow landings, to take care of flowers as comfortably as possible.
Note
When you create flower beds for the first time, try to give preference to undemanding perennials, many annuals are very capricious.
Useful advice
Cereals and dried flowers do not lose their appearance until the beginning of winter and the look is very original, they can be a wonderful addition to any flower garden.