Instruction
Select tools for cleansing the skin. In the summer it is better to use non-greasy formulas - for example, a light and refreshing milk foam with vegetable extracts. To remove makeup can and wipes impregnated with lotion. This option is especially convenient in the road. Wash your face morning and evening, and then wipe the skin with a refreshing tonic or infusion of herbs - chamomile, sage or mint.
Moisturize skin morning and evening. Instead of heavy nourishing creams use almond emulsions, gels or serums. Lean tools do not create the face film, allowing the skin to breathe freely. To face is not swollen, apply moisturizers for half an hour before bedtime. Eyeshadow choose tools with a lifting effect.
Protect your face from the sun. Choose creams with a high protection index against UV rays. Ideally, day cream, Foundation and powder should have UV filters. Going to the beach, apply on face and neck more powerful tools with index not lower than 30 SPF. Update the cream or gel every few hours.
Choose quality decorative cosmetics. For summer you need a multifunctional tool that will help to avoid the effect of multi-layered pie in the face. Tinted emulsion with SPF give the skin a beautiful shade, will protect it from the sun, moisturize and hide minor flaws. Powder color suntan will help you to frost the skin will replace the bronzer and blush and even a little sculpturesque face. Discard the thick lipstick and sequins and dark eyeliners, preferring fruit balms for lips, colored mascara and eye shadow water-based.
Tools for makeup and grooming store in the refrigerator. They rot from the heat and sun, and apply cold creams, gels and lipsticks will be much nicer. In stores you can find special sticks, cooling and refreshing the skin. Choose tools with a pleasant smell , is made from natural ingredients - peppermint, ginger, bamboo extract.
Do not overdo the makeup. Apply the makeup in a thin layer and be sure to remove it before going to bed. However, excessive cleaning may damage the skin. Refrain from acid peels, steam baths and other aggressive procedures. To remove dead skin cells and refresh the face by using simple home remedies - for example, washing cereal or fruit masks.
Advice 2: How to care for mixed skin in the summer?
Summer – the long-awaited season of holidays, hot sun, sea, romance and relaxation. But at this time of year the skin needs special care, because in summer it is much more frequently exposed to negative impacts.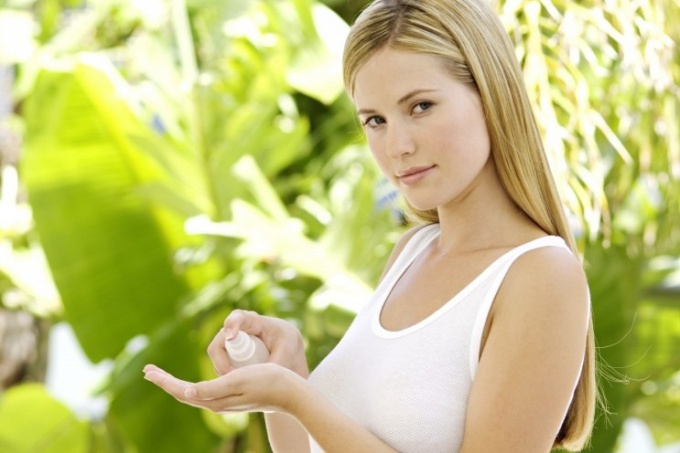 It is especially dangerous in the summer, excessive sun exposure, may be new wrinkles, sometimes the skin dries up and becomes irritable. In addition, the heat begin active work of sebaceous glands, especially in the mixed type of skin.
Summer problem areas the pores are closed, the skin is polluted, and as a result develop pustular infection appear acne and pimples.
Combined skin — care
Combined or combination skin often dry on the cheeks, temples, around the eyes, but at the same time, oily on the forehead, chin and bridge of nose. Therefore, waiting for two dangers: the rapid appearance of wrinkles around the eyes and acne.
To care for combination skin you need to apply special creams that moisturize dry areas dry and oily, but no need to mix them. Apply two different creams depending on the area of the skin.
You can choose cream for combination skin, but it is in those cases, if you have not observed obvious problems.
For removing makeup use soft foam and avoid hot water. After all the procedures, wipe your face with a cleanser, eliminating dry patches, or choose neutral lotion for combination skin.
Care for each day
In the morning wash with soft foam, which is better to wash special sponge, so you will also do light exfoliation and massage of the skin. Then wipe the face tonic and apply the cream. When you have acne and pimples and treat them with special tools and apply sunscreen moisturizing cream. In summer it is better not to use powder and Foundation creams as the pores heavily clogged and the skin does not breathe.
In the evening rinse the cosmetics off my face, rinse it with warm water, make a gentle exfoliation, finish with tonic. Then apply eye cream and two different cream: moisturizer for dry sites and nutrient for fat. If sebaceous secretion is too active, the fatty area that does not lubricate. Pick the tool depending on the characteristics of your skin, because the symptoms of mixed type are different.
Once a week is necessary to clean the skin scrub, but just don't RUB dry areas. Two times a week to do special masks: it is very simple and does not require additional expenses, because in summer so many fresh vegetables and fruits, of which it is easy to cook skin care products for the face.