Instruction
Occupy the kids during the day games. Not necessarily they have to be agile. Using them to teach children reading, speaking, ability to distinguish colors and other useful skills. Only in the game for pre-school children acquire new knowledge and skills.
Use colorful visual AIDS to arouse children's interest to the learning process in a playful way. For example, you drew a bear, but without the ears. Invite the children to finish drawing. Ask them what is missing at the bears. Ask the children to draw and cut out from colored paper, stick. Then suggest to dream up, have the children complete the pattern-applique other elements: grass, sun, trees, bushes, birds. The result should be a fascinating image created by the hands of kids.
Children take a walk in the fresh air. They don't just have to run and scream, and spending time organized under your leadership. While walking, pay attention of children on their environment: time, trees, weather, color of leaves, etc. Indeed, thanks to this experience they can learn many new and interesting things.
Also while walking take kids playing outdoor in age, their choice is unlimited. Besides, oncoming, on the street, the kids will be calmer. You will be able in a relaxed atmosphere to read them a book, tell a tale, to teach them a poem or rhyme.
Allocate more time to sculpting clay (dough). These materials are pleasant to the touch, in the hands of children transformed into different figures. That's probably why guys with a lot of fun playing with them.
Be sure to arrange contests between children, organized team - it stimulates. For example, who is faster blind Bunny; who can say more words with the letter a and the like.
In the spring and summer time on the site to make a small garden or vegetable garden. This will not only teach kids to work, but will learn a lot of new and interesting vegetables, flowers, herbs. They'll learn to plant, to water, to care for them. You have to remember that any theoretical knowledge put into practice. And if a child is watching this then it becomes fun.
Note
Throughout the day alternate active with passive children. Otherwise they will simply overworked.
Useful advice
Pick up games, age-appropriate children.
Advice 2 : How to drive a child to kindergarten
Children of any age when they find themselves in a new environment, experiencing a so-called adaptation period. The kid needs stability, he needs consistency. That is why the beginning of a visit to the children's garden can be for the child can be very stressful. And the younger he is, the this period is longer and more complicated. The task of parents in this situation to facilitate the adjustment period and reduce the inconvenience to a minimum.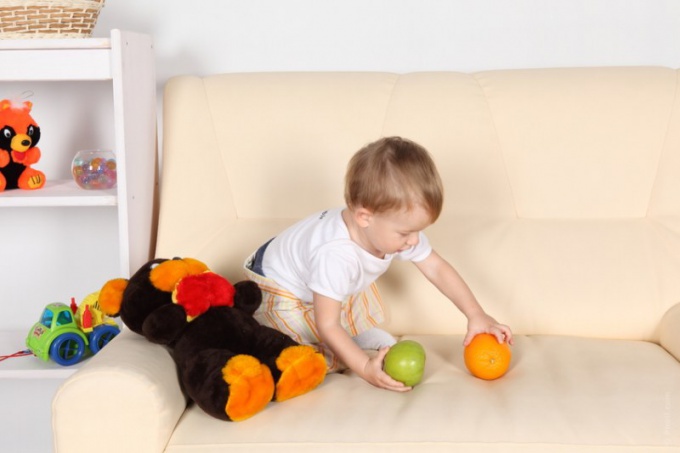 Instruction
For children under the age of three the adaptation period lasts usually from 2 months up to six months. To further the child without harm to themselves to visit kindergarten, first it is recommended to give it in so-called groups of short stay if parents and caregivers have the opportunity. The most comfortable option for beginning to leave the beloved child of only 2-3 hours 2-3 times a week during walks and educational games. If the child adapts well to this group, it is possible to increase the number of visits. It has to happen gradually: for example on 2-3 day, full day or full week half a day for 1-2 months.
If you have (or your kindergarten does not provide such services), you should start with visits to the children's garden for two weeks at 1-1. 5 hours. If the child successfully took place in kindergarten, the next two weeks you can drive it for 2-3 hours, adding Breakfast or lunch that coincides more with his individual regime.
At home parents can prepare the child for life in kindergarten. It is desirable to respect the day, as close as possible to the mode of the future group. The less will change the daily routine of crumbs, the more comfortable he will be in a new environment. Will also help and play skills with other children. When you go out to the Playground or visit to its peers, try to teach the child to meet with peers and play with them. And, also, the more independent your child is, the better. To be able to eat with a spoon and use the potty, just need to teach child prior to entering kindergarten.