Instruction
Determine the place for lavender. It should be Sunny and dry. Keep in mind that one Bush of lavender lives a few decades, so the place should be permanent, lavender does not tolerate transplanting.
Prepare the soil for sowing seeds of lavender. Make the ground large river sand or fine gravel, the soil should be well drained. Dig site.
It is believed that the best time of sowing seeds of lavender – October. Sow lavender seeds to a depth of 3-4 mm (not more than 0.5 cm). Lightly seal the soil and water (abundant watering is not needed). With the onset of cold weather crops, covers with snow. Shoots can appear next year in late may and early June. Do not rush to despair ("nothing comes up!") to dig land with seeds of lavender.
If you do not have time to plant lavender in autumn, don't worry – make a sowing in may or early June of next year. However, before the spring sowing soak the seeds in the fridge (in a bag) within a month or two. You can also try this option: January-February sow lavender seeds in small box with good drainage and nutritious soil, and bury the box in the snow. In the spring, carefully remove the drawer and earthen, not peretryahivaya it, move to a permanent place of "residence" lavender, which determine beforehand. Naturally, the soil should be prepared by you in advance.
There is another propagating lavender seeds. Holding seeds in the cold for 30-40 days, in February or early in March sow their seedlings in a tray or drawer (the soil should be nutritious and at the same time permeable, i.e. with a high content of sand or gravel). Place the tray in a well-lit place, the room temperature should be from +15 up to +22ºC. For faster germination can process the crops by means of "Gibberellin" (150-200 mg/l). Grown seedlings planted in a hothouse at a distance of 5-8 cm from one another. Hotbed always ventilate. At the end of may you can plant each sprout in a permanent place.
Avid gardeners manage to grow lavender at home, although no single reference book on floriculture mentions lavender as a houseplant. If you want to take a chance and try to grow lavender at home, take fresh lavender seeds and sow them in a pot with a permeable soil (good drainage at the bottom and the mixture of river sand or gravel with the nourishing earth). Pour. After a short time you should see the sprouts. For the summer can make a pot on a balcony or loggia. With the onset of cold weather, bring home and identify in a cool place. Watering is very moderate. It is believed that if lavender survived the first winter, it will continue to grow normally. However, abundant flowering from it should not wait.
Useful advice
Lavender does not like direct. So on a country site it is best to plant it immediately in a permanent place.

Lavender likes soil rich in limestone. Therefore, periodically, at the site where the lavender grows, you can add finely ground egg shells.

Adult lavender bushes love the hilling procedure.

You should not be afraid of "dead" appearance of the lavender bushes in may, when the whole area in bright green. It may have a "charred" appearance until the beginning of June, and then very quickly (just a couple of days) throws the leaves, and after 2-3 weeks and flowers.
Advice 2 : How to grow lavender at home
To grow lavender at home, you need to know about which brand the best, how to prepare seeds for planting, what soil the plant prefers. If you create a lavender required for the conditions, a flower will grow well and develop.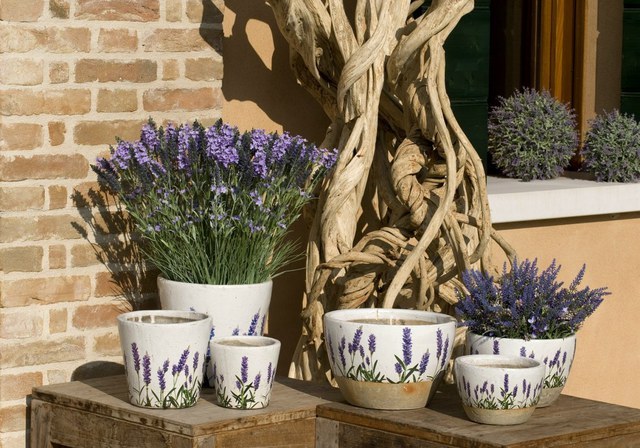 You will need
- grunt
- flower pot
planting material
Instruction
Lavender is loved by a person for the unique flavor, possessing healing properties, beautiful colors. This plant is used in the manufacture of cosmetics, cooking, medicine. Lavender is successfully grown in the home and in the garden.
You can find several varieties of this ornamental plant. But growth at home is more French lavender. The most effective methods to obtain a Bush of lavender is to plant the cuttings with a length of 8-10 cm, you can get It from an annual woody shoots and rooting in the soil, cover the glass jar or plastic bag. Another way to grow lavender is to use cuttings of adult plants. For this spring are bent 2-3 escape and fix them in the soil method prokalyvanie. The following season the young plants separated from the mother and planted in the right place.
More difficult to grow lavender from seed at home. After their acquisition should be stratifitsirovannoi of seed. For this purpose, you need to mix seeds with moist sand for 4-5 weeks to withstand at the temperature +5*C. in a small container with a low side you want to pour the wet sand and mix it with lavender seeds. Then cover with a damp paper towel and put on the bottom shelf of the refrigerator.
During this time, you will need to acquire neglazurovannyj clay pot (which is capacity optimal for this plant). The diameter of the pot should be more than 15 cm Then you need to take care of the soil. For growing lavender is not suitable soil from the garden, so it is better to buy it in the store for gardeners. Because this flower does not like acidic soils, the soil you should add perlite or one teaspoon of powdered lime.
After 40-50 days after the beginning of stratifitsirovannoi seeds, they are planted in the ground. To facilitate the process, you can do this: pour a thin layer of sand with the seeds, moisten it and sprinkle with a small amount of soil. The soil in the pot should be regularly watered, but not pereuserdstvovat. It is sufficient to follow the order. to the soil in the pot must be kept moist.
If quality seeds, they will sprout fairly quickly. If after a month there was not a single sprout, the seed well chosen. You can try to "Wake up" seeds in the following way: for 2-3 weeks to put the pot on the bottom shelf of the refrigerator, and then in a warm place. If after these manipulations fail, you will have to buy new seeds lavender.
If the shoots appeared, they should choose a bright place. Lavender loves the heat and sun it needs to be considered when it is grown at home. Watering should be regular, but not to excess. The soil needs time to dry. In the warm season lavender can be put on the balcony. But in the wind it is better to enter into the room, as this plant is afraid of drafts.