Daily skin is exposed to the environment, so cleaning is a must to those who want to keep it healthy and young. The first is to determine what method you need to clean your face. The procedure can be performed both in the home and in the office of a cosmetologist.

Today, there are many ways of cleaning the face, it is only necessary to find the best option in accordance with the type of your skin.

Cleansing of the face using masks are not only the most convenient and simple method of cleaning, but very effective. They are widely known as the home remedies cleansing the face. Typically, these masks from natural ingredients, and therefore the possible occurrence of allergic reactions are completely eliminated.

Facial cleansing can be carried out and peeling. Peels are divided into mechanical and hardware. Mechanical peeling is a massage with cleansing agents that dissolve and remove dead cells. One of the simplest methods of instrumental peeling is brossazh. It is applied using a special rotating brushes to simultaneously massage and clean skin on the face. Clean the face by using vacuum peeling. It has its positive and negative sides. Vacuum nozzle, suction to the skin, cleans pores of excess sebum and impurities, thereby providing an excellent lymphatic drainage effect, improves tone of the face. Vacuum facial cleansing less painful than mechanical. To achieve a more effective result it is better to use in combination with brossazh and mechanical peeling, as well as during common procedures that support the skin tone.

Facial cleansing with ultrasound is characterized by its painlessness. The skin is treated with special contact medium, which in the course of action of ultrasound starts to boil, otshelushivaet dead cells of the upper skin layer. This is cell renewal and smoothing of wrinkles, without causing redness. One session cleansing in a month is enough to give the skin more smooth and healthy appearance.

The positive side of cleansing the skin is that the new cells are more susceptible to the action of various masks and creams, so increases the effect of their use.

 
Advice 2: How to clear face of pimples and blackheads
Acne can appear not only due to improper skin care, but also because of the hormonal failure. To cope with the first cause, without any professional assistance, and to solve the second problem you will help endocrinologist.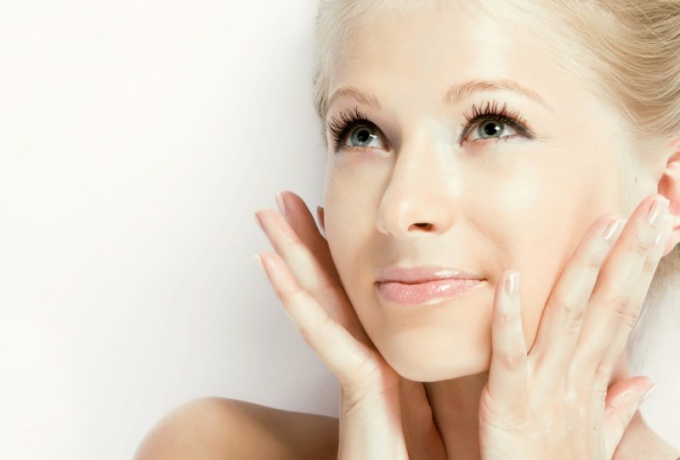 You will need
gel for washing;
- antibacterial tonic;
- face cream;
mask for oily skin;
scrub;
blue clay;
- sea salt;
soda;
- lemon;
- cucumber;
- vitamin complex.
Instruction
Buy a series of funds, which is specially designed for oily skin: gel cleanser, antibacterial tonic, face cream, scrub and mask. Use the
tools
regularly, focusing on the instructions from the manufacturer. Wash at least 2 times a day, and if you have very oily skin, throughout the day wipe T–zone antibacterial wipes for the face. If you're right, and most importantly, regularly clean the face, then pimples will cease to appear.
Twice a week make a mask from blue clay. Dissolve some clay in warm water, then the resulting mass apply on face with fingertips or with a brush. Blue clay draws out impurities from the pores, cleanses and tightens pores. Skin will look healthy, and pimples will.
Mix equal proportions of crushed sea salt and soda. Dampen face and massage gently clean the skin with application of the mixture. Soda removes dead skin particles epithelium, and the salt has antibacterial properties. After the procedure you will notice that the face was fresher look. Regular cleansing of the face baking soda and salt on the pimples will pass away, and his skin equalized.
Wipe face with a slice of lemon every morning. Lemon juice will help to get rid of acne and tighten pores, which are typically expanding in people with problematic skin. Instead of lemon you can use a cucumber, especially if you have sensitive skin.
Drink a course of vitamin complex and zinc. If the problem isn't resolved, go to the hospital to see a dermatologist or endocrinologist. It is possible that to help you can only medication. Especially acne often occur in adolescents during the hormonal changes the body, but gradually pass. So not worth much to worry, it maybe that it will just go away.