Instruction
For replacing the conventional shortcut, click the right mouse button and from the context menu select the bottom row - Properties. This way you will open a window with information and controls the properties of this icon.
Go to the tab "Shortcut" and click "Change icon" - she opens one additional window.
Select from the list a new kind of shortcut, or click Browse to search for other sources of icons. Such a source can be library files (DLLs) or executables (. exe). But more often to replace the use of icons contained in files with the extension ico.
Click "OK" in the dialog, change icon after decide with his new appearance.
To replace the icons that don't have the tab "Shortcut" in the properties window (My computer, Network places, Trash) it is necessary to open the panel "desktop Items".If you are using Windows XP, click a free space on the desktop right click, click properties, click the tab "desktop" and click "customize desktop".
If you have Windows 7, the actions of the previous step can be replaced as follows: first click on the "start" button and launch the control panel. Then in the search box type the word "personalization" and in the search results, click "Personalize". In the left pane of the window select "Change desktop icons".
In the case of using Windows Vista, too, need to start from the main menu of the control panel, on the page "appearance and personalization" which is the same link "Personalization". It opens the same page with the string "Change desktop icons" in the left pane, and click.
This step is the same in any OS: select it in the list of desktop icons need to be replaced and click the "Edit" button. Opens the same as for other shortcuts, search box images.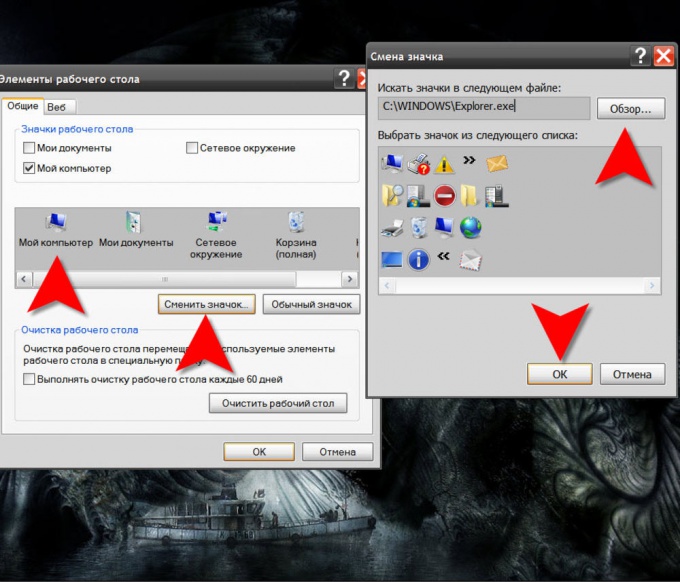 Find you need to replace the icon image and click the "OK"button.
There is an alternative way to replace all the shortcuts on the start screen, the table - changing themes. Each of those has its own set of icons, and the variety of themes that you can find on the Internet is huge. Unfortunately, not all OS versions allow you to change themes - for example, Windows 7 "Starter" is devoid of such options.