Instruction
Change the color of the environment. In people with blue, grey and green irises are fairly easy changes hue depending on the situation. For example, the gray-eyed man, dressed in a blue shirt and blue hat, it is easy to get the blue eye shade. The fact that the color of the objects of the surrounding world reflected in your parts of the body, including the eyes.
Use cosmetics. Women know the technique as to shade the eyes" in a different color. For example, the green-eyed lady, skillfully using brown or gray contour pencil and eye shadow, can make eye color darker, rich, and slightly change it.
The color of the eyes totally in a natural way is able to change both in childhood and old age. Most often, newborns are light eyed. Their eyes with the age becoming green, gray and brown. But the elderly, on the contrary, gradually lose the color of the iris. Old age, loss of vision, and the eyes seemed to be faded. Even
dark
brown eyes at the older man can turn into honey.
To change your eye color without waiting for old age, can be caught in a stressful situation. Some people have eye color changes when they are seriously ill. Usually these changes are minor. The iris of the patient may become darker or lighter blue color can find grey or green shades. But brown eyes practically does not change.
Ophthalmologists say some inflammatory diseases of the eye, can change their color. This syndrome, Fuchs syndrome and Posner-Schlossman. In these patients the iris becomes greenish hue. Unfortunately, these diseases often affect only one eye, and, consequently, in humans, there is difference in color of both eyes (heterochromia).
There are hormonal eye drops, used in glaucoma to reduce intraocular pressure. Such preparations with prolonged instillation change eye color darker. But brown-eyed patients again almost do not notice color changes. These eye drops ophthalmologists have never used and unlikely to be prescribed specifically for color change eyes, since the latter is a side effect of the drug.
Note
If your eyes for a short period of time without any action on your part is greatly changed color (e.g. brown steel gray-green), it is recommended immediately consult a doctor to make sure that such changes are not a sign of more serious health problems and vision.
Advice 2 : How to pick colored lenses for eyes
The desire to change anything in their appearance from time to time occurs in every. And it is not necessary to this change has been drastic. Sometimes even a seemingly insignificant detail can not only elevate mood and enhance self-esteem, but also allow to look at the world differently. Refresh your look you can by changing the color of
eyes
using colored contact lenses to choose who to properly.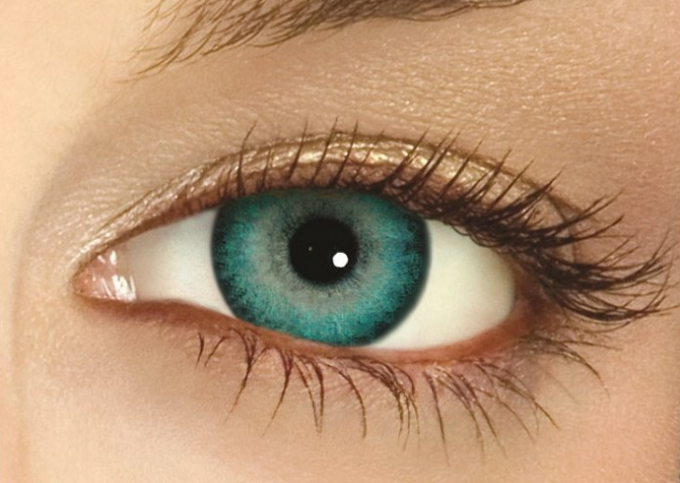 Instruction
In order to choose the right colored lenses for eyes, carefully read the supplied manual to them. The description should be clearly written for no eyes - dark, light, or any - designed lenses.
Owners of light eyes will suit absolutely any lens, including those designed not to dramatically change the color of the iris, and to give it the desired hue. Tint lenses for eyes look very natural.
When you select tint lenses for light eyes remember that some of them, making the color brighter, completely smeared pattern of the iris. So prefer lenses with multi-stage painting system. Most often they have a dark rim around the edge and imitation of the natural pattern of the iris of the eye.
If you have dark eyesand tint of lenses you will not work, so pay attention only to color. With their help, you can radically change the color of your eyes: to make them lighter or more dark. Bezel the colored lens is over the pupil, not covering it. Depending on the amount of light the pupil expands or shrinks. So don't be surprised if in bright light, people will be able to see the real color of your eyes.
When choosing lenses for eyes, the color of which differs from yours, keep in mind that when applying two different shades of each other can get a third.
If you want to show off their originality in front of others, give the preference to colored lens, the iris image which is a spots, freckles or rays.
There are lensesthat are not only able to change the color of the eyes, but also to correct the vision of its owner. Right you will help only a qualified ophthalmologist.