Instruction
Prepare the room for future parties (the club, leased a country house, restaurant). For this you may need a lot of things: balloons, garlands, posters, and more in line with entertainment. Check the sound and lights, and prepare for the dances, buy the CDs with the desired music, if you are going to invite a master of ceremonies or DJ.
Make a guest list. Importantly, it was not implacable enemies, otherwise the party could turn into a massacre. Apologize to one of the parties, which on the occasion to invite not to be, as if you wanted to. The list should contain roughly the same number of women and men, so nobody felt deprived.
Decide whether to arrange only a disco, or you can enjoy a varied entertainment programme. Do not let them get bored: let one number replaced by another every 20 minutes, during which you can dance or eat and drink.
You might want to arrange a stylized party. For example, in the style of Latinos, vamp, or "a La Rococo". All of this will require a certain drawing, music, menu. Not sure in this case, pre-warn guests that they have the appropriate costumes. If you wish to surprise them with your stylized party, don't tell them anything, and better prepare the sets of any era, country, etc. They will be handing out at the entrance to prepared for the arrival of guests room. However, the owner better be in full uniform.
If you decide to arrange a home party, you will have to be limited to a small number of guests (depending, of course, matter what size your home or apartment). And accessories for a party you will be able to use any items of the interior, beating them, for example, as the furniture of the castle, or decorate with flowers to make the guests of the Association with the distant southern countries.
Advice 2 : How to throw a foam party
Fashion foam parties came from the beaches of Ibiza and Turkey, where almost every evening in some happening disco bar, during which guests find themselves in clouds of foam.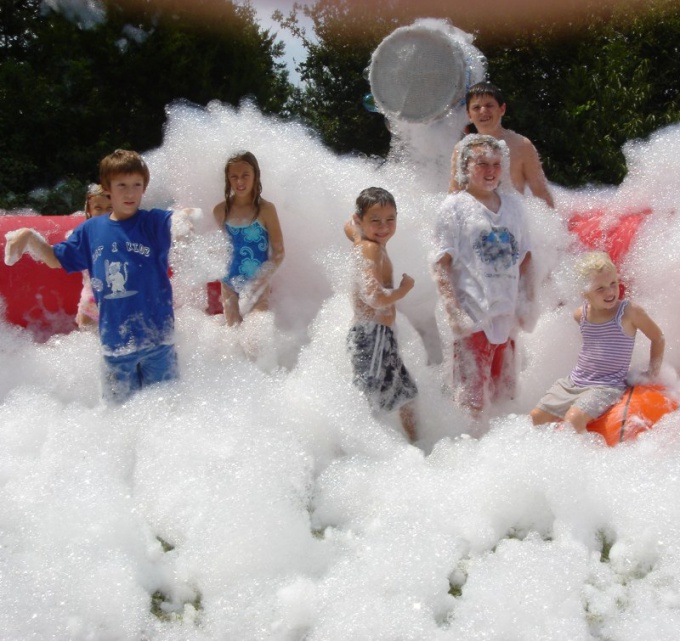 You will need
- foam turbine;
- a foam concentrate;
- foam gun;
the container under water;
the foam generator.
Instruction
Calculate the budget of the party. From your amount will depend on the choice of the service provider. There are several ways to arrange a disco with a surprise in the form of flows of foam: purchase the necessary equipment, to rent or to order the services of professionals who organize shows for you and your guests. At specialized sites on the Internet, you can hire a foam cannon, turbine and generator foam and purchase foam concentrate. Experts advise to test it beforehand: if the floor remains of the soap threads, not a mousse, so concentrate poorly.
Choosing a foam gun, keep in mind, what audience and what kind of space designed your foam party. For children's disco or hall with low ceiling suitable foaming agent small amounts. At the open-air, you can afford a more powerful generator. Before the purchase or lease of equipment, calculate its size and estimate if it will fit the dimensions in the place where you plan to install it. Note that the installation and dismantling should be done by professionals, preferably staff of the company that provides a foam gun and a generator.
Decide where will be a foam party. A closed room should be equipped with a ventilation system with a good hood, and shall meet all fire and sanitary-epidemiological requirements. If you are organizing a foam party is not a "turnkey", in advance take care of the subsequent cleaning of the territory from the remnants of the foam. Also warn your guests that the modern formulations of foam concentrates will not harm clothes, so "swim" in the foam is possible without undressing to the bathing suit.
Consider additional special effects for the party. Advantageous of all streams of foam at the disco look to the light colored laser beams and accompanied by Groovy music. A non-trivial variant of the foam show - one in which participating guests (it is assigned the role of spectators), and professional actors, often strippers or dancers go-go.
Note
For obtaining the air-mechanical foam is required propedeuse device(foam sprinklers, foam chambers, foam generators, nozzles), water and foaming agent, which differ in their purpose, physico-chemical properties, temperature indicators, multiplicity, and concentration.
Useful advice
Warehouses, industrial and petrochemical plants, oil storage tanks equipment used for sewer, which is based on the use of propodus devices. This is the most effective and fastest way to cope with any type of fire. The foam generator is a facility for the generation of mechanical foam.