You will need
Malibu liqueur, ice, lime, different kinds of juices, vodka "Stolichnaya", banana liqueur, tequila, Cola, milk
Instruction
Pure liqueur is usually served after lunch or dinner, before serving the black coffee. Drink it from a special liqueur glasses slowly to experience all the magnificence of taste. It can also be drunk with dessert, such as ice cream. Sometimes in the liqueur add a couple of ice cubes.
But most of all, Malibu is one of the ingredients of cocktails and soft drinks. The simplest version of the cocktail is a Malibu juice. This can be, for example, pineapple juice, Apple juice or papaya juice. The proportions should be taken 1:1.
"Banana Daiquiri" is a cocktail made from Malibu and banana liqueur in equal proportions. Also it adds a bit of banana pulp, lime juice and powdered sugar. Serve it in cocktail glasses with ice.
"Tropical kiss" — a cocktail made from mixture of rum of Malibu, "Stolichnaya" vodka, pineapple and cranberry juice in equal proportions.
"Malibu Margarita" made of Malibu, tequila, Triple Sec, lime juice and sweetened lemon juice. The edge of the glass is sprinkled with salt, decorate with a slice of lime.
Another option is cocktail Soso Сooler. In a glass highball, you have to put ice and pour 50 ml of liquor "Malibu", 150 ml Coca Cola, 20 ml of lime juice and a few drops of Angostura. Stir with a bar spoon. Garnish with a lime wedge.
Refreshing, perfect drink Twisted Pink. In a highball glass with ice cubes pour 50 ml of liquor "Malibu", 50 ml cranberry juice 100 ml grapefruit juice. Mix and decorate with a slice of grapefruit.
Malibu is an excellent choice for all milkshakes. In particular, the simplest of them is a cocktail consisting of a liqueur and milk in the ratio 3:7.
Cocktail BMW (BMW) was named the first letters of the names of its component ingredients - Baileys, Malibu and Whisky. All the ingredients are mixed in equal proportions in the glass and serve over ice.
Advice 2: Like drinking dark rum
Rum has long been considered a drink of seafarers. All of them, starting with pirates of the seventeenth century to the twentieth, the British sailors took with them to the swimming considerable stocks
of rum
because of its antiseptic and warming properties. Today there are three kinds of rum - white, Golden and dark. The latter is especially popular among connoisseurs.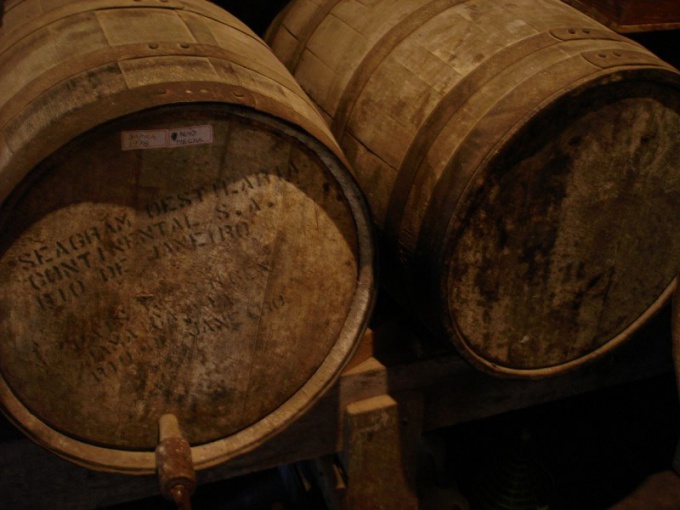 Instruction
Try to drink rum in its purest form. For quality brands preferred this method. The fact that the dark rum is aged in barrels for much longer than the amber, and therefore has a bright and rich taste. Therefore, to assess this drink is best drunk as a digestif (after a meal).
Pour dark rum in a special glass with a thick bottom and walls (also for this drink you can use the traditional glasses of cognac). Fill glass with a few ice cubes and a slice of lemon or lime. The resulting cool drink with a tart flavor will have a little acidity from the citrus, that will give an unforgettable experience when used.
Can you use dark rum with a classic starter. Pure rum with ice at will, it is customary to eat an orange, which previously had to be sprinkled with a small amount of ground cinnamon.
Try a favorite combination of many rum and cokes. Carbonated drink to mix with rum in the ratio 3:1, add ice and a lemon wedge. The taste of rum will become less tart and the stake will give the cocktail a sweet taste.
Prepare the grog on the basis of dark rum. This hot drink will warm the coldest of winters and will give a wonderful mood. You will need 100 ml hot water 50 ml dark rum, juice of half a lemon and one teaspoon of honey. In hot water, add the rum, then the lemon juice and honey. Stir well to dissolve honey and pour into glasses. Optionally, add cloves or nutmeg. You will get a wonderful hot drink, taste of rum which you can adjust in accordance with your wishes.
Try a classic cocktail based on dark rum "Barbados". Mix 40 ml dark rum, 10 ml grenadine syrup, 80 ml orange juice 10 ml lemon. It is desirable to use a shaker. Then, in a tall glass put 3-4 ice cubes, pour the cocktail and decorate it with pineapple.
Discover the taste of dark rum, cooked cocktail "Caribbean". Mix in a shaker with ice 30 ml dark rum, 30 ml gin, 20 ml lemon juice 10 ml of sugar syrup. Pour into glasses and garnish with cherries for cocktails.
Note
Remember that drinking alcohol is not recommended for children and pregnant women.
Useful advice
Dark rum goes well with cigars and cigarillos. Smoking has a way to diversify the use of this drink - a bite of his chocolate, melon, pineapple or cherries, and you will discover ROM new. A classic combination is a coffee with rum or as his escort.