You will need
- magnifier 10-fold increase;
- butter;
- hydrochloric acid;
- quartz lamp;
- sandpaper or needle;
newspaper.
Instruction
Look closely at a piece of jewelry, in which is fixed the stone for maximum brilliance and fire a diamond, usually placed in the open frame. This mounting method also allows you to easily examine the bottom edge of the cut diamond. Mirror coating bottom faces, a sure sign of forgery.
Diamond conducts heat well. To check this property, put the examined the stone in a cold place. Then breathe on it and watch through a magnifying glass over its surface. On a real diamond you will not see any hazy residue, while the imitation of diamond will fog up from your breath.
Diamonds can stick to some types of fats. Test with butter: dip the stone into it and attach to the glass surface. A real diamond will stick to the glass.
Even the strong acids and their mixtures have no impact on the diamond. Drop check the rock in hydrochloric acid and rate its appearance. Synthetic fakes will have traces of acid, and a genuine diamond will remain intact.
One of the important properties of diamonds is a luminescence in ultraviolet rays. Proper lighting can be found, for example, in the disco or under a conventional quartz lamp. If under the action of ultraviolet radiation at the stone appears blue or yellow-green glow, then before you a real diamond. If the glow a different color (or completely missing), this can be a feature of this diamond, and a sign of forgery. In any case, authentication requires additional research.
Check the stone for hardness: try to scratch or RUB it with something sharp (needle, sandpaper). The unique hardness of diamond to protect it from such superficial damage, therefore, genuine diamond marks your manipulations will not.
A magnifying glass to examine the appearance of the stone. Many small chips, micro-scratches, pitted face should give you an idea about fake. To determine a real diamond, you can also by the presence of the internal defects: black dots are graphite, fine bubbles, light points. Imitate diamond, as a rule, such inclusions do not have.
Pick up a newspaper and put it on loose diamonds. Now try to see the printed letters through the stone. Crystal or glass will allow you to do this without difficulty, whereas a real diamond refracts light so that makes the text indistinguishable.
Note
A popular method of determining the authenticity of a diamond to put it in a glass of water. Supposedly the stone become invisible in the water. But this is true only for clear and colorless diamonds. Therefore, the reliability of such tests is small.

One of the newest high-tech simulators of diamond moissanite. This stone is able to successfully pass many of the tests listed above. The only way to detect a fake is to hold the stone for a few minutes over the fire. The result moissanite will turn green. To put your jewelry such verification is only in extreme cases, otherwise you run the risk of hopelessly to ruin it.
Advice 2 : How to distinguish a real diamond from a fake
The diamond captivates with its natural brilliance and play of light. For some, this stone is a spectacular decoration, but for others – a win-win investment. However, diamonds are not only full of beauty, but quite often are imitated and counterfeited. To dispel all doubts about the authenticity of the stone can only be experienced jeweler-gemologist, but is not always possible to conduct professional expertise. There are several simple tests which can be independently and quickly detect obvious forgery.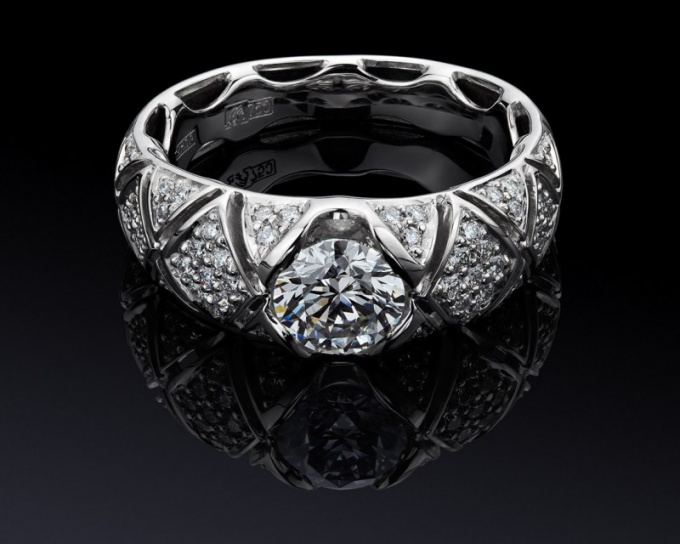 You will need
- magnifier;
newspaper;
- sandpaper;
- vegetable oil;
glass.
Instruction
For a diamond often are given a colorless Topaz, lead crystal, white zircon and even ordinary glass. Don't buy a cubic Zirconia instead of diamonds? The easiest way is to hold the diamond in the palm of your hand for a few seconds. The real gems even in hot weather remain cool. If the stone is "warm" - must question its naturalness.
Breathe on the diamond. Transparent stones of natural origin will never misted if they are to breathe because they're having heat. Glass and zircon will instantly become fuzzy. However, this test is great for musanet – one of the high quality of "doubles" of the diamond.
Take a magnifying glass and carefully inspect stone for presence of natural inclusions, which are always present in these diamonds, whatever their purity. Faux stone and glass such defects have not. To see them will help only a very strong magnifier with a 20-30-fold increase.
Pay attention to the cut of the stone. To do this, lift its crown to the light source. All of the reflected light in this diamond have to focus in only one bright point. When viewed through a faceted diamond in the ring on your finger, then viewed through the skin is impossible.
Scratch the stone with sandpaper. If you remain on the surface scratches – probably before you fake. You can spend the stone on the glass. A real diamond will leave scratches on it.
To distinguish diamonds from pieces of glass will help an ordinary newspaper. Put a stone on it and try to see through his letters. Using a real diamond it will be impossible to see the text as it refracts the light and through the glass quite well visible even individual letters.
Spread diamond with vegetable oil and apply to the glass. Real stone needs to stick to it because its surface absorbs fat.
Note
These tests to determine the authenticity of the stone can only be considered additional precautions, but not the fundamental signs that you blindly and unconditionally to navigate.
Useful advice
Never buy diamonds with it. Jewelry must be purchased only at certified stores.

A real diamond or piece of jewelry with it will never be too cheap.