You will need
water
or
microwave;
container for a microwave oven.
Instruction
Pour water into the pan 100 grams of liquid for every 500 ml of frozen vegetables. Peas, corn and green beans require two times more water. Add salt if you need salted vegetables.
Bring the water to a boil and put in it the vegetables, not defrosting. Because they are cold, then immediately stops the boiling. Wait until the water again zaburlit.
If vegetables will not cook separate pieces, frozen lumps, they will cook unevenly – the outside can digest, and those that are inside, on the contrary, nedoveriya. So take a fork or spatula and gently separate them.
Add herbs or other seasonings that suit your taste, turn heat down to medium and cover the pan. Since you have not poured a lot of water, it is important that it does not evaporate, and the vegetables were prepared practically for a couple. So they better retain their color and shape.
Cook the vegetablesaccording to the instructions given on the package. If you have homemade frozen vegetables or you can't find the instructions, focus on the fact that cabbages (broccoli, cauliflower, etc.), sliced carrots, zucchini, etc. are cooked approximately 5-7 minutes. Peas, green beans and Chinese beans, and corn, cook 3 to 5 minutes, leafy vegetablessuch as spinach, are cooked even faster for 1-2 minutes.
Once the vegetables are ready, turn off the heat and drain the water. If you leave the cooked vegetables to hot liquid, they still some time will be prepared and will be digested.
If you want to cook vegetables in the microwave, then place them in a special container or utensils, adapted for the microwave. Close the lid, leaving a small hole for steam outlet, and put in the oven. Turn it on high for 4-5 minutes. After this time, remove the container, check the readiness of vegetables with a knife or fork. If they are still not cooked, put them in the oven on the same power for 2-3 minutes. If they're almost ready, close the container tightly and leave them in the hot pan for 2-3 minutes – they will reach the desired condition.
Advice 2: How to cook corn
Boiled corn is a great addition to various dishes. Tasty and very nutritious, it is indispensable on the table in the summer. So, how to cook
corn
that it turned out really tasty.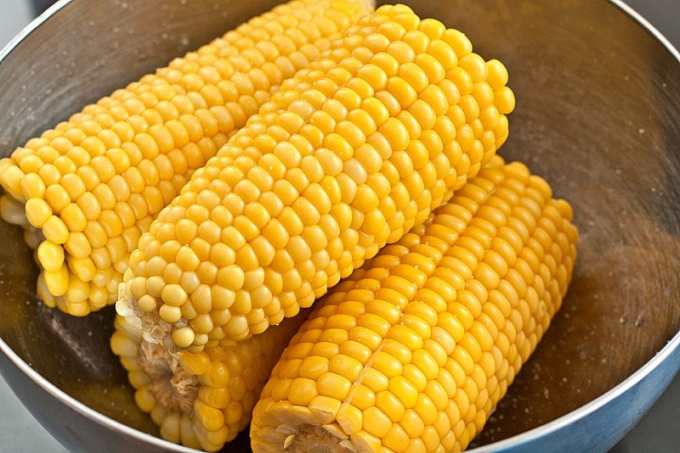 How long to cook corn?
Determine what class includes purchased corn. There are both special grade, suitable for human consumption, and feed used for animals. How much time is needed to cook corn on the cob food grade? As it is more soft, enough 30 minutes. But more than hard feed will need to cook for a long time - 2 to 3 hours.
If you purchased at the market or store corn and just saw the house that the cob there are colored fine grains, it is better not to use it. This grade is intended for cooking popcorn.
Lovers to experiment can use an interesting method of cooking corn in the oven. RUB the cobs with butter and wrap them in foil after putting a twig of dill. To give a spicy flavor, you may lightly RUB the corn with garlic.
How to cook a vegetable?
Determine the cooking time of corn, select a method of preparation. When cleaning ears, it is desirable not to throw out the sheets. Better rinse them under running warm water and then lay on the bottom of the pan. On top you need to lay on the cob, then pour all the water.
Put the saucepan on the fire. When the water boils, it is necessary to add salt (to taste). To give the corn a more intense taste, spicy and delicious flavor, you can add water with a salt small amount of spices, for example, a sweet bell pepper.
Not to be mistaken with the choice of soft corn, pay attention not only to ears but also to the leaves: they should be bright green and undamaged.
Properly corn should cook in a thick-walled pot because the time of its preparation takes quite a long time. The lid should be sealed tightly. Very good to cook the cobs in a cast iron pan. It also allowed them to cook in the microwave or in a double boiler. Very simple to cook corn in a pressure cooker - it saves time and force. This method of cooking will not take more than 5-10 minutes.
We must note that corn right after it cools down starts to harden and become rigid. Therefore, it is desirable to bring to the table cooked corn hot, immediately after cooking. To ears long retained its pleasant aroma, unique taste and softness, you can spread them with butter. Gourmet can be fed corn, sprinkle it with grated cheese.
If you saw that in the center of the grain dimples, then corn on the cob old. Boil them, of course, possible, but they will be tough enough, regardless of the method and time of preparation.
To cook fresh corn is much easier, because it's tender and cooked quickly.
If you throw out those cobs you don't want to use in their cooking tricks. To cook the old corn should be the same as the young. The only difference is in cooking time. If the cob you have spent only 2-3 days, they need to cook only 20 minutes longer. However, for cobs that have been stored for a whole week, you will need to increase cooking time to 1-1.5 hours.
Advice 3: How to cook frozen vegetables in the microwave
In a microwave oven
to make different dishes. It will have a delicious soup, air omelet, wholesome casserole. You can stuff the vegetables and prepare them in this miracle of modern technology.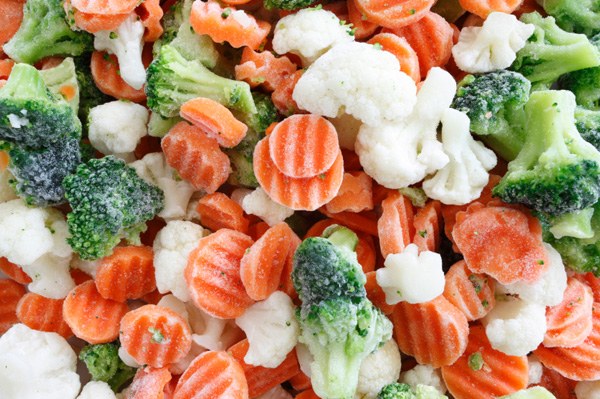 Vegetables with rice and scrambled eggs


Frozen vegetables will help to create a hearty, easy and tasty dish. To do this, take:

- 1 pack of frozen vegetables weighing 450 g;
- 4 tablespoons of boiled rice;
- 250 g chicken fillet;
- 1 tablespoon of butter;
- 1 tablespoon of water;
- sour cream, ketchup or mayonnaise.

Vegetables you must first unfreeze it without taking out of packaging. It take a couple pinhole and place on a plate. Place it in the microwave. Vegetables lightly will be unfrozen for 2 minutes at full power.

Now you need to pour it into a container, add salt, oil, rice and put it all on for 5 minutes in the microwave on full power. It turned out useful light. Have it with sour cream, mayonnaise or ketchup.This dish is perfect to those who support the figure in norm.

To make an omelet, pour 300 grams of frozen vegetables in a deep heat-resistant bowl, add 2 tablespoons of water and soak them in the microwave on full power for 5 minutes.

During this time, mix 2 eggs with a pinch of salt. You can't beat 2 protein with salt, and then mix them with one egg yolk. The latter is less calories. Add to eggs half Cup of milk, mix it all and pour the vegetables. After 5-7 minutes the omelette potamousis in the oven, will be ready.


Zamienie stuffed vegetables


Meat lovers can cook stuffed peppers. To stuff them back in the fall when they are sold everywhere at a low price, and then put them in storage in the freezer. Then at any time you can get 4-5 pieces, place them in a bowl and cook in the microwave.

It is also possible to prepare store-bought frozen stuffed peppers. Make special sauce by mixing the mayonnaise, ketchup, bouillon cube and water. Diet is salted tomato paste, diluted with water. Any of these compositions pour into a deep glass or plastic bowl and place it in stuffed peppers. The liquid should cover two thirds.

Turn the unit on full power for 4 minutes. Slightly reduce the power and simmer the mixture for 10 minutes.


A light soup


To prepare the soup, grate the carrots and chop the onion. Put them in a glass refractory obzharitsya the pan for 3 minutes in the microwave, adding a tablespoon of vegetable oil.

Carefully remove the bowl (it's hot!) and pour it into liter of boiling water. Add salt, 150 grams of frozen green beans and cauliflower. Put the dishes in the oven for 6-10 minutes. Sprinkle the finished soup with fresh herbs and serve with rye crackers.