Semolina – coarsely ground flour from durum wheat. It cooks in minutes, is well digested, contains a minimal amount of fiber (0,2%), rich in vegetable protein and starch. This is the only cereal that is digested in the lower intestine and only there absorbed in its walls. That is why it is included in diets prescribed for diseases of the gastrointestinal tract. In General, not a mess, and some holiday health (except for diabetics it is strictly contraindicated, and for children up to years, it is not recommended).
Extraordinary ease of preparation, coupled with the low cost and health benefits, made porridge very popular. This deceptive simplicity has led to the fact that was produced as a "by eye". And it turned out... tasteless.
How to cook the classic porridge with milk without lumps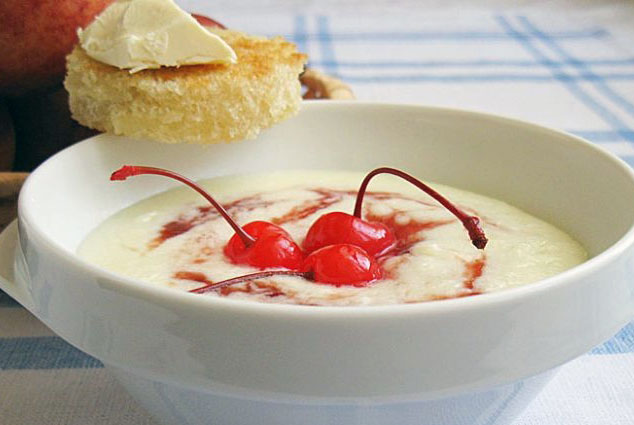 In fact, the rules of cooking semolina simple. Cook the semolina in the milk is necessary. And very strictly observed proportion (per litre of milk – half Cup grits).
Milk bring to the boil and, stirring constantly, trickle pour semolina. The stream should not be "the thinner, the better" as suggested by many. The fact that on the surface of boiling milk formed foam, and the lightest grains of semolina are unable to cope with this obstacle. That is why the mess and appear lumps. So the secret to cooking semolina porridge without lumps – pour cereal bolder.
Porridge need to cook, stirring constantly, a minute or two. Then turn off the heat, close the pan with a lid and let the porridge to stand for 10-15 minutes. During this time she "comes to the condition."
Now the dish can flavor the oil, add pieces of fruit or berries, jam, pre-soaked raisins ... And try real porridge!
How to make semolina pudding in the dessert: the easiest way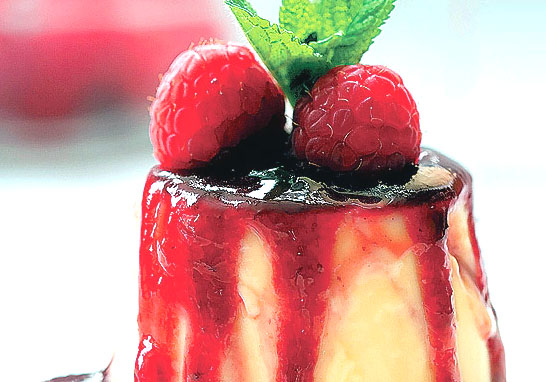 Manna porridge is particularly good because it goes well with many products moving and for a main course and gourmet dessert.
The easiest way to prepare a dessert of semolina – pour the still-warm semolina, cooked in milk, portioned silicone cake tins, and then cool and put "mini-pudding on a plate.
Serve this cereal with whipped cream, chocolate or berry sauce, condensed milk, jam -- a Space for creativity there are practically no limits. You can "improve" the cereal, before adding the cooled vanilla or cinnamon, pieces of marmalade or fruit.
As such, the "boring semolina" eat even the fussy kids. It is especially good in the summer heat, when hot cereal is absolutely not desirable. But the portion of such delicacy it will go for a full Breakfast.
But, of course, there are other recipes Manne treats.
Recipe Guriev porridge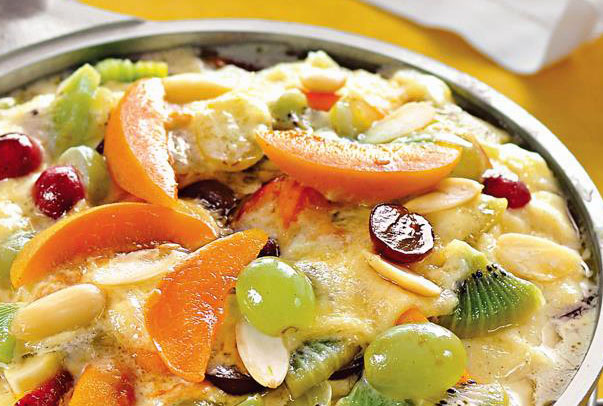 The most famous kind of semolina – the one that according to legend invented by count Guriev, Minister of Finance of the Russian Empire, a fair sweet tooth. Rather it can be called Manne cake. Guriev porridge was very fond of Emperor Alexander III, she even appeared in the menu of the festive dinner in honor of his coronation. It is very time consuming, but at the same time very tasty dish.
In order to prepare the Imperial mess, you will need:
A 1.25 litre milk or cream
0.5 cups semolina,
0.5 kg of walnuts or pine nuts,
0.5 cups of sugar,
0.5 Cup jam, seedless,
2 tbsp. butter,
cardamom (or ground lemon peel, or cinnamon).
Cleaned nuts pour boiling water for a few minutes, then drain in a colander, peel from thin-skinned, dry and chop.
Pour milk or cream into a broad flat fireproof dish and put in preheated oven. After some time on the surface will begin to form a dense, firm milk foam. When the skin is browned – you need to take it with milk and put in a separate bowl, then return the milk in the oven. Just need to collect milk from 8 to 12 foams.
For the remainder of the milk, cook the porridge and pour into it the sugar, spices, chopped nuts. Add the oil and stir it well.
In a fireproof dish with high edges pour a thin layer of semolina (its thickness should be from five millimeters to centimeters), carefully cover it with foam. You can sprinkle the foam with nuts, fruit, candied fruit, etc. Then you pour the second layer, pereselit foam and so on. In the penultimate layer to add a bit of jam.
The resulting "puff" should be put for 10 min in preheated oven. After that, remove the mess, pour the remaining jam or garnish with fruit, sprinkle with nuts and serve in the same dish.
Double-layered manna: a simple dessert of semolina
Of course, there are more simple recipes treats on the basis of semolina. To prepare double layer of manna you will need:
200 g of semolina,
1.25 glass of milk
1.25 cups berry juice (can use cranberry, currant, blueberry),
sugar to taste.
Cook two servings of rich and creamy semolina in milk, the other on berry juice.
On a dish, pour a layer of milk porridge, and top with a layer of berries and allow to harden. Cold manna cut into pieces and serve with jam or whipped cream.
Instead of the berry layer you can make chocolate – this will cook the semolina in milk with addition of cocoa powder.
Munk no milk: berry mousse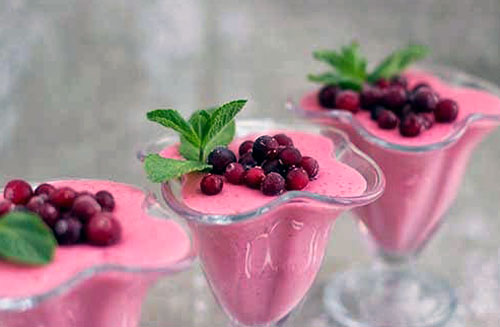 To prepare this dessert take:
200 g cranberries or blueberries,
200 g of sugar,
4 tbsp semolina.
Mash the berries, add half a Cup of boiling water and steep for 10-15 minutes. Strain, press the berries through cheesecloth. The resulting juice is put in the refrigerator.
The remaining berry "cake" need to fill with water (0.5 l), bring to boil, boil for 5-10 minutes and strain. In the resulting broth add sugar, bring to a boil, stir in semolina. Boil for 1-2 minutes, let it brew.
After this mess need to chill, infuse it with cranberry juice (it has not undergone heat treatment and has preserved all the vitamins) and beat with a mixer to increase the volume in half to two times.
Ready mousse lay on kremanku and put in the fridge for 3-4 hours.
Recipe of semolina porridge on the water: the roasted semolina
Classic semolina cooked in milk. But semolina can be cooked on water, cook a savory porridge, the taste of which is quite unlike the "baby food".
To prepare the semolina on water, take:
1 Cup of semolina,
50 grams of butter,
onion,
vegetable oil, salt to taste.
Onion peel, chop and fry in vegetable oil until Golden brown.
Semolina fry in a dry pan until light brown.
Pour the prepared grits into the boiling salted water and cook, intensively stirring slowly, 2-3 minutes. Let stand, covered, then season with fried onions.