Classic salad recipe of "Breakfast of the tourist"
To prepare this canned salad, you will need the following ingredients:
- 200 g of rice;
- 1 kg of carrots;
- 1 kg Bulgarian pepper;
- 2 hot peppers;
- 2.5 kg of tomatoes;
- 1 kg of onions;
- 600 ml of vegetable oil;
- 4 tbsp. spoons of sugar;
- salt to taste.
In this recipe you can use unrefined sunflower oil, then the salad will be more flavorful.
Rinse the tomatoes with boiling water, peel and cut into cubes, onions, carrots and peppers – thin strips. In a cauldron or pot with thick walls, heat the vegetable oil, put the carrots and sauté for 10 minutes, then add the onion and cook it the same amount of time. Then put to them pepper, and after 5 minutes the tomatoes. Sauté everything for 15 minutes, then put thoroughly washed rice, salt to taste, add the sugar and simmer the whole lot until the rice is tender.
Meanwhile, sterilize a small jar in the oven or over boiling water. Cover for tightening also soak in boiling water for at least 10 minutes. Lay on the banks ready salad and roll. Then flip the banks, wrap up with a warm blanket and leave until cool. Store in a cellar or dark, dry closet.
Although this salad is quite high in calories, it is beneficial for digestion due to the large amount of fiber and Fig.
Salad "Breakfast tourist" with barley
There is also another option of making this canned salad. This recipe is missing bell peppers, but added the vinegar. But rice is replaced by the more hearty and viscous pearl barley. For its preparation you will need:
- 3 kg of tomatoes;
- 2 kg of carrots;
- 1 kg of onions;
- 6 tablespoons of sugar;
- 1.5 cups pearl barley;
- 1,5 teaspoon salt;
- 50 ml vinegar;
- 2 cups of vegetable oil.
Barley soak overnight in cold water, and then boil until almost cooked in a little salted water. Tomatoes scald with boiling water and peel, then mince. Onion peel and cut into thin strips, carrots grate on a coarse grater.
Melt in a cauldron vegetable oil and sauté the vegetables. After 15 minutes, add the vegetables, salt, sugar and pour in vinegar. After 10 minutes, place in a salad cooked barley and simmer another 30 minutes.
Ready salad spread on pre-sterilized banks, while it is still hot. Roll up and store in a dark place, wrapped in a blanket. Outdoor salad can be stored in the refrigerator for weeks.
Advice 2: Tourist menu: what to cook in a pot
Although saying that the food is cooked on a fire in a marching kettle, delicious in any case, this is only partly true. Seasoned travelers admit that the mindless combination of products will not save any fragrant smoke of a fire, nor a magic pot, no breathtaking scenery. Tourist menu and recipe dishes must be thought out before you go to food stocks enough for the whole period of isolation from civilization, and breakfasts, Lunches and dinners were applauded by all.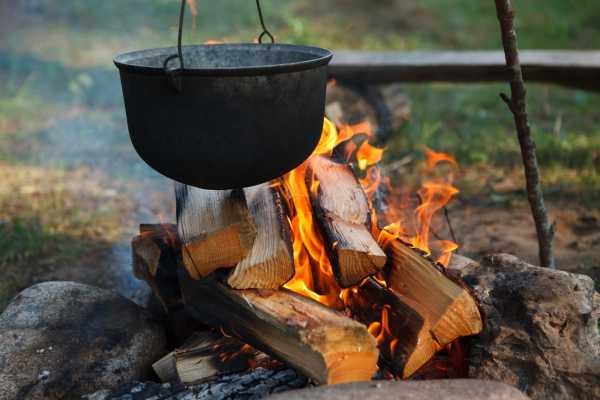 Breakfast


Camping Breakfast should be both dense, hearty and delicious, because its task is to charge the tourists with energy until lunch. And cereal, will do the role better than anyone.

Best grits to prepare the night before. Taking essential for future the number of consumers, rinse it in water to remove bitterness. If you soak the millet overnight, in the morning porridge cooked twice as fast. The next morning mix in a pot the milk with pure water at a ratio of 1:1, stir in the millet (ratio of grains and liquid should be 1:6 because the millet when cooked increases in volume in 6 times), add sugar and salt to taste and set over a burning fire. Sure that the contents are not escaped. While stirring cook the oatmeal until completely cooked, this usually takes 20 to 30 minutes. Possible (and desired) can fill the porridge with butter or oil.

After millet porridge for Breakfast, you can offer to drink a glass of milk or cocoa. It's the drinks that have a high energy value, which is very important for the participants of the tour.


Lunch


If the campaign is scheduled fishing, the first dining dish, no doubt, must be the ear. Fish gut, remove the gills, remove the scales (perch, carp, carp to the scales removed optional), rinse and dip in a pot of boiling salted water. If a lot of fish, cook it in batches, i.e. after the first batch is cooked, remove the fish and strain the broth, then cook it in the same second portion of fish, etc.

When the whole fish is cooked in the strained broth put peeled and cut potatoes, onions and carrots. Shortly before readiness add in soup Bay leaf and black pepper, and when the ear is fully ready and the kettle removed from the fire, crumble it finely chopped dill, green onions and other greens as desired. Close the pot lid and give ear to steep (stew) for 15-20 minutes.

If fishing is planned "quiet hunting", can boil in a pot of mushroom soup. For this fit, white mushrooms, boletus and aspen mushrooms. Thoroughly wash them, coarsely chop and place in a pot with cold salted water. Bring to a boil, remove the foam and simmer for 30-40 minutes. Then add the peeled and chopped potatoes, and chopped onion (however, experts do not, so as not to interrupt the flavor of mushrooms). When submitting to the plate every tourist put sour cream and green onions and half boiled eggs.

For the second lunch goes well with potato stew. To cook this dish in a pot – a pleasure. Peeled potatoes, coarsely cut, onion slice, carrot cut into slices. Put the vegetables in boiling pot of salted water (water should just cover them). Simmer under the lid closed for half an hour. Add the stew, stir and simmer, covered for another 10-15 minutes. Remove the pot from the fire and let the contents stew for 10-15 minutes. The second dish is ready. From drinks to dinner jelly or stewed fruit.


Dinner


Pasta is a favourite dish of tourists as the evening meal. Of course, the traditional recipe involves the use of minced meat, but if he was not a tourist "grocery basket", and will fit stew. If the stuffing is still present in the food stock, add the chopped onion, season with salt and sauté in a pot in a small amount of vegetable oil or just put out. In prepared stuffing add water, bring to a boil and start pasta (better to use spaghetti from durum wheat, they will not fall apart). Without ceasing to stir, hold the contents of the pot on the fire until, until the pasta does not reach the stage of full readiness. Hold the dish in the pot under the lid for 10 minutes and serve.

To prepare the pasta nautically with meat even easier. Boil in the pot the pasta until soft, drain excess water, add stew, with salt to taste, stir and cook for 15-20 minutes. In the finished dish sprinkle green onion, serve with ketchup. Of all the drinks tourists prefer the evening tea with mint and currant leaf.
Advice 3: How much money to take to Cyprus
Cyprus was never a cheap country. In recent years the prices are only rising. Their increase affects not only inflation but also economic crisis. Seasoned travelers suggest to buy the ticket included in the cost of the Breakfast as lunch and dinner most often takes place in a cafe during your sightseeing and walks around town.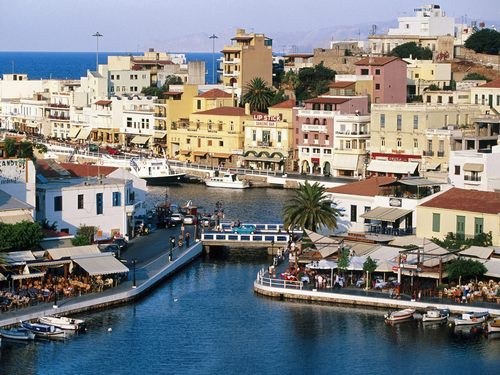 Cyprus Hotels

Among the huge number of hotels of Cyprus you can choose the budget rooms at a price of 40 euros per night, and luxury apartments worth more than 450 euros. The maximum distance of the hotel from the sea is 300 metres away. In three-star hotels average room rate for two persons is 60 euros per day. A similar room in a four star hotel will cost 125 euros, in a five-star double rooms start from 300 Euro per day.


Food in cafes and restaurants

In Cyprus there are dining options for every taste and budget. As in all resort areas, there is a café for tourists, excellent facilities for local residents. There portions are smaller and prices higher. Tasty and inexpensive to eat, you need to go into the city, away from hotels. The best guideline will be the young Housewives who do not often cook themselves. The majority of women in Cyprus buying ready-made food in any tavern. Often they do the order by phone and come pick it up before dinner. A crowd of women and mothers with prams near the cafe — a sure sign that there are excellent and inexpensive food.

The average Breakfast in the cafe of the tourist area will cost 5-6 euros, dinner without alcohol is about 40 euros. The cheapest wine is local, costs 5-7 euros a bottle. In remote taverns cost of food below 20%. Don't forget about the tip. Here they are traditional and comprise 5-10% of the order value.


Tours

You can order an excursion in the lobby of my hotel in any tourist kiosk on the street or sightsee independently. The most expensive trips, book in the hotel. However, this is the most convenient option, you will Wake up, will be picked up from the hotel and back. In the tourist kiosks price is lower, can be more choice. There you can buy a map with marked on it the places recommended for visiting tourists, to learn about how to get to them.

The average cost of the city of Cyprus:
- Troodos, Kykkos monastery (adult — 45 euros child — 23 Euro);
- Famagusta and the surrounding area (adults — 65 euros, for children — € 35);
- the excursion from Nicosia to Lefkara village (adult — 58 euros, 30 euros — for children).

A very modest tourist can visit free attractions, like the ancient amphitheatres, churches of the Byzantine period, various ruins and excavations on the territory of Cyprus abound. Sometimes to bring a lot of impressions can a simple walk around the city, visiting the market or going on nature.


Transport

The most expensive way to travel is taxi. The tariff is divided into day and night. Day boarding is 3,42€, will also have to pay 0.7 euros per kilometer. From 20:00 to 06:00 am there is a night rate: fit — 4,36 Euro, kilometer trip — 0,85 euros.

You can use the buses, but the routes are, unfortunately, not so much because each Cypriot family has several cars. Public transportation the locals use in rare cases. The buses are mostly designed for tourists. The cost of a day ticket is 10 Euro, a weekly subscription — 50 euros.

If you plan to stay in Cyprus for more than a week, it makes sense to rent a car. Most companies have Internet sites. The machine can be book while still at home, this will allow you to save money on the cost of rent and to sit in the car at the airport. The rental price starts from 32 euros per day.

Active tourists can take a bike. Bicycle touring has become very popular lately. The rental issue is not only complete equipment but also a special card from the official routes. Not a single tour will bring these experiences as you journey through the trails. When you rent a bike from one to three days, the price will be 5 euros. Four to six days 3 Euro, and on the seventh day, renting a bike will cost 2 euros per day.