You will need
200 g bacon;
mushrooms свежие150 g;
1 onion;
морковь1 PCs;
zucchini small 1;
oil оливковое100 g;
white bread 200 g;
5 garlic cloves;
100 g of sour cream;
dill 50 g;
parsley 50 g.
Instruction
Wash and peel the potatoes, if potatoes are large, cut them into several parts. Put the potatoes in a pot of boiling water and simmer for 15-20 minutes.
Slice the bread into small pieces. Chop the garlic, pour in a large bowl and add two tablespoons of olive oil. Add the pieces of bread in a Cup with garlic mixture and very gently stir. Make sure that the bread has not crumbled. Lay croutons on a baking sheet evenly and place in a preheated 120 degree oven for 15-20 minutes.
Wash and clean the vegetables, until cooked potatoes. Carrot, courgette and onion cut into small cubes, bacon - thin strips. Mushrooms cut into four pieces.
Pour into well heated pan of olive oil, then pour the onion and saute until it becomes transparent. Add the carrot and zucchini. Fry the vegetables for 2-3 minutes, stirring occasionally. Put the fried vegetables on a plate.
Pour the mushrooms into the pan. You can use the same oil in which the roasted carrots and onions. If it is short, add a couple tablespoons, but try not to overdo it, otherwise the soup will be too oily. Sauté mushrooms about 5 minutes, then add the bacon and fry all together for another 5-7 minutes. Remove from heat and place in a bowl with roasted vegetables.
Add salt to boiling potatoes for 1-2 minutes until tender. Once the potato is cooked, drain the potato broth into the Cup. Do not pour it! Mash the potatoes with a potato masher or make puree in a blender in the same pot where it was cooked.
Gradually add potato broth to puree until the mixture reaches the consistency of liquid sour cream. Keep in mind that after standing some time, the soup is a little thick. Put in a pot vegetables and
mushrooms with
the bacon, and stir. Finely chop the dill and parsley, add to the soup. Serve the soup with sour cream and warm garlic croutons.
Useful advice
Use in soup potato crisp varieties.
Instead of garlic gorenak you can serve to a dish prepared rye crackers.
Advice 2: How to cook soup with potatoes
Vegetable soup is rarely cooked without potatoes, this high-calorie product, giving easy soup the essential nutrients. But there are soups where the potato plays the first violin, defining the taste.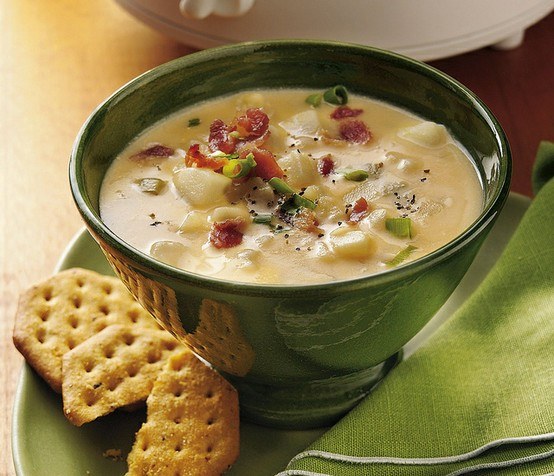 You will need
400-500 g of potatoes;
10 young pods of kidney beans;
10 pods of young peas;
4 tbsp vegetable oil;
1 bunch of spinach;
100 grams of broccoli;
1-2 tomatoes;
1 carrot;
1 parsley root;
1 celery root (small);
100 g turnip;
1 stalk of leek;
greens
salt.
For potato soup in Italian:
4-5 potatoes;
1 onion;
3-4 parsley roots;
1-2 tbsp broth;
1 tbsp of flour;
parsley.
For the potato cream soup:
500 g potatoes;
1 onion;
3 tbsp vegetable oil;
350-400 ml of milk;
100 g of bacon.
Instruction
Vegetable soupWash, peel and cut into thin julienne strips of carrot, parsley root, celery root, turnips and leeks. Heat the oil in a skillet and lightly saute the vegetable mixture. Wash and remove the veins and husks, pods, young beans and peas, wash, peel and cut into small cubes the potatoes.
Boil 2 liters of water, the sunflower and put in boiling water diced potato, cook for 10 minutes, add the beans, peas, washed spinach, broccoli and roasted vegetable mixture. Scald the tomatoes with boiling water, remove the skin and cut into small slices.
Simmer the soup until the potatoes are done, add slices of tomatoes, dosolit, if necessary, and remove from heat. Serve the soup with sour cream and greens to taste.
Potato soup in Italianskaya and clean the roots, put in a saucepan, cover with water, sunflower and boil until tender, drain broth into a separate bowl. Wash, peel and cut the potatoes into strips, put in a broth from under the roots and boil until tender.
Clean the onions, finely crumble, preheat the pan with vegetable oil and lightly sauté the onion, put through a sieve 1 tablespoon of flour, stir and add a little beef broth to dissolve the flour, stir, let simmer until the mixture thickens and the lumps disappear. Pour the sauce into the soup, let simmer for 5 minutes. Rinse and finely chop parsley, add to the soup before they serve it on the table.
Cream of potatosoupWash and peel the potatoes, cut them into large slices, put in a saucepan, cover with water, wash, peel and cut into thick onion rings, put it to the potatoes, put on fire and bring to a boil, cook until tender (15-20 minutes).
Drain the water, chop the onion and potatoes using a blender, add 3 tablespoons oil, 2 teaspoons of salt, stir. Pour 100 milliliters of milk, blend properly, add remainder of milk and stir until then, until you get a creamy mass.
Pour it in a pan, heat over low heat, stirring constantly. Slice the bacon into thin slices and lightly fry on both sides in a dry pan. Serve the soupby putting in each plate some slices of bacon.