You will need
Sugar – 1 kg; milk or cream – 0.5 cups; butter – 1.5 tablespoons; orange peel

nuts
raisins
cocoa as desired.
Instruction
Boiled sugar can indeed have a different taste and aroma. You can cook it with milk, cream or water (vegetable), and you can use different fillers.
First, decide what kind of sugar you will be cooking. As a filling you can use orange zest, walnuts, peanuts, sunflower seeds, raisins or cocoa.
Orange rinse well, remove it from the skin and finely chop. Make sure it is not bitter, because it might spoil the taste of the finished Goodies. If you use nuts or seeds, then peel and chop them. Raisins rinse well and dry.
Do not take a deep frying pan, fill it approximately ¼ Cup of milk. If desired, add 1.5 tablespoons of butter. Brewed so the sugar will have a more delicate taste and pleasant aroma.
Put the pan on a low heat. Pour the sugar into the milk, bring the milk-sugar mixture to a boil. Do not forget to periodically stirring.
After boiling, simmer the milk–sugar syrup until complete evaporation of the liquid. At this stage, the sugar has a crumbly structure. He then begins to melt and becomes of a brownish color. Intensively stir to melt it evenly.
Pour into the pan of remaining milk. Mix well and add the filler – nuts, raisins or orange peel. You can add a little cocoa. In this case, you get brown sugar.
Without ceasing to stir, cook the mixture until complete evaporation of milk. It is very important not to overcook the sugar. To determine the readiness drip a little on a plate. Cooling drop should be solid
Grease a bowl with vegetable oil and pour it finished sugar. Leave until fully cured. Frozen sugar smash into pieces.
Advice 2 : How to cook salad with cooked sausage
If you suddenly have company coming, and you absolutely do not know what to feed them – make a salad with cooked sausage. Its preparation will take you a little time, and guests will be well fed and happy.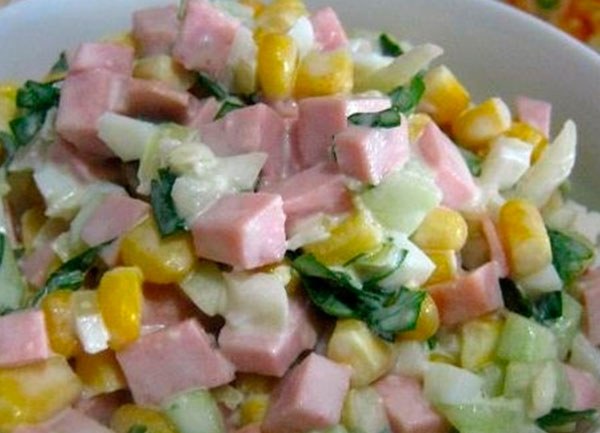 Salad with a boiled sausage, radish, cucumbers and green peas


To prepare this salad you need the following products:

- 150 g boiled sausage;
- 500 g of potatoes;
- 2 fresh cucumber;
50 g young green peas;
- 1 bunch of radishes;
green onions;
- parsley;
- dill;
- 200 g of sour cream;
Sol.

Potato boil in "uniform", peel and cut into small cubes. Cooked sausage and pickles also cut into cubes. Radish peel and grate on a coarse grater. Combine all the ingredients, add fresh green peas (optional, you can substitute canned) and finely chopped parsley and dill. A few feathers of green onions to break up with your hands and add to salad. Then season with salt to taste, sour cream and mix well. To give the salad a little brew and serve.


Salad with boiled sausage, ham, cheese and tomatoes


Necessary ingredients:

- 150 g boiled sausage;
- 50 g of ham;
- 5 chicken eggs;
- 100 of hard cheese;
- 3 tomatoes;
- fresh herbs;
- 5-7 tablespoons of mayonnaise;
Sol;
- ground black pepper.

Cook hard-boiled eggs, remove the shell and finely chop. Tomatoes wash, remove the stalk and cut into small slices. Boiled sausage and the ham cut into small cubes or strips. Combining all the ingredients, add grated cheese and finely chopped parsley. Season the salad to taste, mayonnaise and mix well. Before serving, decorate with halves of boiled eggs and sprigs of greenery.


Pasta salad with cooked sausage and mushrooms


To prepare this salad, you need the following ingredients:

- 100 g of pasta;
50 g of pickled mushrooms;
- 100 g of cooked sausage;
- 1-2 cloves of garlic;
- 1 tablespoon of olive oil;
- a few leaves of lettuce;
- dill;
- 50 g sour cream;
- 2 tablespoons fat cottage cheese;
- ½ Teaspoon of sugar;
- 1 teaspoon of mustard or horseradish;
- ½ Teaspoon of vinegar;
Sol.

The macaroni and boil until tender in salted water. Drain in a colander and rinse with cold water so they don't stick together. Marinated mushrooms cut into thin slices. Greens finely chop. Lettuce pick hands. Sausage cut into cubes. Combine all ingredients in a bowl. Add the garlic, squeezed through a press, olive oil. In a separate bowl mix sour cream, cottage cheese, horseradish, sugar, vinegar and salt. Received sauce to salad and mix well.
Advice 3 : How to cook poppy seed cake with cream of boiled condensed milk
Love sweet and savoury treats? Then make poppy seed cake with cream of boiled condensed milk. This dessert will pleasantly surprise you with its unique delicate flavor and ease of preparation.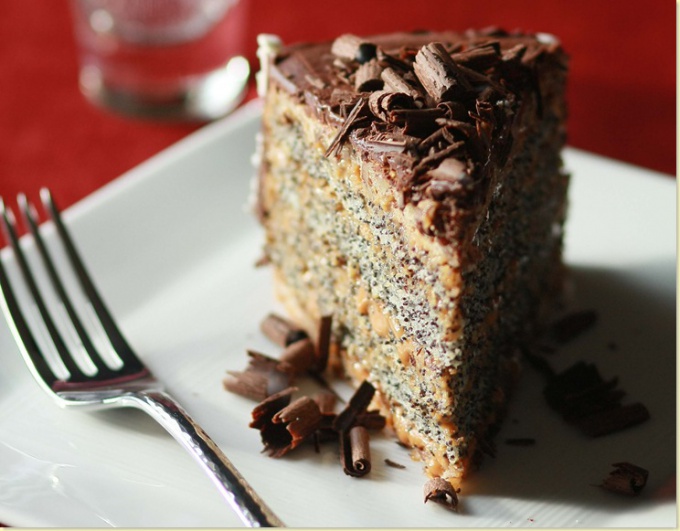 You will need
Biscuit:
- eggs - 4 pieces;
Mac - 100 g;
- flour - 50 g;
- sugar - 180 g
For the cream:
- boiled condensed milk - 1 Bank;
- butter - 200 g;
- sugar syrup.
Instruction
The first thing to do is to grind the poppy. This can be used as blender and grinder. Flour sieve. Mix these ingredients in one dish. Mix thoroughly.
Break the eggs and separate the whites from the yolks. First thoroughly whisk until a stable foam, while adding the sugar in small portions.
To sugar-protein mass gently add the lightly beaten yolks. Mix gently. Then connect with a mixture of flour and poppy. Stir it again, but only necessarily smooth movements up and down. Knead the dough.
Preheat the oven to 180 degree temperature. Meanwhile, the resulting dough is put in greased baking dish. Send it to bake for approximately 30 minutes. Thus, you get a sponge cake for a future cake.
Butter soften by leaving some time at room temperature. Whisk, while gradually adding the milk in small portions. Cream cake is ready.
The cooled cake cut into 2 parts along. Thus, you get 2 layers. Saturate them with syrup of sugar. Then lubricate the resulting cream and don't forget to coat the sides and top of the confection. Optionally garnish the dish with grated chocolate or almonds. Poppy seed cake with cream of boiled condensed milk is ready!