You will need
round loaf of bread for hamburgers;

100 g of minced beef;
one egg;
one tomato;
a pickle;
one package of cream cheese for the burgers (a type of cheese Hochland);
a few leaves of lettuce;
onions;
20 g of mayonnaise;
black pepper;
a quarter teaspoon of turmeric;
a quarter teaspoon of paprika.
Instruction
Wash egg, break it into a shallow bowl. Mix beef with egg, sprinkle with ground black pepper and salt. Thoroughly mix the meat and form a flat pellet, the corresponding diameter size of the bread for the Burger.
Preheat a griddle and lightly grease it with vegetable oil. Put the pellet from minced meat into the pan and press with the spatula to get a more flattened form. When the bottom tortillas will seize Golden brown, flip it over to the other side. As well press it with spatula and keep for a while until the bottom is lightly browned. Based on the thickness of the resulting meatballs, enough to fry each side for three minutes. When the beef is ready, put it on a plate and put in a warm place (cover with a plate a bowl and top with a towel).
Begin to cook the sauce. Put the mayonnaise into a saucer or small bowl; add paprika, lemon juice and turmeric powder, mix thoroughly the ingredients. Cut in half a loaf of bread for a Burger and brush the surface of each half of the resulting sauce. Leave it for a while, giving the sauce is partly absorbed.
Cut thin circles of tomato and cucumber. Lettuce cut into a couple of parts, corresponding to the size of the bread for the Burger. Onions clean from the husk, cut the onion thin translucent rings.
Assemble the Burger the big Tasty in the following sequence:

the lower part of a roll;

cutlet;

- a square of cheese;

- a slice of tomato, slices of cucumber and onion;

- chopped lettuce;

- cheese and top of bread.
Note
Cooked big Tasty is not so good if you eat it after a long time after cooking. Use plastic wrap if necessary storage before use, heat in a microwave oven.
Useful advice
Depending on taste preferences, increase or decrease the number of ingredients of sauce: pepper, turmeric and paprika.
Advice 2: How to cook a "big Mac"
The only way, and it's big Mac! A famous slogan of the MacDonalds of will help you to prepare a "big Mac" at home and it will be no worse than the restaurant, but something even better.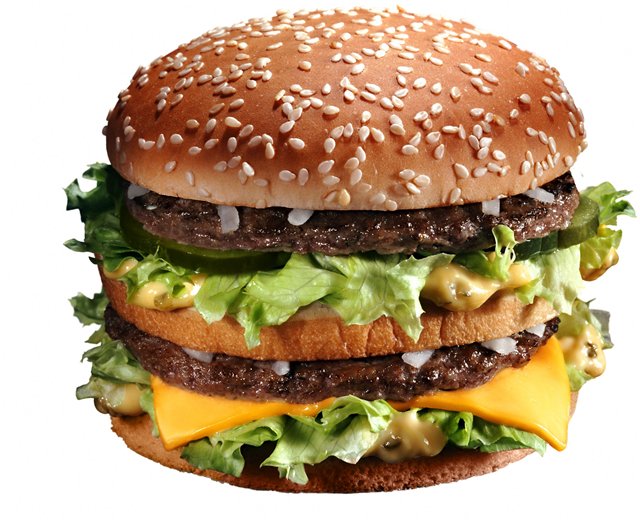 You will need
the calculation of the two portions

ground beef 200 g
2 sweet buns with sesame seeds (there are already sliced for hamburgers)
1 jar of large pickles not
one head of lettuce "iceberg" (you can substitute another variety)
half of the bulbs
melted cheese in flat square slices
Cup mayonnaise (preferably low calorie)
3-4 tablespoons ranch dressing for salads
2 tablespoons chopped pickles
2 teaspoons sugar
2 teaspoons dried onion
1 teaspoon vinegar (can not add)
salt
ground black pepper
foil
blender
Gelnica or pan
Instruction
Carefully read the list of ingredients. It is adapted for the average Russian of the refrigerator. Real American "the big Mac" special sauce added, that in the Russian latitudes, hard to find, but it gives the bun, bought at MacDonald original taste. You make a "big Mac a La Rus", therefore we have the right sauce to make a Russian, but as close to the source. In the rest of the best the right ingredients there is no substitute, because otherwise you will get any sort of yummy, but it will not be "big Mac".
Knead the ground beef, salt and pepper to taste. Besides salt and pepper, there's nothing to add. The blind of a thick sausage with a diameter equal to the diameter of sesame buns, wrap sausage in foil and place in freezer. When the beef is sufficiently frozen, remove it and cut into equal thin (0.8 cm) slices. Fry the burgers in a grill or in a frying pan, without adding oil!
If no freeze, form the patties immediately, but do not break standards - the thickness must not exceed 0.5 cm, while cooking, put a lid on the pan press.
For one "big Macand" it takes two patties each weighing 50 grams.
Prepare the sauce. If you have the opportunity, use its structure Miracle Whip - something like American mayonnaise. But failing this, take an ordinary Russian mayonnaise. French dressing for the salads you can find in supermarkets, so it is better no substitute. Mix in a blender into a homogeneous mass mayonnaise, French dressing, vinegar, chopped pickles (gherkins ideally), sugar, pepper, salt and dried onions. Put the sauce in the fridge.
Onions chop and scald with boiling water.
Bun with sesame seeds, cut lengthwise into three parts. Fry in a pan without oil - the middle on both sides, top and bottom with side slit.
Assemble your "big Mac" in this order:
the lower part of buns
- sauce (1-2 tablespoons)
- a leaf of lettuce
- a slice of cheese
- Patty
bow
- the middle part of the buns
sauce
- a leaf of lettuce
- the pickles
- Patty
bow
- muffin top
Heat ready,"big Mac" in the microwave or in the oven - not only will zaschite! Bon appetit!
Note
Patty must be made from ground beef without any impurities. You can only add salt and pepper.

For this "big Mac" is used for meat the front or the back of the bull, which is grown specifically for these purposes! And meatballs don't put anything except meat, even salt is not added!

Sesame buns should be sweet, if you replace their normal white bread, your "big Mac" will not "big Mac".
Useful advice
For "big Mac" is best suited Cheddar cheese.