You will need
1 bunch sorrel,1 bunch of dill
1 bunch parsley
2 small onions
2 tbsp vegetable oil
salt and pepper to taste.
For the ragout: 1 eggplant
1 young zucchini
2 sweet peppers
1 onions
2-3 tomatoes
sunflower oil.
Instruction
Start with the stew because it is cooked longer. Wash the vegetables. Cut the eggplant ponytail. Chop the vegetable into small cubes, with a side of about 1 cm. do the same with zucchini. Cleaned before cooking these vegetables do not have, in the long heat treatment the skin becomes soft.
Next, clean and seed the peppers, cut them in large squares. Onions clean from the husk, cut so finely as you like. In the classic version of the onion cut into big pieces - quarters. combine eggplant, zucchini, peppers, onion, sunflower. Now for the tomatoes. Cut them into slices to put in the pot in layers.
Take one large clay pot or several small ones. Raw vegetables are very bulky, keep in mind, in the end, the contents of the pot boiled almost twice and give plenty of water. If you start to fill stew pots too tightly, the liquid during cooking will spill over the edge, so don't go overboard filling them.
First coat the pot with sunflower oil. Put about a third of a mixture of eggplant, zucchini, pepper and onion. Then make a layer of tomatoes, the sunflower, then the pot is put another third of the vegetables and covered with a second layer of tomatoes. The third time repeat of the same. At the top should be tomatoes. By the same token, put the vegetables in each pot, if you have several.
After this the stew you need to season sunflower oil. All stews need about 2-3 tablespoons. Close the pot and place in a preheated 200 degree oven. After 10 minutes, reduce to 150. And for the next half hour, you can forget about the hot dish and do the salad.
For the salad hard boil the eggs, cool, peel them from the shell. Cut into two pieces along. Each half chopped into thin longitudinal strips.
Dry cloth washed sorrel, parsley and dill. Sorrel cut into cut into small noodles, chop the greens. Will peel onion, cut into thin strips, scald with boiling water, allow to drain water and cool. Mix eggs, onion, watercress and herbs. Add salt and pepper to taste. Season the vegetable oil. Ready salad garnish with greens and slices of egg.
You can get the stew from the oven, place on a plate and start dinner.
Advice 2 : How to cook the marinade sauce from chicken ham
Marinade for skewered chicken is prepared is quite simple and gives this dietary dish juicy and tender taste. However, to get a really delicious chicken skewers, you need to choose the right marinade and cook it according to the most popular recipes.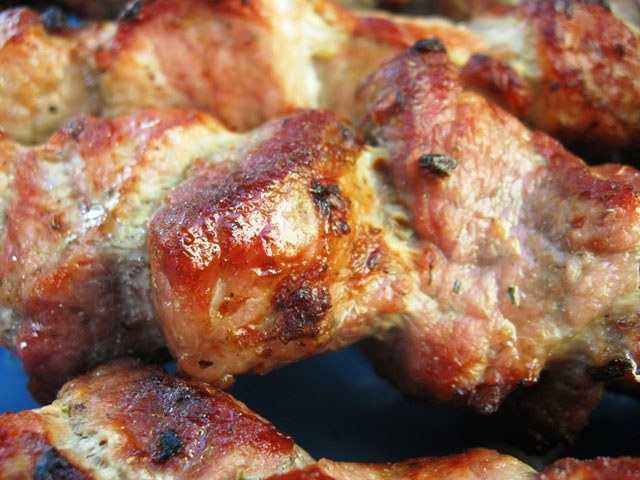 Types of marinades


Sweet marinades are ideal for chicken drumsticks, as they are well impregnated with the meat and give it a sweet taste. A barbecue, more spicy mustard will help the marinade and those who do not like to interrupt the natural taste of various spices barbecue, you should give preference to classic marinade with onion, salt and vinegar. You can also use sour pickles, but they are contraindicated for people suffering from hyperacidity of the stomach and ulcerative diseases of the gastrointestinal tract.

When preparing the marinade for the chicken kebab is very important to observe the proportions of the ingredients and the quality/weight of chicken.

If sour pickles are not suitable, you can replace them with a marinade of spices, honey and herbs – their thick consistency very quickly permeates the chicken legs and makes their meat soft and flavorful. If you want to make a spicy marinade, making use of a mixture of herbs, salt and ground pepper. Best acute types of marinades combine with chicken thighs or drumstick, as in other marinades these chicken parts are marinated pretty hard.


Recipes marinades


For preparing the classic marinade for 1 kg of chicken legs need to take 100 g 9% vinegar, 500 g onions, 2 teaspoons salt, 1 teaspoon sugar 10 peas allspice, 20 peas of black pepper, 5 Bay leaves and a teaspoon of vegetable oil. Onions should be clean and cut 100 g of chetverenki, grinding in a blender onion gruel – the rest cut onion rings and set aside. Peppercorns need to grind and mix with minced onion, Bay leaf, vegetable oil, salt, vinegar and sugar. Then to the mixture are added 200 g of water and mix thoroughly with the marinade.

Ready classic marinade into the chicken, placed onion rings and marinate 2 hours in a cool place.

To prepare sweet-and-spicy marinade, you need to take 1 glass of liquid honey, 1 tablespoon mustard, 10 peas of black pepper, 20 g red 20 g of sweet paprika and 1 tablespoon of vinegar. Liquid honey must be thoroughly mixed with a glass of water, mustard, paprika and vinegar, and then thoroughly RUB them chicken legs. The advantage of this marinade is its insensibility to the time – processed chicken can be put on the grill immediately after marinating for a short.