Instruction
In order that the dough doesn't stick, roll it on a flat surface, previously sprinkled with flour. As needed flour in the process spiked. Use for rolling the rolling pins. Convenient size of a rolling pin of about 40-45 cm with a diameter of about 5 centimeters. Well, if it is equipped with handles on both sides.
Usually the dough is rolled in two directions, turning it in the process, so each site will be rolled out smoothly. Begin to roll out the dough with the middle from the centre, movements forward and backward.
If you want to roll out soft and sticky dough thinly, then you need to put it between two large sheets of oiled parchment paper, lightly sprinkle them with flour. After that it will proceed with a rolling pin. If no paper, then instead of a rolling pin to roll out the dough, use a bottle of cold water and tightly closed bottle. The process of rolling should be carried out gradually and cautiously, avoiding the gusts of the sheet.
For dumplings, Varennikov, pasties, dumplings and khinkali dough is unrolled in two ways. The first is a large thin sheet from which the Cup or saucer depending on food to be cooked, cut circles. The rest of the test when it rolled out again. In the second method, from the piece of dough is formed sausage, cut across the wedges, which two sides dipped in flour and roll each with a rolling pin. Paint mugs obtained the correct shape and the same size.
Note
All types of dough, except yeast, before you start to roll out, need to chill.
Useful advice
In order to transfer to the baking sheet is large and thin sheet of dough, sprinkle it with flour, carefully and tightly wrap it over the rolling pin and transfer onto the sheet, where it will deploy.
Advice 2: How to make the dough for pasties
Pasties – a kind of cakes made from thin and unleavened dough with various fillings. For the filling use not only the meat but also cabbage, cheese, mushrooms and potatoes. For making pasties is especially important to use the right dough recipe, then pasties will turn out delicious and soft. Surprise your household appetizing and hot pasties before which no one can resist.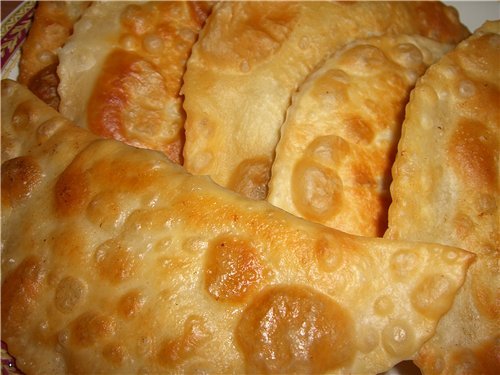 You will need
4 cups flour,
salt,
1 teaspoon granulated sugar
8 tbsp vegetable oil.
Instruction
For the dough you will need a bowl. Pour it in 1.5 cups boiled hot water, add a couple pinches of salt and one teaspoon of sugar. Mix everything carefully.
Measure a little more than four cups of flour and sift through a sieve. Slides in the center of flour make a well and pour in the hot water with dissolved salt and sugar.
Add one teaspoon of vodka and eight tablespoons of vegetable oil, knead the dough. Cover the dough with a clean cloth or towel and allow it to rest a little.
After some time again Pomezia dough and cover with a cloth and let it lay. Knead, so the dough 3 times.
Left to roll out the dough in a layer thickness of 3 mm, cut out circles with a saucer. Put on each circle of dough a little minced meat and combine the edges. Make a border with a fork, pressing the teeth to the edges of the dough, and fry in deep fat with a large amount of vegetable oil.
Note
During cooking, dough, egg laying is not necessary, as they reduce the softness and plasticity. The dough for pasties need to brew, so it should be kneaded in boiling water, this will give the dough a special lightness and delicacy that is the main component of tasty pasties. Vegetable oil added during kneading, will help give the finished pasties particular bubble. Added to the batter vodka makes it a little crispy and receivemy frying.
Useful advice
During lent, you can cook the pasties with cabbage filling. You can try to cook the dough for pasties with the addition of beer. For this you will need one glass of light beer in which you want to add salt, sugar, one egg. Stir in desired amount of sifted flour. The dough some time must lie under a towel, regularly knead. The dough should be not less than one hour. Instead of beer you can add mineral water, with gas bubbles, it will be more tender.