You will need
250 g beef
250 g pork
1 medium onion
1 clove of garlic
1 egg
1 sweet (bell) pepper
400 g of tomato sauce or paste
2 tablespoons vegetable oil
salt to taste
spices to taste
Instruction
Take long grain white rice. This variety has its own flavor and absorbs the meat juices. Do not use parboiled rice and round grain. The first can remain rigid, and the second will turn to mush.
The rinse rice several times in running water until its complete transparency. Cover with cold water. Season with a little salt. Boil until tender. Drain in a colander to glass excess fluid.
While cooking the rice, prepare the stuffing. Traditionally meatballs are made of two types of meat. Pork will make the meat juicier, beef – flavor intensity. For dietary and baby food use minced poultry meat – Turkey or chicken.
Meat clean from the films and veins, wash. Scroll separately in a meat grinder or very finely chop with a knife.
Onion and garlic finely chop. You can skip the garlic through the press, and onion to scroll along with the meat. Sweet pepper cut into strips.
Connect both types of meat, boiled rice, raw egg, onion, garlic, salt and spices to taste. Thoroughly combine.
From the resulting mass salmon balls the size of a walnut. It is not necessary to roll the meatballs in flour or breadcrumbs. In the pan, the breading can burn quickly, which will give the dish a bitter taste.
Heat the sunflower oil in a frying pan. Fry meatballs on all sides.
On to the meatballs pan and add the pepper. Mix everything and cook under the lid for 5-7 minutes.
Add tomato sauce and let the dish to simmer for 2-3 minutes. Instead of tomato sauce you can use beef or chicken broth. Cooking for children, cook meatballs in dilute sour cream or low-fat cream.
Garnish submit boiled rice. You can also saute, bake in oven or fry on the grill vegetables. For fans of solid food, prepare pasta or mashed potatoes.
Pour the remaining sauce for garnish. Garnish with a sprig of greenery or a slice of tomato.
Useful advice
Meatballs with rice you can cook in advance and freeze.
Advice 2 : Soup with rice, vegetables and meatballs
Light vegetable soup is perfect for feeding all family members, from early spring until the autumn cloudy days. Add meatballs from lean beef will add nutrition and taste to the dish.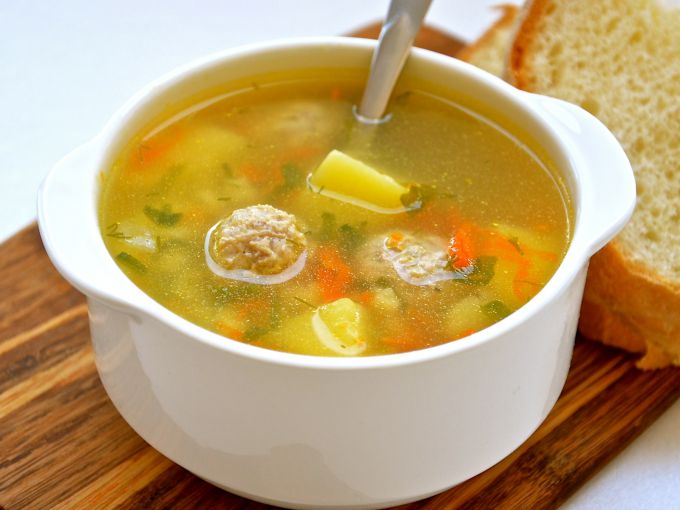 Ingredients:
Beef – 350 g;
The round rice – 4 tbsp;
Carrots – 2 PCs;
Zucchini – 300 g;
Cauliflower – 350 g;
Tomatoes – 4 PCs.;
Celery – 1 stalk;
Onion – 1 piece;
Vegetable oil;
A large bundle of fresh herbs;
Salt and spices – to taste;
Bay leaf, herbes de Provence;
Homemade sour cream – for filing.
Preparation:
In the summer do not want to stand at the stove, so we will try to minimize the cooking process and wash the excess liquid. Take a pan (not enameled) with a thick bottom. Will add vegetable oil and let it heat up on the stove.
First, well wash the rice, fill it with boiling water. Now the rice can be boiled in hot water or to warm up a couple minutes in the microwave. Then rinse thoroughly – this will allow the soup to remain light and transparent and not cloudy from the starch.
Onions finely chop and add the oil. You can add a little ginger or chili pepper, chopped garlic.
After the onions will soak the oil and become Golden brown, add chopped carrots. By the way, it is possible to RUB on a grater, then she cooked faster.
From a piece of lean beef to make beef. It is desirable to pass through a meat grinder twice. Egg we are not going to add, just seasoning spices, salt, herbs de Provence and fresh herbs.
After the carrots a little stew, add the chopped celery and after a few minutes of finely diced tomatoes and a whisper of sugar. Sweetness in the soup and the tomatoes will give you more juice and flavor.
Formed meatballs are prepared from minced meat.
Add to the vegetables brought to half-cooked rice, pour the vegetables with barley water. As soon as the broth starts to boil, put in a pan formed small meatballs, the cauliflower and the chopped zucchini. Salt, season with salt and pepper and cook for about 10-15 minutes until tender.
Ready soup remove from hot plate, add some fresh herbs and let stand. Serve with thick sour cream and aromatic bread.