Cake based on sour milk turns light and fluffy. The filling you can choose any main condition that it was unsweetened. Serve the finished dish can both hot and cold.
Take a large bowl, enameled. Pour a liter of
sour milk
(the liquid can be pre-soaked in warm day). Add one egg, beat with a whisk or with a mixer. Once on the surface of the mixture bubbles appear, stir in 1/2 tsp. of baking soda, and then 2 tbsp of vinegar, stir.
Pour into a bowl 60 ml of vegetable oil, season with salt. Sift the flour through a sieve, and gently stir the dough, add it to liquid. The flour put arbitrarily, focus on the test structure, it should be viscous but not thick. Take a spoon, put inside, wait, then remove and view. If the dough flows down in big drops, more flour is not necessary.
Prepare the stuffing. Can take fresh fish or use canned. Cut the fish into pieces and mix with chopped onion. Grease a baking pan with vegetable oil, pour half of the dough, then put the stuffing, close the other half of the dough, then put in the oven for 1 hour at a temperature of 180oC. When the dish is browned, you can get.
© All rights reserved. Especially for
Kakrola!
Tarakanov S. N. 23.05.2013
Advice 2 : What to cook from sour milk
If the milk is soured – should not be empty. It is possible to prepare many delicious dishes: curd fritters, pancakes, pies, tarts and dumplings and a vegetable meals and soups.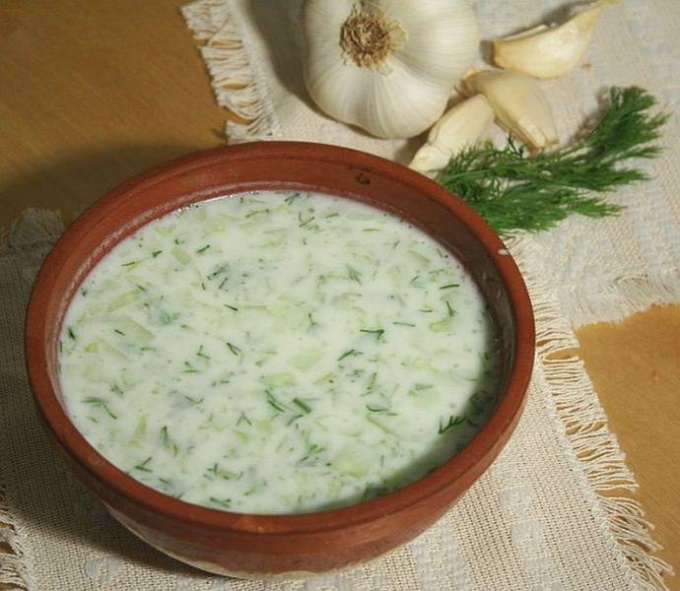 Soup recipe tarator
This is a Bulgarian dish is a cold soup popular in Macedonia. He served, as a rule, before the second courses or simultaneously with them. The main components are the soup tarator yoghurt, cucumber, walnuts and garlic. For this dish you will need:
- ½ Cup of sour milk;
- ½ Cup of water;
- 1-2 fresh cucumber;
- 1 tbsp walnut kernels;
- 1 clove of garlic;
- ½ Eggs;
- 1 tsp. green;
- 1 tbsp vegetable oil;
Sol.
Connect sour the milk with water and shake vigorously. Cucumbers peel and cut into small cubes. A clove of garlic clear, skip through the press and RUB with salt. Half hard-boiled eggs, chop with a knife. Walnuts shalt in a mortar. Then pour chopped cucumbers whipped mixture of sour milk with water, add mashed with salt, garlic, chopped egg, thicken the soup with vegetable oil, sprinkle with chopped herbs and crushed walnuts. To the table soup tarator is served cold.
Appetizer recipe zucchini
To prepare the tangy, spicy appetizer of zucchini with a dressing of sour milk we need to take:
- 750 g courgettes;
- 500 ml sour milk;
- 5 cloves of garlic;
- dill;
red sweet pepper;
- butter.
Clean the zucchini and cut into slices about one centimeter thick. Then put in salted boiling water, add a few sprigs of dill and boil until tender. Catch the slices of zucchini with a slotted spoon, place on a paper towel and dry. Then move on a plate. Garlic cloves clean, pass through the press, put in the sour milk and mix well. Pour the cooked zucchini filling. Melt in a small saucepan, butter (if you want you can substitute vegetable), add red peppers, stir and just before serving season with this mixture zucchini.
The recipe for the cupcake
Of course, baking is the most popular way to use sour milk. To
make
the cupcake on sour milk, you need:
- 3 cups of sour milk;
- 2 cups of sugar;
- 1 Cup semolina;
- 3 cups flour;
- 4 eggs;
- ½ Tsp of baking soda;
- any fruit, berries or nuts.
Mix in a bowl the dry ingredients: flour, soda and sugar. Semolina pour the sour milk and let stand for 15-20 minutes for swelling. Then connect all the components. Pour the swollen semolina in the flour mixture, add selected to taste the fruits, berries or nuts. It can be cherries and seedless raisins, dried apricots, canned pineapple chunks, red and black currants, plums, apples, chopped walnuts, etc. Beat the eggs in the prepared mixture and mix everything carefully. The dough should have the consistency of thick cream. Pour it in silicone or heat-resistant form and put in a preheated 200oC oven. The baking time of the cake pan 50-60 minutes.
Advice 3 : Quick pie on sour milk
Unfortunately, very often, just bought the milk turns sour. Pour it is a pity, you always want to cook something. Here come to the aid of a quick and easy recipe on the basis of sour milk.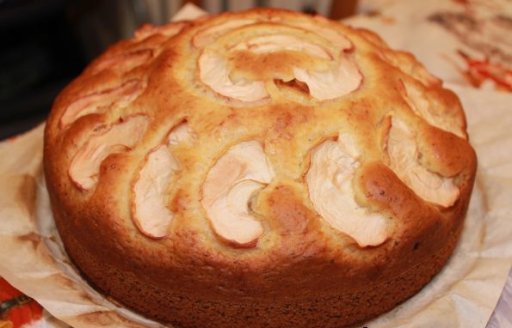 You will need
- sour milk 1 Cup
- eggs 3 pieces
- granulated sugar 1 Cup
soda teaspoon 1 teaspoon
- flour 3 cups
- fruits according to your taste
- sunflower oil
Instruction
Eggs mixed with sugar and a good whisk. We must try to sugar as possible dissolved.
In eggs with sugar, add sour milk. Mix everything together until smooth.
Then to this mixture add flour with soda. Baking soda and baking powder before adding into the dough must be well mixed with each other. All mix thoroughly until smooth. The dough consistency should be like thick cream.

The bottom of the prepared form grease with vegetable oil and put it in there cooked fruit. Pour all the dough on our fruit. Fruits you can use absolutely any ( apples, pears, bananas, grapes, peaches, Victoria, currant, cherry). With any berry filling will be delicious.
Send our
dish
in a preheated to 180 degrees oven. Waiting for 30-35 minutes. Be sure to check the willingness of our dishes.
Note
After cooking you must check it's readiness with a wooden stick, just to stick a stick in the pie. If the stick came out clean, the cake is fully cooked. You can safely remove from the oven.
Useful advice
The oven to heat greater than 180 degrees is not advisable as it is the optimal mode for the gradual lifting of the test.
If the dough put the baking soda, the cake will have a dark color and unpleasant smell and taste.