You will need
3 large onions
25 gr. (1 package) dry yeast
3.5 cups of wheat flour
1.5 cups of water
1chaynaya teaspoon salt
¼ Teaspoon sugar
vegetable oil for frying
olive oil for greasing products
Instruction
Finely cut mushrooms and fry on high heat in plenty of oil for 10 minutes.
Finely shinkuem onion and passeruem over medium heat in a small amount of oil. Onions fry until Golden brown.
The mushrooms and onions and mix recline on a sieve to drained excess oil.
Dissolve yeast in one Cup of warm water (30 degrees) pre-dissolved in water sugar. After 5-10 minutes, the yeast begin to "walk" on the surface appears foam.
In half of the sifted flour, add rest of water, yeast and knead the dough. Put the dough in a warm place for 30 minutes.
After the dough has risen, add the remaining flour, salt, mushrooms, onions and knead the dough. Put the dough to rise for 1.5-2 hours in a warm place.
Ready divide the dough into 6 pieces, form balls and roll them out with a maximum thickness of 1.5 cm.
Spread tortillas on a baking sheet and top pierce the cake in several places with a fork.
Before you send the product to the oven, it should stand in a warm place about 30 minutes. The pan should be covered with towel to the top of the pellet is not dried up.
Bake tortillas in the oven at 180 degrees for 30-35 minutes.
Freshly made tortillas, brush with olive oil. Bon appetit.
Useful advice
The longer the dough is made, the more magnificent the it will cakes.
Advice 2 : How to prepare homemade tortillas
Each family has its own secret preparation of pellets, beloved Pets and especially children. The recipes countless: from unleavened dough, yeast, butter, stuffed or not, roasted, baked... Try to bake delicious
homemade
cakes, the cooking process which is quite simple.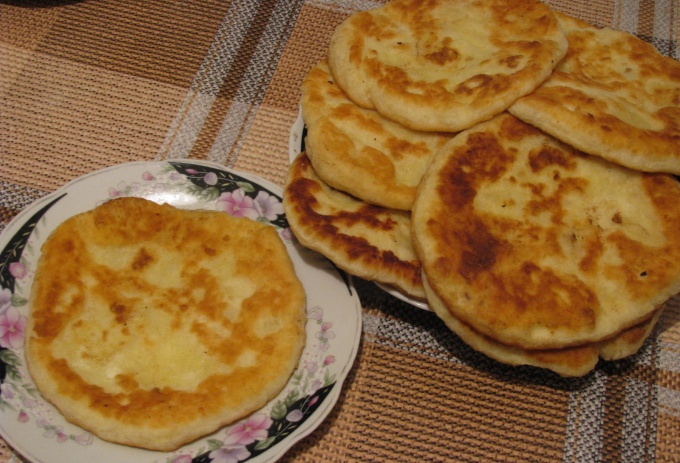 You will need
water - 2 glasses;
vegetable oil - 5 tablespoons;
salt - to taste (about 1 teaspoon).
Instruction
Sift the flour into a bowl through a sieve and pour cold water mixed with salt. Mix cool fresh dough, knead 10-15 minutes. Leave it on the table, covered with a clean towel, for 30-40 minutes, during this time, the dough "rest" and a little increase in volume.
Divide the dough into 4-5 pieces (depending on size of the pan) and roll from them balls. Roll out the first bun is not too thin and brush with sunflower oil, it is better not refined, then fold the dough in half on the oil side. Roll out the resulting semi-circle of dough and butter again, then fold again. So repeat 8 times or more - the more you fold and roll, the tastier it will turn out the cake. She should get a thickness of 1 to 1.5 cm in the end.
Pour a little sunflower oil in a pan and fry the pancake on both sides. Remove it from the frying pan on a napkin to remove excess oil. Yet to fry one tortilla - roll the next. Serve it to me warm to sweet tea or instead of bread to the entrees. They are also delicious cold, but to cool down remain rare.
Note
From unleavened dough you can bake very thin pancakes in a frying pan without oil or in the oven - get a pita.
Preparing these cakes very quickly. After baking they should be sprinkled with water that was soft, not crispy.

From unleavened dough came out very tasty burrito: cheese, green onions, pumpkin with fried onions, potatoes or other. They rolled out with a rolling pin after laying the filling and fry in a pan without oil. Top grease with melted butter or cream. Such pellets present in the cuisine of the Caucasian peoples.
Useful advice
For these homemade tortillas can use flour of any variety, but it is best to take first.

Repeated rolling test try to maintain the rounded shape of the pellet as possible.