You will need
baked with new potatoes
2 salmon steak weighing 170 – 200 g;
1 ½ tbsp of butter;
1 lemon;
2 sprigs of fresh dill;
2 tbsp white wine;
several small young potatoes;
salt
white pepper
Salmon
baked with mushrooms and pumpkin
4 salmon steak;
½ Teaspoon of salt;
⅛ Teaspoon white pepper;
½ Teaspoon dried thyme ;
1 lemon;
2 cups chopped mushrooms;
2 cups of diced pumpkin;
⅓ Cup of dry white wine.
Salmon
with sesame oil and ginger
salmon steak;
1 stalk lemon grass;
1 bunch green onions;
ginger root – 5-10 inches;
2 large garlic cloves;
1 tablespoon of sesame oil;
2 tablespoons mirin;
3 tablespoons tamari;
2 tablespoons of chopped cilantro .
Instruction
Baked salmon with obamamercial thoroughly wash and boil "in uniform" until soft. Let it cool down and cut into thin slices. From the lemon, cut 4 slices and squeeze remaining fruit juice. Mix lemon juice with white wine.
Put each steak on a separate square piece of foil. Sprinkle with salt and pepper. Put on top a piece of butter and a sprig of dill. Lay on the fish the potatoes, salt and pepper it, decorate each piece with two slices of lemon. Make a foil boat and fill it with a mixture of wine and juice. Reseal the envelope. Bake in the oven at a temperature of 220оС. About 10-15 minutes. Salmon fits the General rule that says that for every inch of thickness of fish fillet you need to spend 10 minutes to cook it until tender.
Salmon baked with mushrooms and Tiquisate the oven to 220оС. Cut from a roll of baking foil 4 of a rectangle with sides of about 30x60 centimeters. Fold each in half and place at the center of the fish steak. Mushrooms and vegetables spread out around the fish, sprinkle with salt, pepper and thyme. Gather the foil boat and pour in the wine. Seal "envelopes". Put fish in foil on a baking sheet and put in preheated oven. Cook for about 10-15 minutes.
Salmon with sesame oil and imbiriba, saponina in palm tree leaves or Lotus – a popular dish of the Asian cuisine. Now almost the same dishes you can prepare using the parchment or foil.Rinse steaks and dry with paper towels. Pieces of fish put on the foil. Lemon grass, split lengthwise into as many parts as you prepare steaks. Green onions finely chop and sprinkle it on salmon. Chop the ginger and garlic, mix with sesame oil, sweet cooking rice wine with mirin and dark soy sauce tamari. Pour this mixture of fish, sprinkle with cilantro. Seal the prepared steaks in a foil packet and bake in the oven at 220оС 10-15 minutes.
Advice 2 : Marinade recipe for salmon grilled
Salmon is considered one of the most delicious salmon. You can cook a variety of culinary delights, one of which is grilled fish with the marinade. This dish has its own taste from what is cooked in the kitchen, and the marinade gives it savory taste, impossible to forget.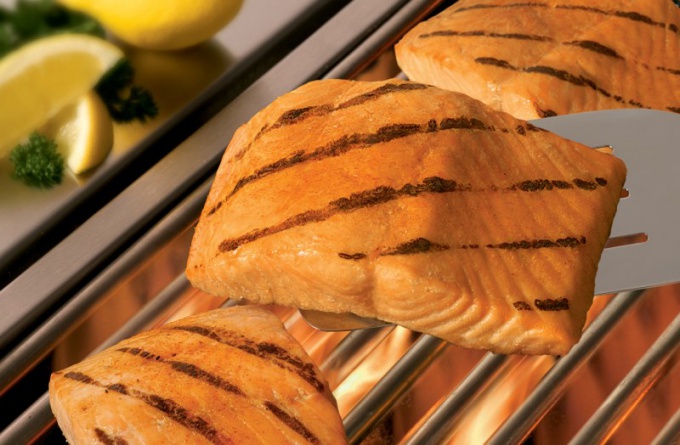 Marinade for salmon
Some people consider salmon a delicious oily fish, which needs no marinade. In principle, it is, however, salmon is much tastier and more interesting, if you marinate it before grilling. Usually the result exceeds all expectations: fish meat becomes tender, and its flavor is delicious. Just fifteen minutes of marinating, and you will receive a fragrant and juicy shish kebab from a salmon.
Marinade salmon need a gentle preservatives that will not soften its flesh to such an extent that the fish will fall apart on the grill.
To prepare the traditional marinade with olive oil, you need to take 500 grams of salmon, four tablespoons of olive oil, five or six olives, half a lemon, bunch of green dill and salt to taste. Lemon juice to squeeze into oil, and olives and dill finely chop and mix thoroughly. The fish is salted and spread on the marinade for fifteen to twenty five minutes.
Marinade recipe for salmon in Italian is a similar composition, but it still added 200 grams of white wine, and three or four tablespoons of soy sauce. It's a little different from the first for their taste, but also gives grilled salmon a unique taste. If you use any condiments, it is important not to overdo it with them, as the tender meat of the fish is very easy to spoil.
The marinade of herbs and sour cream
For a delicious marinade of herbs and sour cream, which will emphasize all the flavor notes of salmon, we need 500 grams of fish, one tablespoon cream, one lemon, one onion bulb and greens and salt to taste. The onion and the vegetables should be finely chop and squeeze lemon juice. The mixture is added salt and sour cream. The seasonings in this recipe it is advisable to use not to spoil the taste of the future of barbecue.
Also do not use the marinade for salmon vinegar, which can greatly soften its meat and break it homogenous structure.
Put the salmon in the marinade for twenty five to thirty minutes, during which she soaked components, and will acquire a delightfully delicate texture and juiciness and a mild spicy taste. There are many different options for preparation of fish marinades, however, the above recipes are the most popular for marinating the salmon on the grill. With their help, you will surprise guests with their culinary skills, a secret which is quite simple.