You will need
cold and hot water;
Calabash;
bombilla.
Instruction
Take the Calabash is a vessel for brewing Yerba mate) and two-thirds fill it dry mate. Tilt the vessel so that all welding is distributed along one side, fully exposing opposite to the bottom of the jug of pumpkin.
Then pour in mate, distributed on one wall of the Calabash gourd, a little water. But not immediately, and pouring liquid in small portions. The water should completely soak into the leaves, moistened her. The water temperature depends entirely on the preferences of those who designed the drink. It can be cold and moderately hot.
Few (3-5) minutes, assess the result – the contents of the Calabash gourd is supposed to swell up and resemble a thick bright green paste. After that, take a straw, the bombilla, and holding the top hole with your finger to create an inside leak, place it in the Calabash zaglubit slightly swollen in welding.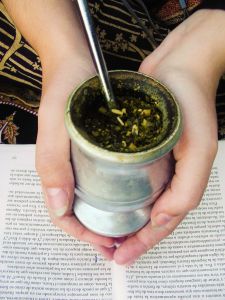 In the next stage of Calabash topped with hot water. Right mate swell, completely filling a gourd-Calabash. After the final topping to the drink infuse 0.5-2 minutes and start to drink small SIPS, sipping the liquid from the bottom.
After all the liquid is drunk, the Calabash is added hot water. One portion of the welding can bcit bathed 2-3 times, with each adding the flavor of mate is changing from herbaceous at the first brewing to the bitter-tart at the next.
Note
When brewing Yerba mate do not use water hotter than 80 degrees Celsius. Boiling water kills all the beneficial elements in the tea.

Mate has a strong tonic properties. If you intend to consume the drink at night, so as not to risk sleep, use for brewing water, and milk or milk mixed with water.

Unlike tea, Yerba mate keeps the properties within 2-4 days, only starting to taste bitter over time.
Useful advice
If you do not like the bitter taste of the drink – brew sweet mate. Technology is no different from the classic with one exception – before falling asleep welding to the bottom of the Calabash gourd is placed a spoon of honey or sugar.

In hot weather, perfectly refreshes and tones cold mate. To obtain at all stages of preparation used only cold water. This drink is often added to juices, ice or sugar.