You will need
- glass of milk;
- a pinch of black cardamom;
- 1/2 teaspoon (5 pods) green cardamom;
- two pinches of allspice;
- 3-4 sticks cloves;
- a pinch of nutmeg;
- 1 teaspoon ground cinnamon;
- 1 tbsp grated fresh root ginger or a pinch of dry;
- 1 teaspoon of black tea;
- sugar to taste.
Instruction
If cardamom and cloves not powder, break them, clean grain and grind in a mortar. Fresh ginger root wash, peel off the skins and grate.
Pour milk into a deep saucepan and bring to a boil. Add cardamom, cloves, pepper, nutmeg, cinnamon and ginger. Simmer for 1-2 minutes. Remember that spices should not boil, but simmering. If the fire is too strong, milk, the introduction of ingredients can be curtailed. Add the sugar, cover and steep for 10 minutes.
In a large bowl, brew a teaspoon of black tea. Add it to the container with milk and bring to boil again.
Readiness masala is determined by the welding: when all the tea leaves sank to the bottom, then drink the real thing. On average, it takes at least 5 minutes.
Strain the drink into a warm teapot, and serve. Pour masala cups, scalded with boiling water. Drinking masala tea is recommended steadily and slowly, enjoying every SIP.
Note
Try not to overdo it with the cloves: it has a lot of essential oils that can kill the flavor of the tea.

The presence of sugar in this drink necessarily, as its slow languor in milk with spices gives masala refined caramel taste.
Useful advice
Use fresh, quality spices, not the finished powder blend. Only in this case you can make masala tea right.

To the above spices, you can add vanilla (essence or pod), seeds of fennel and anise.
Advice 2 : Masala Chai, or Divine bouquet in one Cup
Unusual and amazing taste that is very difficult to describe in words. Will give you unforgettable pleasure.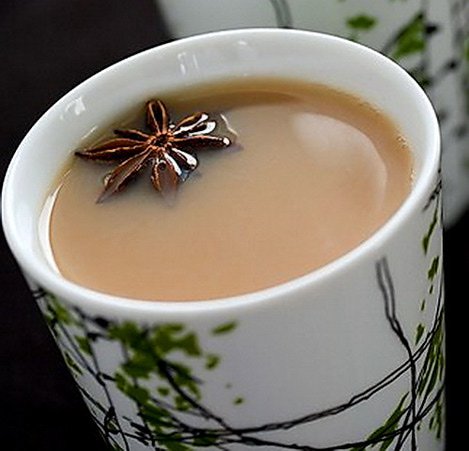 You will need
- Milk — 1 Cup
Water (pure) — 1 Cup
- Black tea — 1 tbsp
- Sugar — 2 tbsp
- Nutmeg - 1/4 PCs.
- Bay leaf - 2 PCs.
Spices:
Cinnamon - 1 tsp.
- Cardamom - 0.5 tsp.
- Black pepper - 6 peas
- White pepper - 5 grains
- Zira (cumin) - 0.5 tsp.
- Coriander - 0.5 tsp.
- Carnation - 10 pieces
- Nigella (kalindi, black cumin) 0.5 tsp.
- Cumin - 0.5 tsp.
Instruction
Grind in a mortar or in coffee spices, which are in the form of whole grains. Mix the ground spices with the rest.
To grate nutmeg. Pour the nuts and mixed spices, and tea in a small saucepan, pour a glass of water. Put on high heat and bring to a boil, boil for about 1 minute.

Add to the pot a glass of milk and two tablespoons of sugar. Add the Bay leaves. Bring the milk to a boil, boil for about 1 minute.

The prepared beverage to pass through a cheesecloth or sieve. Masala tea is ready.
Useful advice
You can use any spices that you have in the fridge.