You will need
lamb liver - 500 g;
meat broth - 1 liter;
long-grain rice - 400 g;
salt - to taste;
butter - 80 g;
onions - 2 PCs;
dessert wine - 200 g;
garlic - 2 cloves;
Bay leaf - 2 PCs;
carnation - 5 PCs;
ground black pepper - to taste;
tomatoes - 6 PCs.
For the second recipe:
lamb liver - 500 g;
garlic - 4 cloves;
parsley - 1 bunch;
olive oil - 4 tbsp. spoons;
fresh mushrooms - 300 g;
chicken broth - 500 g
Instruction
To prepare the "Lamb liver-Athens" boil 1 liter of meat broth and add to saucepan 400 grams long-grain rice. Add salt to taste, stir and cook over low heat, covered for about 25 minutes.
Rinse in cold water 500 grams of lamb liver, remove the tape and remove the bile ducts. And then cut into small pieces. Heat in a pan with 40 grams of butter, add the liver and fry on medium heat for 10 minutes, stirring constantly.
In a deep saucepan, place 40 grams of butter, heat it and add 2 onions, sliced into thin half-rings. Fry until Golden brown, then pour in 200 grams of sweet wine, add 2 cloves of garlic, grated on a fine grater, and 2 Bay leaves, cloves, salt and ground black pepper to taste.
Scald with boiling water 6 tomatoes, remove the skin and turn into a puree with a blender, and then place it in the pan with the onions and simmer all together for 5 minutes. In the resulting sauce add the fried liver, bring to a boil and turn off the heat. Cooked rice put in dish, pour the sauce and on top place the pieces of liver.
Cook lamb liver with mushrooms. To do this, skip through the press 4 cloves of garlic and coarsely shred the parsley. Lamb liver cut into pieces and zapaniruyte in flour and then sauté in olive oil on both sides.
Cut into small cubes 300 grams of fresh mushrooms and saute them with the garlic in a separate pan, pre-heating in 2 tablespoons of olive oil. After 5 minutes pour 500 grams of chicken broth, add the liver and simmer all together for about 7 minutes. The finished dish serve with mashed potatoes, sprinkle the liver with parsley.
Advice 2: How to cook lamb loin
Lamb loin (loin of lamb) is one of the delicious dishes. It is fast, and to cope with the preparation of this meat, maybe even the young mistress. Dishes of lamb chops always come out tender and juicy.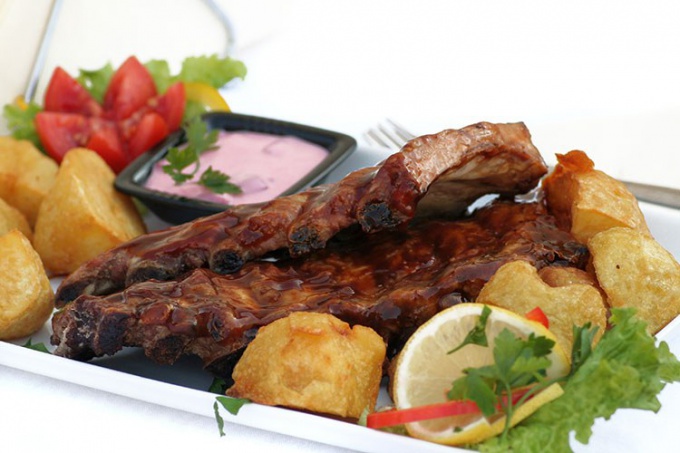 You will need
1 kg lamb loin on the bone;
3 tablespoons vegetable oil;
teaspoon of salt;
teaspoon black pepper;
thyme;
marjoram;
oregano;
rosemary.
For the lamb loin in foil:
2 kg lean lamb loin;
3 onions;
carrots;
3 cloves of garlic;
4 stalks of leeks;
2 cups of milk;
black pepper;
parsley;
salt.
Instruction
Roasted lamb loin
Wash lamb
loin
, dry it with a cloth or towel, remove any excess fat and films. Grind the knife edge rib bones. Oil prepared meat, vegetable oil, better suited to olive. Mix salt with ground black pepper and sprinkle this mixture
on the lamb
. Then sprinkle the dry spices: thyme, oregano, marjoram and rosemary. Put the loin for about two hours to marinate.
Preheat the oven to 200 degrees. In a skillet, pour olive oil, sauté the lamb for 4-5 minutes. Put the roasted loin on a roasting pan (meat up) and put in the oven for baking. After 15 minutes, remove the pan from the oven, cover the lamb with foil and place back in the oven for 10-15 minutes.

Ready lamb loin cut into portions and place on a dish. Serve with boiled potatoes and fresh vegetables.
Lamb loin in foil

Wash lamb loin, strip from films and excess fat. Put in a deep container, cover with milk and store overnight in the refrigerator. It is best if the meat is to vymachivanija milk day.
Clean the garlic, onion and carrots. Finely chop the garlic, and the carrots and onions finely chop. Remove the meat from the milk, grind the bones, and lard the lamb thin slices of garlic, salt, pepper and sprinkle finely chopped onions and carrots. Preheat the oven to 200 degrees. Carefully wrap the meat in foil, place on a baking sheet and place in the oven for two hours to sinter.
Wash the leeks and parsley. Drain and chop (leek – rings and parsley – finely). Ready lamb loin cut into pieces, spread on a dish, sprinkle with parsley and garnish with rings of leeks. The loin baked in foil, perfectly sour cream or Apple sauce.
Note
When cooked, place the lamb loin in good, but not too heated oven. In a very preheated oven surface meat is easy to burn through, and the lamb inside will remain raw.
Useful advice
Baked lamb chops will be juicier if during cooking it is to pour a small amount of cold water.