You will need
Marinade in red wine with root vegetables:

— 1 Cup dry red wine;
— 0.5 Cup of lemon juice;
— 2-3 carrots;
— 2 Bay leaves;
— 2 medium parsley root;
— 10-15 peas black pen;
— 2 tbsp of sugar;
— 1-2 tsp of salt.
For marinade red wine garlic:
— 500 ml of red dry wine;
— 2 cloves of garlic;
— 1 onion;
— 6 peas of black pepper;
— 2 sprigs of fresh thyme and parsley;
— salt to taste.
Marinade with red wine cognac:
1 Cup tart red wine;
— 0,5 l of water;
20 ml of cognac;
— 1 tsp of ground red pepper.
For the marinade white wine:
— 0.5 Cup of white wine;
— 1 tsp of sugar;
— 1 tsp of sage;
— 1 onion;
— 2 tbsp vegetable oil;
— 1 tsp of ground black pepper.
For the marinade in white wine with capers:
— 1 glass of dry white wine;
— 3 tbsp white wine vinegar;
— 0,5 Cup of boiled water;
— 3 tbsp olive oil;
— 1 tbsp finely chopped capers (or pickled cucumbers);
— 1 pod of pepper;
— 1/4 tsp. ground thyme;
— salt and sugar to taste.
For the marinade white wine vinegar:
— 1 glass of dry white wine;
1 Cup weak vinegar solution;
— 1 celery and parsley;
— 1 tbsp of sugar;
— 1 tsp of ground black pepper.
Instruction
Prepare the meat — wash it and cut into slices. Make a marinade with a base of red or white wine according to the following recipes. Pour the meat pieces with the marinade so that they were completely covered with liquid. Leave the meat to rest in a cool place for 3-12 hours.
Marinade in red wine with Korenyatsite dry red wine and lemon juice. Bay leaf mash, carrots and parsley root cut into slices. Add the wine, carrot, parsley, spices — Bay leaf, black peppercorns, salt and sugar. Put the mixture on fire and with constant stirring heat to dissolve the salt and sugar.
Marinade in red wine with chesnokodavilke onion thin half-rings. Garlic finely chop. Parsley and thyme shred. In a saucepan, pour red wine, add the garlic, onion, herbs and pepper. Bring the mixture to a boil and cook for no more than 2 minutes. Salt to taste, refrigerate. Prepared marinade can be stored in the refrigerator for about a week.
Marinade in red wine with concommittee with warm water and a tart red wine, pour in the brandy and stir in ground red pepper. Zamarinuetsya meat in this mixture for 2 hours.
The marinade on white generatestate spices (sage, black pepper) in vegetable oil. Onion RUB on a small grater. Add the spices, onion, sugar and wine.
Marinade in white wine with capercaillie white wine vinegar with a dry white wine. Add to the mix half Cup of boiled water, olive oil, sugar and salt to taste. Heat the liquid but do not boil. Connect the marinade with capers, pepper and thyme. Cool it and leave to infuse for 10-12 hours.
Marinade in white wine with finely expansionwith the roots of celery and parsley. Mix the vinegar and white wine, add the sugar, herbs and black pepper. Boil the marinade for about 10-15 minutes, then cool.
Advice 2: How to marinate pork
There are many ways of marinating
pork
. Everyone chooses to your taste. But there are really good ways to marinate the pork, do not pay that attention simply impossible. Pork is good both for barbecue and for cooking and baking.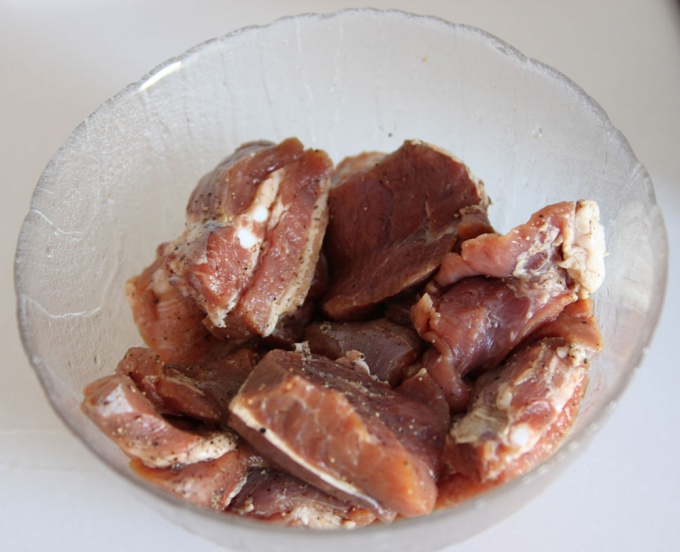 Instruction
Pork marinated in yogurt.

1.5 kg of meat: 0.5-0.7 liters of yogurt 2 medium size onions, salt and spices add to taste.

Cut the meat into pieces of desired size. Onions cut into rings and mix with meat.

Add salt and seasonings.

Meat pour the yogurt and leave to marinate from 2 to 24 hours.

Roast in the oven, microwave oven and of course on the grill.

The meat, marinated this way you can give children. It is extremely tasty and soft.
Pork marinated in beer.

1.5 kg of poultry: 1 liter of light beer, 3 tbsp. tablespoons of mustard, two onions, salt and spices add to taste.

Marinate meat in the first recipe, but instead of buttermilk add a light beer.

Marinated meat to hold from 2 to 24 hours.

Fry can be on anything.

Taste is slightly sweet and the meat tender.
With a quick recipe -
pork
marinated in vinegar.
1.5 kg of meat: 1 tbsp of vinegar, 2 medium size onions, salt and spices add to taste.
Pork chop, season with salt and pepper and mix with onions cut into rings.
Vinegar diluted in 100 gr. water and pour it over the meat.
Marinate preferably not long. The optimal time from 30 minutes to 2 hours.
The grill is the best way of cooking pork marinated in vinegar.
If the meat is kept in the marinade for longer, it will turn out tough and not tasty.
It is also worth remembering that the vinegar affects the stomach.
Advice 3: How much you need to marinate the meat for barbecue
The time required for marinating barbecue depends on the quality of the meat used marinade and taste preferences of the cook. It can vary from 15 minutes to 2 days.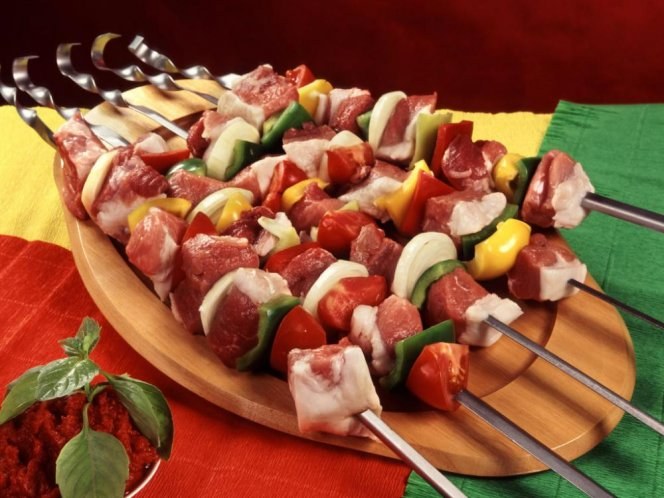 How to marinate pork


Pork for barbecue is better to buy from farmers. Such meat is usually better and fresher than the stores. Sold in supermarkets fillet, to ensure a more long-term storage, often undergoes additional processing, and therefore contains less nutrients.

Marinate meat best recipe in lemon juice and spices. Good blend of Georgian spices, they are very fragrant and sweet.

The meat is washed under cool running water and dry with paper towels. Then cut into small pieces 2-3 cm thick

Each piece is sprinkled with salt and a mixture of Georgian spices. Seasoned the meat slide is placed in the pan and sprinkle with lemon juice. The capacity put in the fridge or a cool place for at least 4 hours. So the meat was more soft and juicy, it is advisable to leave it to marinate overnight.

If the kebabs need to marinate quickly, you can cook the marinade on the basis of mineral water. Cut into small pieces of pork, sprinkle with spices, add chopped onion half rings and pour all the ice mineral water. After half an hour the meat can be strung on skewers and fried.


Skewers of lamb


Real barbecue made cooking lamb. Especially good is the fresh lamb meat.

Well washed tenderloin cleaned from films, excess fat and cut into slices not thicker than 2 cm. onion cut into half rings, sprinkle with coarse salt and add to the meat. Black pepper mash with a knife. Sprinkle meat with pepper and other spices. For this fit, coriander, thyme, Basil, supp and red sweet pepper. Kebab mixed well with spices and finely chopped garlic.

Add 2 tablespoons of vegetable oil and pomegranate sauce. Sauce you can substitute high-quality pomegranate juice. The meat squeeze the juice of half a lemon and leave in a cool place for 4-12 hours.

With a quick recipe of lamb in a wine marinade. To do this, chopped the flesh of a young lamb, pour the white wine. After 15 minutes, the meat can cook.


How to marinate chicken


In recent years quite often have to use chicken meat for barbeque or BBQ. A great marinade for chicken, dairy products are yogurt or kefir. The Caucasus is often used as a marinade, a national sour yoghurt.

For cooking take the chicken thighs or legs. Fresh Basil, pounded in a mortar with the garlic or finely chop. Yogurt or half a liter of yogurt mixed with 2 tablespoons of vegetable oil and add the chopped herbs, garlic and seasonings.

Mix the chicken with the marinade and leave for a day in the fridge. Marinated meat is cleaned from the excess sauce and cook over coals for 25 minutes.

The longest tenderloin marinated in tomato juice. In this marinade and leave the meat for 2 days.

The time required for marinating meat in a greater degree depends on quality of used raw material. Old, tough and stringy fillet requires more time for marinating and harsher marinade based on vinegar. If cooking use young fresh meat, apply the vinegar is not recommended. He kills squirrels and lost the real taste of barbecue.
Advice 4: How to pickle quail
Quail meat is a delicious high-calorie dietary product, rich in vitamins and minerals. Quail meat is renowned for its juiciness, tenderness and flavor of the game. When cooking marinated quail meat all the vitamins and minerals are retained.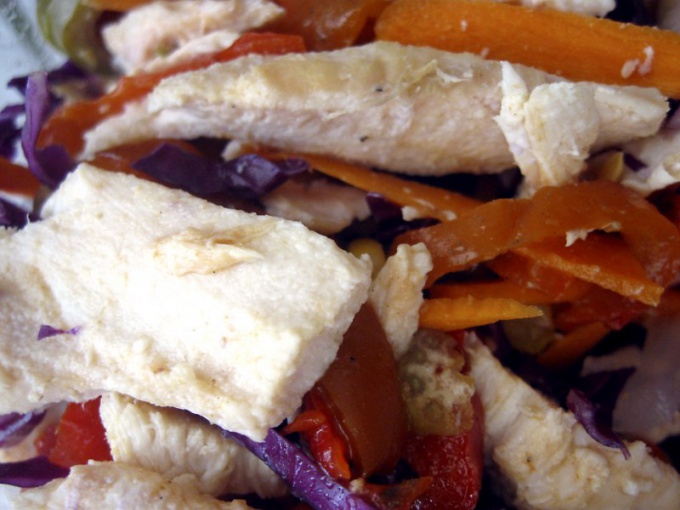 You will need
To prepare quails, marinated in wine and baked with vegetables and bacon:
- 500 g quail;
- 200 g bacon;
- 500 g of potatoes;
- 400 g of broccoli;
- 150 g of carrots;
- 150 g onion;
- salt (to taste);
- pepper (to taste);
- 300 ml of wine;
- 2 tbsp of vinegar (9%);
- greens (dill, parsley, etc.);
- the oven.
To prepare quails, marinated in soy sauce:
- 500 g quail;
- 300 g soy sauce;
- the oven.
Instruction
For a dinner party or festive lunch or dinner, prepare a tasty dish — quail marinated in wine and baked with vegetables and bacon. To start disassemble the quail and cut the carcass along the breast.
Prepare the marinade: mix the wine and vinegar, season with a little salt. Then put the disassembled quails in the marinade and put on 1-2 hours in the refrigerator.
Clean onion and cut into half-rings. Bacon (it is better to choose smoked) cut into small cubes. Potatoes peel and cut into slices. Also cut the carrots and add to the bowl of potatoes, where to put bacon, onion and broccoli. Then add salt and pepper according to your taste.
The baking pan in the oven brush with vegetable oil and place the mixture of vegetables and bacon. Top can decorate the dish with sprigs of greenery (dill, parsley, etc.) or dried grass. For vegetables put the quail meat. Place the mold in the oven and bake at 180 ° C for 15-20 minutes. After that, remove the form and quail brush again with vegetable oil and send in the oven for 15 minutes.
About degree of readiness of quail can be judged from the fact that start to stand out bright liquid. You can also pierce quail meat with a sharp knife. In that case, if the quail is ready and the vegetables are still not cooked, then mix them up and bake up to readiness state. In addition, vegetables and quail can be cooked separately. Thanks to the bacon and vegetables get a very juicy taste. To serve the dish to the table along with fresh vegetables or a green salad.
Very tasty combination of marinated quail meat and soy sauce. Rinse quail, then slit carcasses in the front in the form of "butterflies". To prepare this dish it is best to choose several birds of medium size. Then fold the meat in one container and pour soy sauce. Other spices can be used if desired, however, the soy sauce and enough salt, perfect for any meat dishes. Quail needs to steep for 2-3 hours.
After quail meat has marinated, put it in a oven form and bake at 180 ° C for 30 minutes. Also this dish can be cooked on coals. To bake until the meat has reached the caramel color. Feeding quail, marinated in soy sauce, with vegetables, greens or rice. Bon appetit!
Advice 5: How to marinate skewers
Marinade for
shish kebab
and is usually a mixture of spices, salt, acid and in some cases vegetable oil. Marinated pieces of barbecue before cooking to give them a special flavor and softness. However, to properly marinate the meat.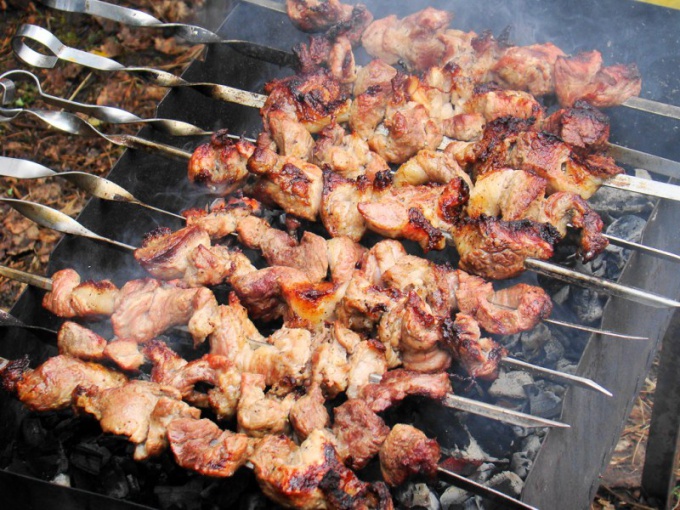 The taste, texture and even the color of the kebab depends on what they're soaked before cooking. Many people marinate the meat in yogurt, vinegar, mineral water, lemon juice, beer, wine and other liquid ingredients. A good marinade is designed to soften the muscle fibers. A barbecue will acquire a unique taste and aroma and is cooked much faster. It is worth to mention that the only correct method of marinating does not exist. Everyone chooses the ingredients for the marinade at your own risk, relying on the advice of friends or on your own experience.
In the Caucasus I consider that it is possible to go without liquid additives. It is sufficient to RUB the meat with salt, red and black pepper, add the onion and Bay leaf and put under the press for 1-2 hours
Traditional marinades for barbecue
In Soviet times, many have used vinegar as the main ingredient for the marinade. And now a lot of people generously add acetic acid or vinegar. However, the chefs argue that this is in any case impossible. Because of the vinegar the meat becomes tough. In addition, quite strong flavor of the vinegar gives the genuine taste of meat.
Mayonnaise marinade has already become traditional. Someone even think that only the French sauce you can marinate the skewers correctly. It is advisable to choose the store is a low-calorie low-fat mayonnaise. Classic varieties such as "Provencal" with a fat content of 67% have a fairly thick consistency, slowly absorbed, and therefore significantly increase the soaking time. If you decide to marinate the skewers in mayonnaise, add the sauce and immediately within 2-3 minutes, mix the meat with your hands, like "whipping".
To the mayonnaise marinade can add a few drops of vegetable oil, then barbecue will be even more juicy
Pink sauce, or as it is called "ketones" is a mixture in equal proportions of tomato ketchup and mayonnaise. In most cases, this sauce is the perfect complement to a barbecue, but can also be a marinade. Soak skewers in pink sauce is no more than three to four hours.
One of the most popular marinades for kebabs is mineral water. However, water does not have any effect, and if you pour carbonated mineral water, carbon dioxide will tear fibers. A barbecue will be dry and not too tasty.
Original marinades for barbecue
In the Caucasus, often marinate in white wine. But not the one that is served on the table during the meal. When grapes ripen of the crop goes to the production of special wines, designed to enrich the taste of the future of barbecue. If you are not able to get this wine, do not worry. You can take an ordinary white wine (necessarily dry). Per kilogram of meat needs about 300 grams of liquid. Skewers, soaked in this marinade, it turns out very juicy, flavorful and tender.
Even if you don't like spicy, take a chance to marinate the meat in Dijon mustard. It is quite delicate in itself, but the meat will give a slight sharpness. Marinade with Dijon mustard – almost the only one that doesn't require spices. Just add a bow.
Very tasty shish kebab turns out that marinating the meat in pomegranate juice. Better to pour the meat juice at night and put under the press. In the morning you can fry.
The easiest option marinade, which is being ignored by many, a lemon and onions. And Luke should take exactly as much as you think meat. Onions should be cut into rings or half rings. In the pan is laid first a layer of onions, then a layer of meat, then onions again, and so on. The lemon in this case, just squeezed on top. Probably will be a very successful experiment, if you onions and lemon rubbed on a grater (to make it easier, you can slightly to freeze both ingredients), add to the bowl with meat and mix. Salt a barbecue need half an hour before the end of the soaking.
Advice 6: How to marinate skewers in wine
Soon the summer – time for picnics, Hiking in the mountains or in the forest. A constant attribute of this holiday is considered to be kebabs. There are plenty of ways of cooking meat for this dish. For example, it can be marinated in wine.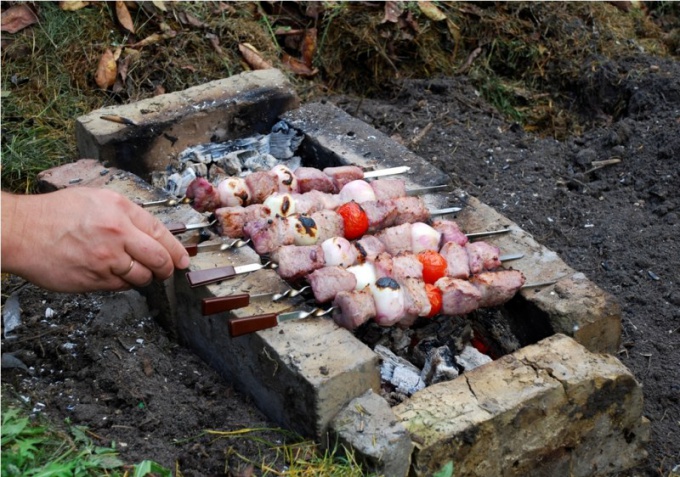 You will need
3 onions;
4 garlic cloves;
1 large tomato;
kiwi;
Apple;
0.5 liters of wine;
1 tbsp. of salt;
black pepper;
pepper curry;
Zira;
vegetable oil;
a weak solution of vinegar.
For the sauce:
1 tbsp. tomato juice;
vegetable oil;
dill;
parsley;
jusi;
small onion;
1 clove of garlic;
black pepper;
pepper curry.
Instruction
Cut meat into square pieces. Try to make them the same size. Fold in a deep bowl, for example, in the pot. For a kebabbut better to take fresh not frozen boneless pork and cut it into pieces about 3 by 3 cm.
Onions cut into rings, garlic finely chop or skip through chesnokodavilku. Tomato, Apple and kiwi crush into small slices.
Mix vegetables and fruits with meat. Add salt, mix well and remember hands to drain juice. From top to pour a small amount of vegetable oil.
Add a unique blend of spices – pepper, curry and cumin. You can also use a special blend of spices for a kebab.
Now pour the meat with wine. It is necessary that it barely covers the pork pieces. To the kebab came with a spicy taste and was flavorful, you need to take homemade wine made from red berries. If such is not at hand, use the Cahors.
Cover the pot with the meat cover and refrigerate. It has to marinate at least overnight.
Then remove the meat from the wine composition. Place the pieces of pork on skewers. For the beauty and diversity of the taste of the meat can be alternated with slices of tomato or some other vegetable.
Now it is possible to fry a shish kebab. That the meat was soft and juicy while cooking, watering it with a weak solution of vinegar. No matter you cook barbecue outdoors on the grill, or at home with the help of electrocasnice - the taste of the dish will be delicious.
To barbecueis to cook the sauce. In a skillet, heat the vegetable oil. Finely chop the dill, parsley, jusi, garlic, onion. Lightly fry in butter, herbs and onion.
Pour a glass of tomato juice. Bring to boil and reduce heat. Add in the sauce garlic, black pepper, curry, salt to taste. Wait until the tomato juice has thickened, remove from heat and cool. Pour the sauce in small bowls and along with skewersof om serve.
Advice 7: How to marinate the meat in vinegar
To cook a soft and fragrant meat, enough to pre-soak it in the marinade. Perhaps the most famous form of a marinade based on vinegar. By following a few simple guidelines, to marinate meat, everyone can.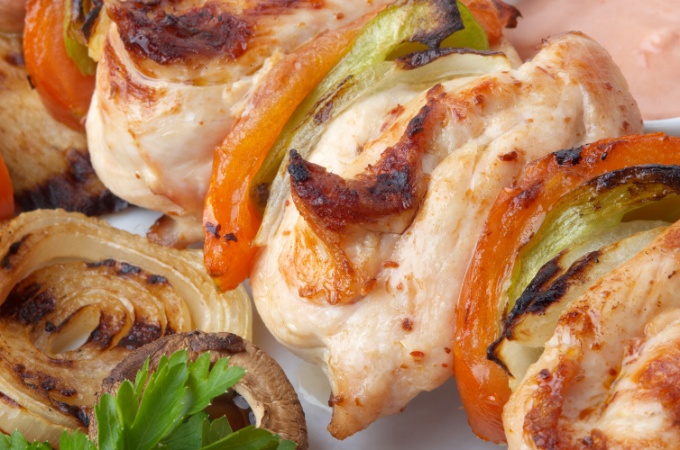 You will need
1 tbsp. of vinegar;
1 Cup water;
3 PCs of onions;
1 tsp salt;
Bay leaf;
0,5 tsp sugar;
pepper and pepper pot to taste.
Instruction
Before you begin to marinate the meat, cut it into pieces of the desired size.
Make a marinade. To do this, mix all the ingredients: vinegar, water, coarsely chopped onions, salt, Bay leaf, sugar, ground pepper and pepper pot to taste.
The presence in a marinade of three key ingredients, like any acid (wine, vinegar or lemon juice), salt and alcohol, reduce the time needed for marinating meat.
Place meat in airtight container and fill it with cooked marinade. As the container is not suitable utensils made of aluminium and cast iron, avoid at all possible using metal utensils. It is preferable to marinate the meat in a plastic container.
Put the container with the marinade and meat in the fridge. Never marinate meat at room temperature. Periodically remove the container and stir the meat to achieve an equal distribution of marinade.
Marinate meat in marinade that contains acid, salt or alcohol, should be no more than 4 hours.
After meat is marinated, you can start its preparation: cook the meat on the grill or bake it in the oven. And, of course, if you have outdoors, you can as described above to marinate the meat for barbecue. The marinade after use pour.
Useful advice
Do not use the marinade again.

For the marinade use for 6% vinegar.

The time of exposure of the meat in marinades that contain citrus juices, especially lemon juice or lime should not exceed two hours; and in marinades that contain no salt, acid or alcohol, the meat can stand in for the entire night and, in some cases, even longer.

Optionally, in the marinade, you can add lemon juice and a kiwi (quite a bit), which contains a special enzyme that breaks down the meat and thus making it softer.
Advice 8: How to marinate rabbit
Rabbit meat treat dietary types of meat. It contains large amounts of protein, vitamin e, calcium, magnesium, potassium and phosphorus. Thanks to these elements rabbit meat is ideal for baby food. Besides all the useful properties, rabbit meat is very tasty.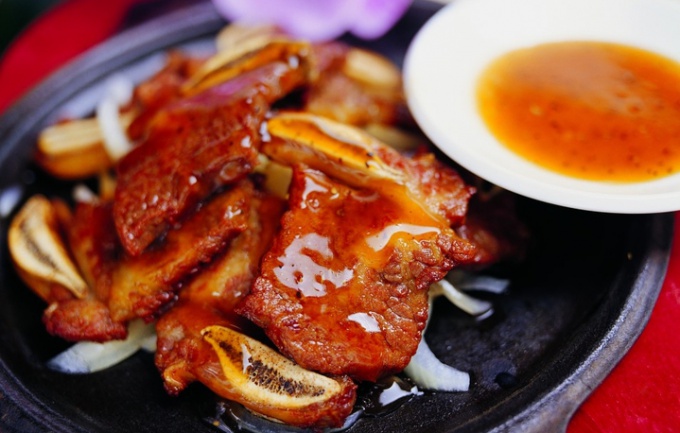 You will need
white wine;
whey;
olive oil;
garlic;
parsley and cilantro;
spices.
Instruction
Rabbit meat is a bit stiff, so it is advisable to marinate. In the process of marinating it will become soft, and will not have the smell of rabbit. Marinating can be replaced by soaking in water. The soaking will also improve the taste of the meat and get rid of the smell. Rabbit meat is soaked from one hour to three, depending on the amount of meat.
There are several ways of marinating the rabbit.

In wine vinegar.

Dilute vinegar in cold water so that the water had a faint smell of vinegar. Put the rabbit in the prepared marinade for three hours. The marinade should completely cover the carcass of the animal. After three hours remove the meat from the marinade and rinse under running water. There is one drawback to this marinade – the vinegar destroys not only bad odor, but the natural flavor of the meat. For young rabbits this method is not suitable.
In white wine.

This is the perfect kind of marinating. Wine completely relieves the rabbit meat from the peculiar smell. Perfectly softens the meat and gives it a unique flavor. Of wine you need to take so much that the meat was completely covered. After marinating the meat can not be washed in water. This will give a cooked dish an unusual taste.
Whey.

Basically, this method is used for marinating the hares, but for the rabbit it is also suitable.
In olive oil with garlic and herbs.

Take 3 -4 tablespoons of olive oil and mix with 3 heads of chopped garlic. Add chopped parsley and cilantro. RUB the rabbit with this mixture and put it in the fridge for three hours. Before cooking the garlic and olive mixture needs to be shaken from meat.
Useful advice
In every marinade you can add the following spices: black pepper, onion, Bay leaf, salt.