Ingredients:
Fresh apples - 2 kg (you can substitute applesauce - 1.2 kg);
2 eggs (only need the whites);
Sugar - 500 g
Preparation:
Washed, cleaned but not peeled apples on an oiled greaseproof paper and bake in the oven at a temperature of 200 degrees for 25 minutes. The fruit should be soft and tender. Apples and is baked about 10 minutes due to its consistency.
Now, after baking, the apples must be cleaned from rind and mash through a sieve before the formation of air in the slurry.
Apple sauce mixed with sugar and plentifully beat, the result is the air mass lighter shade, something resembling custard. The mixture should increase in volume by nearly two times, maybe more.
Put it in a refrigerator a quarter of the whipped mashed potatoes, you will need it for future layer dessert.
The workpiece is spread on the sheet, pre-laid parchment paper, to send to oven with door ajar.
Since candy is pretty dried for a long time in the oven it's baked in a thin layer (not more than 2 cm in height) about 7 hours at a temperature of 50 degrees.
The finished leaves are cut into equal slices, then sandwiching raw Apple weight should be cake.
Leave it again in the oven, but this time for 4 hours at a temperature of 60, also ajar door.
Apple pastila is ready, store it for about 6 months.
Advice 2: How to make candy at home
Sweets is quite possible to cook at home. A few minutes of free time and get a treat without preservatives and dyes. For example, Apple pastila. Home to do such a sweetness very simple.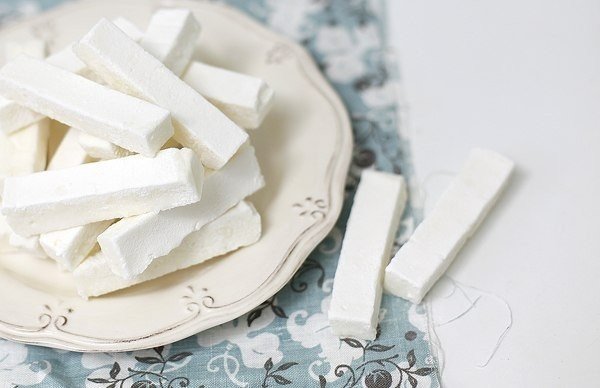 You will need
- 3-4 apples;
- 400g of sugar;
- vanilla to taste;
- 3 teaspoons of protein;
- powdered sugar for sprinkling;
- 1 teaspoon of agar-agar;
- 60g of water.
Instruction
Start cooking the candy home with soaking agar. Pour the agar water and wait until it swells. In the meantime, bake the apples in the microwave until soft, you will need about 4-5 minutes.
Have ready the apples with a spoon select the pulp and beat with a blender until homogeneous puree. 250 g of Apple pulp for homemade marshmallows take 250 g of sugar and vanilla to taste. Mix everything well and place in refrigerator until cool.
Prepare Apple candy on. Swollen agar-agar heat to dissolve. Sprinkle in 150g sugar and wait until it clears. At the same time, keep the weight at a slow fire, then remove.
Take the cooled mashed apples to marshmallows, add whites and beat with a mixer at maximum speed. Get white thick mass. Turn mixer on small speed and a thin stream pour the hot agar-agar with sugar.
Pour the sweet pulp for homemade Apple pastille in shape, covered with a film, a layer not more than 2 cm in height, smooth the surface and leave to harden. After 5-6 hours of Apple candy at home ready. Sprinkle it with powdered sugar, flip it, remove the foil and sprinkle over a little. Cut into wedges, well, roll them in powdered sugar, dry candy 6 hours and you can eat.
Note
Try to keep the agar-agar doesn't burn, otherwise the taste of homemade marshmallows would be ruined.
Useful advice
To prepare candy at home can be not only apples, recipe pastes can be changed to your preference, for example, add pears, bananas, peaches, and so forth.