Ingredients:
Zucchini - 3-4 pieces;
Minced beef - 400g;
Rice - ½ Cup;
Onions - 2 PCs;
Sour cream;
Egg - 1 PC;
Cheese - 300-400 g;
Salt, pepper.
Preparation:
To prepare this dish it is best to take young zucchini up to 20 cm They need to peel, cut in half, clean out seeds and boil in salted water. If you have a large garden zucchini, it is better to cut plump rings and also boil.
Ground beef in a crank grinder and put to obzhivatjsya on the stove.
While fried minced meat, to clean one large onion, cut it finely and put to the meat, when nearly evaporated all the liquid. Fry everything together and then pour a half Cup of sour cream. Bring to boil and remove from heat. Sour cream is better to take not fat, to 10%. For those who carefully follow the figure, you can replace the sour cream with low-fat yogurt or not to exclude this component.
Boil the rice in lightly salted water until fully cooked.
In a dish mix the minced meat in a cream sauce and rice, break the egg, add salt and pepper to taste and mix well.
The zucchini halves to fill the resulting filling to the brim.
Grate cheese on a grater, sprinkle the top of the boat.
A baking sheet covered with parchment paper or foil, to put on his boats (or rings) and put in a preheated 200 degree oven. To bake just 15 minutes until the cheese melted, as all the products are ready.
The dish is ready. It can be used both independently and garnish with fresh vegetables.
Advice 2: Cooking recipes for young zucchini
Summer is rich with fresh juicy vegetables. The menu has a wide variety of salads and vegetable snacks. One of the most common and popular of the summer vegetables is a young dairy zucchini. It is used to prepare delicious vegetable stew, ruddy pancakes, eggs and a variety of winter preparations.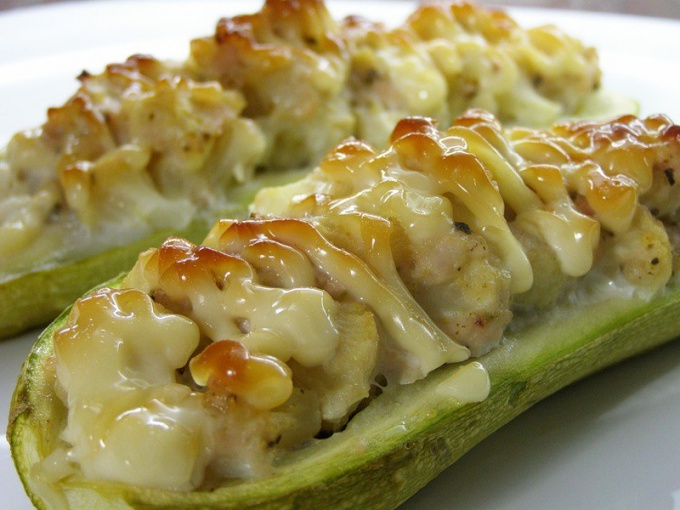 Cold appetizer of the young zucchini
There are many recipes of preparation of dishes from young zucchini. But the most simple in execution – it's fried zucchini. On their basis it is possible to make a very tasty dish. To prepare spicy and easy snacks you need to take:
- 2-3 young zucchini;
- 2-3 small tomatoes;
- 100 grams of cheese of any fat content;
- 3-4 teeth of garlic;
- 50 ml of any of mayonnaise;
- a bunch of dill;
- 3-4 tablespoons flour;
- sunflower oil for frying.
Young zucchini cut into circles. Roll each in flour on both sides. In a pan pour sunflower oil, heat and place the courgettes. Each circle and fry on both sides until Golden brown and place them on a dish. The garlic cloves free from the husk, wash and crush in the garlic crusher.
Sprigs of dill a good wash, dry and finely chop. Cheese mash with a fork, add crushed garlic, chopped dill and mayonnaise. Mix everything carefully. Tomatoes of the small size wash, dry, cut into circles. On each zucchini put the cottage cheese, cover with a circle of tomato. Delicious, spicy snack of young zucchini is ready.
Circles tomatoes can be decorated with a drop of mayonnaise and a sprig of dill. In this way the snack will look even more attractive.
Stuffed zucchini with mushrooms and cauliflower
Young zucchini is possible to prepare original and tasty hot snack in the form of boats. For its preparation it is necessary to take:
- 200 grams of cauliflower;
- 2-3 young zucchini;
- 100 grams of mushrooms;
- 1 onion;
- mayonnaise;
- 50 grams of cheese.
Cauliflower can be pre-parboil and break it into florets. Cut the mushrooms into pieces and combine it with cabbage inflorescences. There also add chopped onion. The resulting composition is mixed.
If you want you can use canned mushrooms marinated mushrooms or champignons.
Young zucchini cut in half and gently make a small indentation to make the shape of boats. Fill squash boats with minced mushrooms and cabbage, pour mayonnaise and sprinkle with thin shavings of cheese. To put boats on a baking sheet or pan and place in preheated oven. Bake for 15 minutes. The finished dish can decorate any fresh greens.