How to prepare the dough
Flour is the main ingredient of the dough. To prepare it, often use flour from wheat. To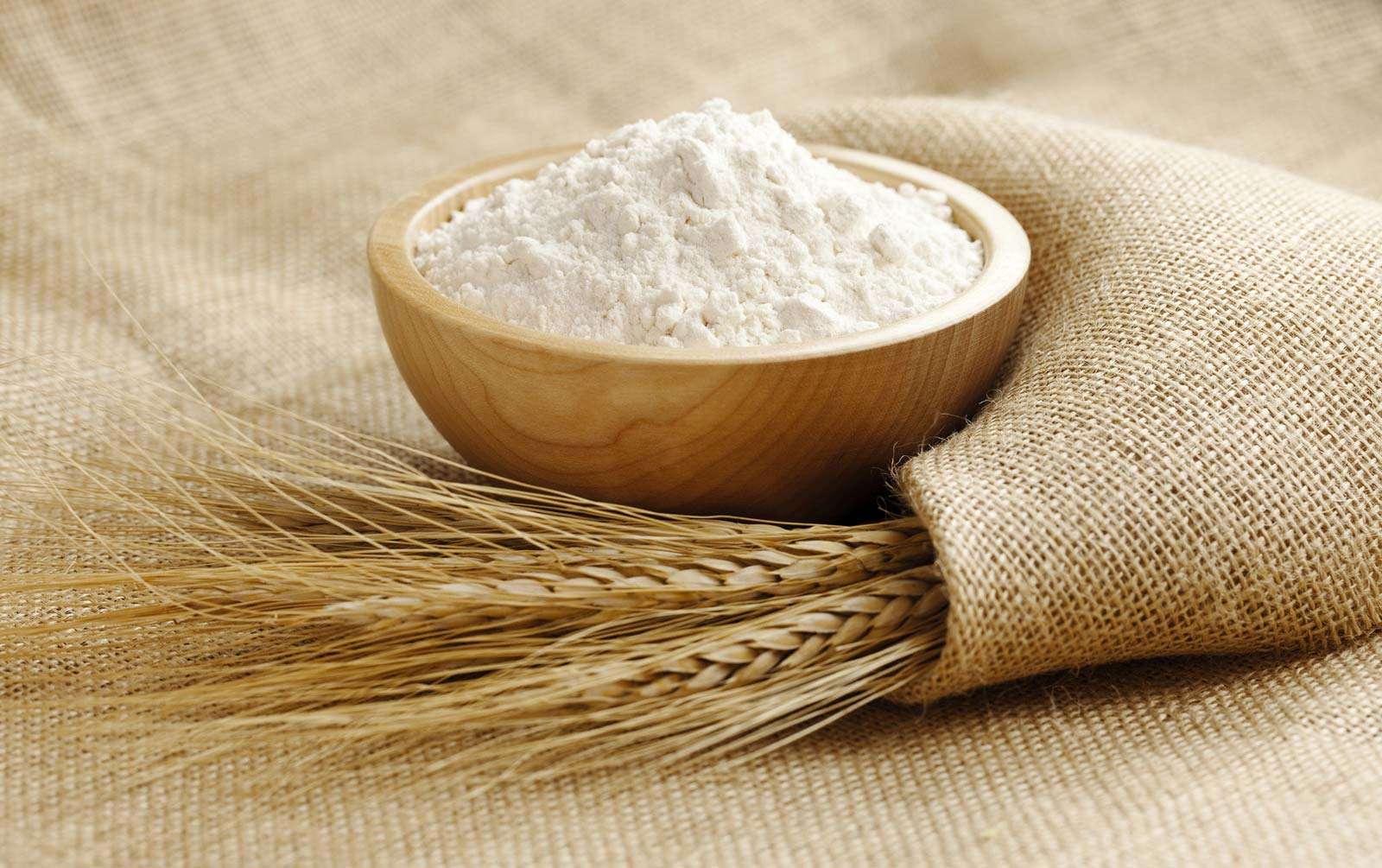 prepare the dough for baking you need to take the flour. It is important that she was not infected with the larvae of beetles and had no odors. A mandatory procedure before kneading is sifting flour. Thanks to her, the product is purified from accidental debris and oxygenate. Both will have a positive impact on the quality of the cakes. For dough suitable flour containing little gluten. As for puff pastry and also bread dough and strudel, to make them better to use wheat flour durum.
Improving taste of the future of baking is due to the addition in the dough of sugar. In addition, it affects the activity of fermentative microflora of the dough. Adding sugar to the dough, you need to adhere strictly to the proportions of the recipe, because it is due to excess of this ingredient, it becomes heavy and dense.
Cooking recipes a lot of dough. Some of them require the addition of such dairy products as sour cream, cheese, yogurt and others. This is done to create lactic acid fermentation and improve the friability of semi-finished product.
For the plasticity test answer fats - sunflower oil, or animal fats. When kneading the dough the most important thing - do not overdo it with their number. Excess fat, like sugar, will affect not only the quality but also the taste of baked goods. Cakes made from dough that has lost the property of friability, it becomes dry.
Add to the dough eggs should be in order to improve the taste and color qualities of the confection. Cakes, as part of the test which contains this ingredient, it turns out tender and crispy. For the preparation of a semifinished product it is recommended to use always fresh, but not very large eggs.
To prepare a yeast dough, you can use both dry and pressed yeast. Before you start kneading the dough, you need to make the dough. It is done by adding the yeast in the warm milk or water. Please note that if you use hot liquid, the yeast cells will die, cold the dough will be very slow to rise.
For loosening the dough when mixing it adds vinegar gashenuyu soda. However, the use of soda is not always appropriate, as it can spoil the taste of baked goods. To replace it you can purchase special baking powder. He is introduced to the dough in the following proportions - 10 grams dry mix 400 grams of flour.
Recipes test
To prepare the shortcrust pastry you will need:
- whole eggs - 2 PCs;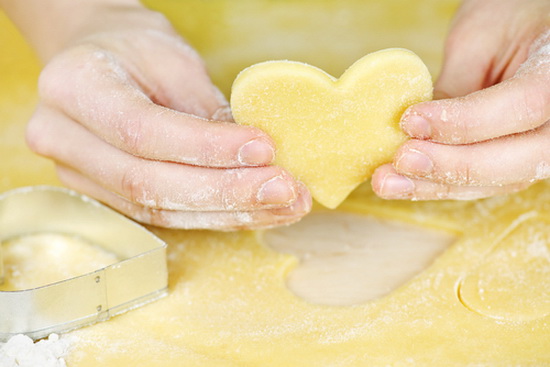 butter - 300 g;
- sugar - 1 glass;
- egg yolk - 1 piece;
Sol.
Chilled butter, chop in cubes and add to dry mixture of sifted flour and salt. With a knife obtained mass is chopped so as to form a crumb. Then add in the future shortcrust pastry one cold egg and egg yolk. All quickly stir until smooth. Knead the dough by hand, place in a Cup and close the film. Send in the fridge for 30-60 minutes.
To prepare yeast dough for pies you will need:
- flour - 2 cups and 3 tbsp;
- vegetable oil - 85 ml;
- salt - 0.5 teaspoon;
- dry yeast without additives - 1 tablespoon;
- granulated sugar - 2 tablespoons;
- water or milk - 300 ml.
Dry yeast, sugar, warm water or milk and 3 tablespoons of flour to put in a bowl. All thoroughly and put in a warm place for a quarter of an hour. After the specified interval to add in a Cup of ground salt and vegetable oil. Then there is at least mixing to introduce the sifted flour. Knead the dough for pies until, until it will not cease to come unstuck from hands. Leave it to rise for another 15 minutes.
To prepare the puff pastry you will need:
- flour - 1 kg;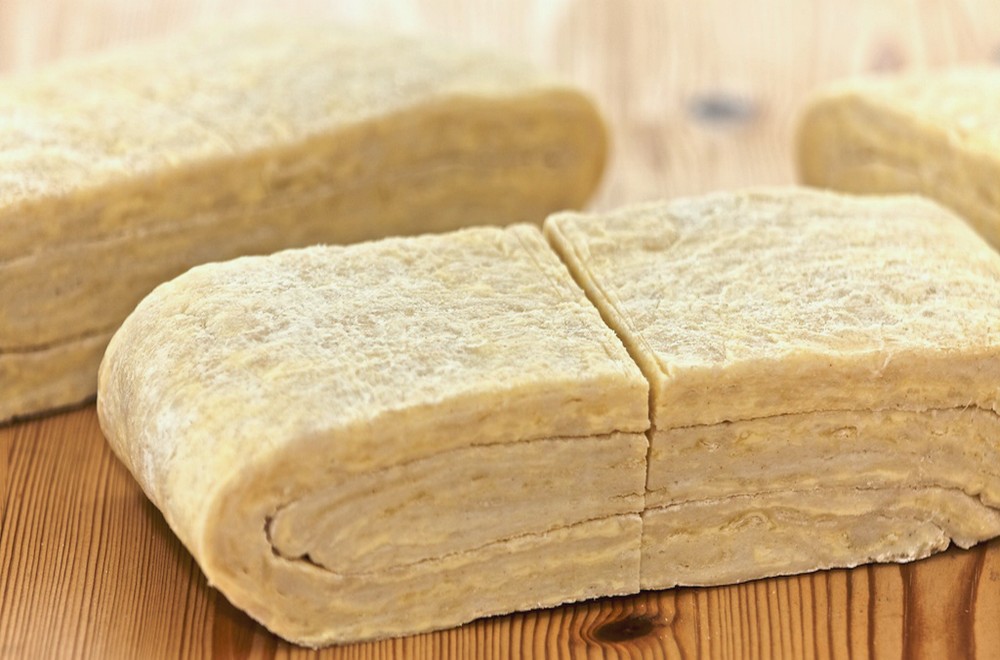 - eggs - 2 PCs;
- butter - 800 g;
- salt - 1 teaspoon;
- vinegar 5-7% - 2 tablespoons;
- ice water - 350 ml.
In a measuring mug to break eggs. To add there salt, vinegar. In a jumbled mass to enter the icy water - there should be about 500 milliliters of liquid. To put it in the cooler. Then pour on the table the sifted wheat flour. From time to time dipping it in the butter or margarine and grate it on a coarse grater. A mixture of flour and butter mix. To make it slide with the deepening and pour the cooled liquid. Puff pastry to prevent it is impossible. It needs to pick up from different sides and folding of layers. Giving the dough the shape of a rectangle, send it in the refrigerator for at least a couple of hours, better at 10-12.
To prepare the dough for ravioli, you will need:
- flour - 700 g;
- water - 260 ml;
- eggs - 1,5 PCs;
- salt - 1.5 teaspoon.
Water slightly warmed. Its temperature should be approximately 35 degrees. Then mix it with the flour, salt, eggs and stir to obtain a homogeneous mass. Let the dough stand for 40 minutes. The dough for dumplings is made in exactly the same way, only it adds additional ingredients, namely: a tablespoon of sugar and 245 milliliters of milk.
Knowledge how to prepare the dough, opens a host of new opportunities. They'll be able to cook any baked goods, whether homemade cakes or cookies made from puff pastry.