Dishes of lentils are easy to cook, especially lentil soups. Unlike other legumes, lentils need not be soaked because it is fast enough.
Varieties of this crop are different variety, the best way to cook a soup of brown or red lentils, but lentil soup green will cook the longest.
Despite the ease of cooking, lentil soup can be cooked so many ways: a simple lentil stew, cream soup, soup, lentil soup in meat broth and a simple vegetable soup. Maybe offers recipes for soups of lentils will help to diversify your menu, and they just have to be on your table if you are fasting.
Vegetable lentil soup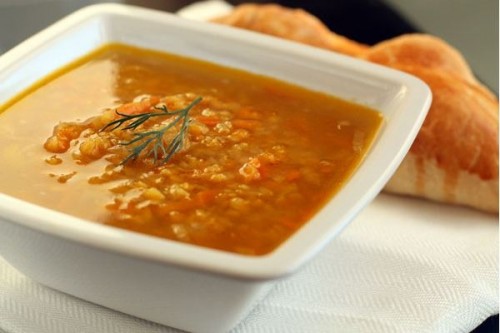 This option is meatless lentil soup is the most simple cooking, and products for it need too a little:
lentils – 1 Cup;
garlic – 2 -3 cloves;
herbs (can be dried);
vinegar, salt.
To cook vegetable lentil soup, you just need to sort and rinse the lentils, pour four cups of water and boil until tender with a little heat. Then grind the garlic, add it to the soup, and after a couple of minutes turn off the heat. Add to lentil soup greens, salt it and podkisst vinegar. If you want to make this soup more "interesting", add crackers or vegetables. A great addition for those who do not holds a post or is not a vegetarian, there will be smoked meats or sausage.
Soup-puree of lentils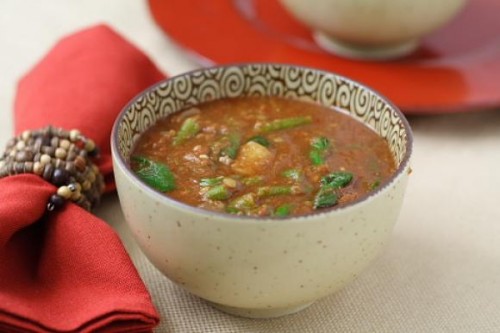 To prepare this spicy lentil soup we need:
lentils – 1 Cup;
carrot – 1 PC.;
potatoes – 2 PCs.;
green onions – half beam;
lemon – 1 PC.;
mint dried;
Chile;
paprika.
Cook the lentils and a small portion removed with a spoon.
Add to the soup a medium-sized sliced potatoes, then chopped onion.
Grated carrots, fry and add to soup.
Scald the tomatoes, remove the skin, chop and place in a saucepan.
Lentil soup salt, pepper, pour the mint, chili and paprika.
Ready bring the soup until creamy using a blender.
Before you serve soup, add pending at the beginning of the lentils, lemon juice and olive oil.
Lentil soup with bacon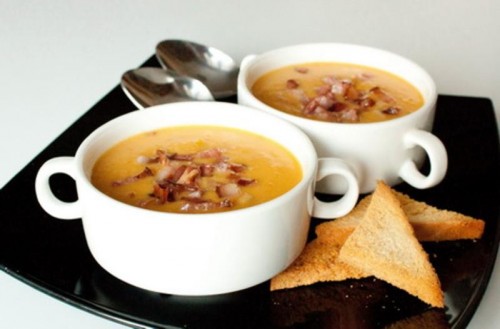 lentils – 60 g;
onion – 1 PC.;
carrot – 1 PC.;
bacon – 150 g;
milk – 300 ml;
water – 300 ml;
bouillon cube – 1 PC.;
parsley – 1 bunch;
salt, pepper.
To make this lentil soup, we will need more time. Let's start with the bacon: cut it and fry directly in the pan for three minutes. Half of the bacon need to be postponed.
In a pot add chopped vegetables and lentils, pour the water with dissolved bouillon cube, cook on high heat until the lentils are tender with the lid on.
Ready soup is cooled, Porirua in a blender, then mix with milk and heated.
Add to lentil soup remaining bacon before serving sprinkle with chopped greens.