Air biscuit dough is a perfect base for pies, cakes, rolls and other confectionery products. Great taste and ease of preparation made the cake one of the most popular types of baking.

Biscuit dough its structure is highly concentrated dispersion system in which air bubbles are evenly distributed in the mixture of eggs, sugar and flour. To prepare biscuit dough can only use the whip, as the recipe does not include adding baking powder. Usually this procedure is performed with mixer running at low speed. Well, if the mixer is not at hand, you can use other kitchen utensils.


How to cook biscuit dough without a mixer


A classic sponge cake made from eggs, sugar and flour. The batter is light and airy due to the special technology of preparation, the gradual whisking all ingredients until a lush thick mass. Instead of using a regular blender pastry whisk or a fork two put together – with the help of these devices you can make a great biscuit dough. However, this will have to make an effort.

The easiest and foolproof recipe: take one Cup of sugar and flour and three large eggs. The eggs with the sugar placed in a clean Cup and gently start to whip them with a fork or whisk until until the mixture does not become white and increase in volume. Then lay the whisk to the side and gradually add a spoonful of flour, carefully mixing the dough from top to bottom. The dough is ready bake for approximately 40 minutes, with the first 20 minutes the oven should not be opened – the cake will fall and lose its fluffiness.


Some of the ways to prepare biscuit dough without a mixer


Some creative women use for whisking a homemade shaker jar with a tight screw-on cap, where is placed a small spring. In a jar put the ingredients and start with active movements to shake her up to the finished dough. This procedure takes no more time than exercise with a whisk or a fork.

There are way to lazy to cook not a classic sponge cake, and its simplified version using soda or baking powder. Basis test in this case is the same: flour, eggs and sugar, but in the process of making flour with added baking powder. Thanks to the baking powder, you can reduce the process of beating as the batter and so you get a lush.

We must not forget that the biscuit does not like sudden movements, so putting the dough in the oven and remove the ready cake to be very careful.
Advice 2: How to make batter without eggs
Believe it or not, if you say that the dough without the eggs can't be curvy, delicious and rich. All sorts of buns, rolls, pies and other pastry will decorate your table the envy of friends. Need just 10 minutes of time to put the doughand another 1-1. 5 hours lifting. Flour, yogurt, yeast, salt, sugar, vanilla - that's all that is needed. If you have no buttermilk, you can substitute sour cream, milk, any dairy product. Yogurt will give the dough elasticity, the cream will make the pastry more doughy and airy.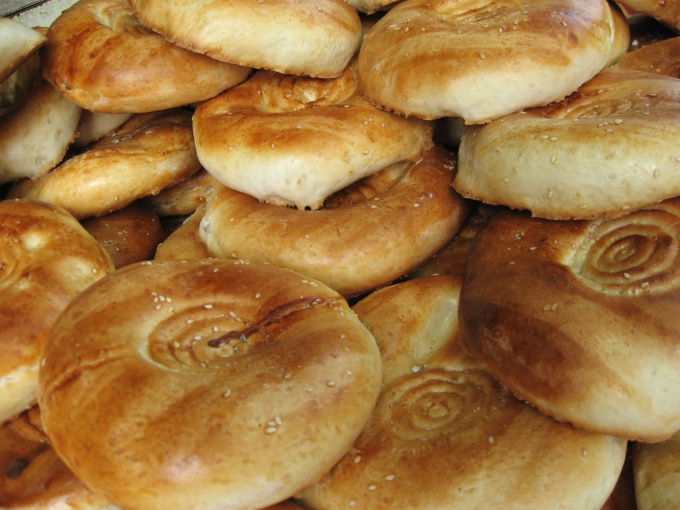 You will need
2 tbsp. sugar
a pinch of salt
5 grams of vanillin
500-700 grams of flour
50 ml vegetable oil
250 ml of kefir.
Instruction
You first need to make the dough: take a container with high sides, and into it pour the yeast, sugar, salt, 1/3 flour. What would the dough has risen faster, kefir should be a little warm, a little warmer than room temperature, and pour in a container. Mix thoroughly, cover with a towel, put in a warm place. After about half an hour the dough will rise.
Continue to fill up the remaining flour and vanillin, pour a couple of big spoons of vegetable oil, stir again until smooth. The resulting dough again, cover and leave to rise. After about an hour and a half the mixture will fit, you can bake.
Don't be afraid to experiment, in any case, get something delicious, this dough is impossible to mess up. Products interchangeably, you can use milk instead of yogurt and sour cream, just dilute it with warm water. If you want to bake a savoury dish, such as fish or liver cake, put half the sugar. So the cakes turned out beautiful and looked at the table as a decoration, you should lubricate it with egg before putting into oven. When products are ready, work through them with a brush dipped in syrup. Then cakes and scones will be shiny and appetizing. The syrup is done as follows: 3 tbsp. spoons of sugar, pour 100 ml of water and bring to boil. Remove from heat and throw into the syrup a bag of black tea. This will give baking a very delicious shade. Bon appetit!
Note
That the dough does not opal, it should not be moved from place to place, it must be at rest. During baking can not often open the oven door, products will be released is not enough lush.
Useful advice
The leavening agents of the dough makes the cakes more airy. To enrich the taste of your products will help the raisins, cinnamon, nutmeg. Add them to the dough during kneading. Sprinkle cheese cakes should be for 10 minutes or until tender, so they won't burn, and will become a caramel color.
Advice 3: How to prepare dough for rolls
The Swiss roll is a great addition to tea, compote and other drinks. Preparing it quickly, which is important if suddenly descended guests. The ingredients
of the rolls
required the most common, and a variety of toppings make the taste of the pastries always fresh. Prepare the dough for sponge cake rolls with different recipes and choose the one you like most.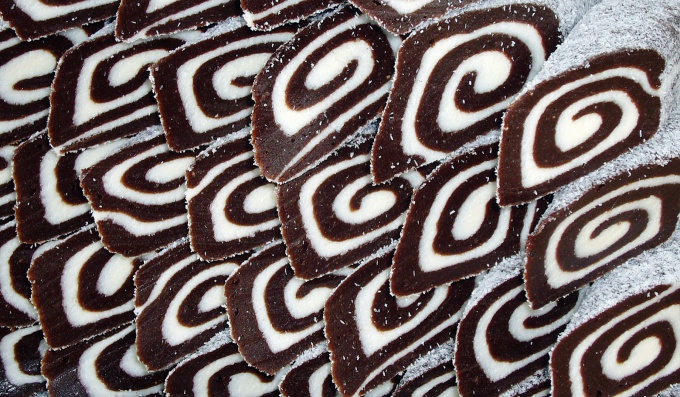 You will need
0.5 cups of flour;
0.5 cups of sugar;
200 ml cream;
3 tablespoons powdered sugar
or
3 eggs;
6 tablespoons of sugar;
2 tablespoons of honey;
1 teaspoon of hydrated soda;
1 Cup flour;
1 Cup sour cream
or
2 eggs;
1 can (380g) condensed milk;
0.5 teaspoons of soda;
1 Cup flour;
1 lemon;
1 Cup of sugar.
Instruction
Whisk 3 eggs 0.5 cups of sugar until thick stable foam. Stir in 0.5 cups of flour and quickly knead the dough.
Cover a baking sheet with baking paper. Pour on it the dough and flatten over the entire surface of the pan.
Place baking sheet with dough in the oven, preheated to 200 degrees. Bake the rolls for 7-10 minutes until Golden color. Not desiccate it, otherwise when folding the roll will crack.
Cover the table with paper baking cups. Sift 3 tablespoons powdered sugar. Spread it all over the paper evenly.
Put the baked cake on the powdered sugar (the paper on which was baked roll, will be on top). Remove the baking paper from the dough.
Brush the sponge cake with whipped cream. Spread on top of stuffing: strawberries, strawberries, kiwi or other according to your taste.
Roll roll, tightly clutching the dough. Put it on a dish seam side down. With a sharp knife cut into slices.
You can prepare the dough using honey. Mix 3 eggs, 6 tablespoons sugar, 1 teaspoon soda, slaked in vinegar, 2 tablespoons honey and 1 Cup flour.
Pour the batter on the baking tray lined with baking paper. Bake in the oven until cooked.
The cake is ready, quickly remove from baking sheet and brush with sour cream. As toppings, use nuts, poppy seeds, marmalade. Roll the roulade and roll it in coconut flakes, powdered sugar or drizzle with melted chocolate.
For lemon loaf mix into a smooth paste 1 can of condensed milk, 2 eggs, 0.5 teaspoons of baking soda and 1 Cup flour.
Pour batter into hot baking tray with a thin flat layer. Bake it in a preheated 200 degree oven for about 20 minutes.
Grate 1 washed lemon with peel, seeds remove. Mix the lemon with 1 Cup of sugar.
Lubricate stuffing a hot layer of dough and roll it into a log.
Slice the roulade into slices and serve with your favorite drinks.

Bon appetit!
Useful advice
The dough for rolls, baked according to the first recipe, you can add cocoa powder.