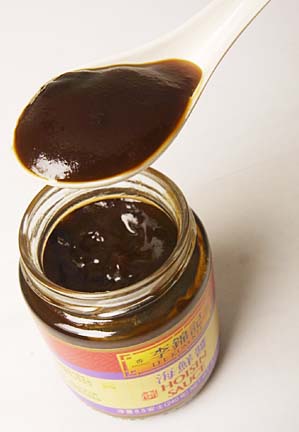 "Hoisin" is an Eastern analogue of the English "brown sauce" and American BBQ sauce. However, it has before them a significant advantage: "Hoisin" does not clog the taste of the product, but rather makes it richer and gives a whole new meaning.
The sauce has a complex and multi-faceted flavor with honey tones. The basis of sauce - fermented soybeans, rice and wheat, garlic, hot pepper, vinegar and a blend of Five Chinese spices, consisting of cinnamon, fennel seeds, Sichuan pepper, star anise and cloves.
Sauce ideal as a marinade for poultry and pork. Without it you cannot prepare a masterpiece of Chinese cuisine - Peking duck. Also gonna be great to bake them with fish, especially salmon.
Recipes sauce "Hoisin" there are many. Of course, one hundred percent accurate to call them impossible, but still some of them are very close to the original.
The first option
- 8 tbsp soy sauce;
- 4 tbsp peanut butter (paste);
- 2 tablespoons of honey;
- 4 tsp white rice vinegar;
- 0,25 tsp garlic powder;
- 4 tsp sesame oil;
40 g of spicy Chinese sauce;
- 0,25 tsp. black pepper.
To prepare the sauce simply mix all the ingredients in the bowl of a mixer until smooth.
The second variant, with orange juice
- 8 tbsp of soy sauce;
40 drops of chili sauce;
- 4 tsp. of vinegar 5%;
- 0,25 tsp. garlic powder;
- 2 tbsp orange juice;
- 2 tbsp of liquid honey.
The cooking method is the same as in the first embodiment.