Simple biscuits made of curdled milk


Ingredients:

- flour - 450 grams;
- sour milk - 2 cups;
- sugar - 100 grams;
- lemon juice - 2 tablespoons;
- vegetable oil - 50 grams;
butter - 30 grams;
- vinegar - 0,5 tablespoons;
- soda - 0,5 tablespoons;
- powdered sugar - to taste.

Mix the yogurt, butter and sugar. To them add the baking soda pre-pay it with vinegar. The mass vysypite 400 grams of flour, while constantly stirring. Should get a thick and homogeneous dough.

Cutting Board on which to prepare the future of the biscuits, sprinkle with 20 grams of flour, the mass of curdled milk from sticking to the work surface and hands. Roll out the dough. You should get a thickness of about five millimeters. Put it on a baking tray, previously greased with butter and dusted with 30 grams of flour. Dish bake in the oven preheated to 180 ° C, until Golden brown. Cut the finished layer of dough into small pieces and sprinkle them with powder.


Flaky biscuits, buttermilk


Ingredients:

- flour - 4 cups;
- sour milk - 1 glass;
- egg - 1 piece;
- sugar - 1 glass;
- cocoa powder - 0.5 cups;
- butter - 200 grams;
- margarine - 200 grams;
- baking powder - 1 sachet.

Mix yogurt with grated margarine. Add the egg and baking powder. These ingredients will vysypte 3 cups of flour, while constantly stirring to make a thick and homogeneous dough. Roll it into a ball and put in the fridge for about 30 minutes.

Butter mix with sugar. To them add 1 Cup flour and cocoa powder. Mix these ingredients to obtain a homogeneous mass of chocolate color.

The resulting two kinds of test will be layers in the biscuits. Com, is made from curdled milk, roll out into a thick layer square shape. It will put a lot of cocoa powder and spread it evenly. Both layers take the "envelope" so that the dough is white on all sides was surrounded by a chocolate filling. Then future the cookies roll out again and fold. Repeat these steps several times to form a layer of 5-7 layers. Divide the dough into small pieces. It is possible to use special cookie cutters or cut by hand.

Put a treat on the baking tray lined with parchment paper. Put the dish in the oven, preheated to 190-200oC, and cook for about 25 minutes. Cookies turns out crispy on the outside and soft on the inside.
Advice 2: How to make biscuits
Homemade cakes taste can not be compared with the purchase. However, many Housewives stops long and complex cooking process. But fortunately, there are many recipes, such as biscuits, making the dough before submitting the finished product to the table takes about half an hour.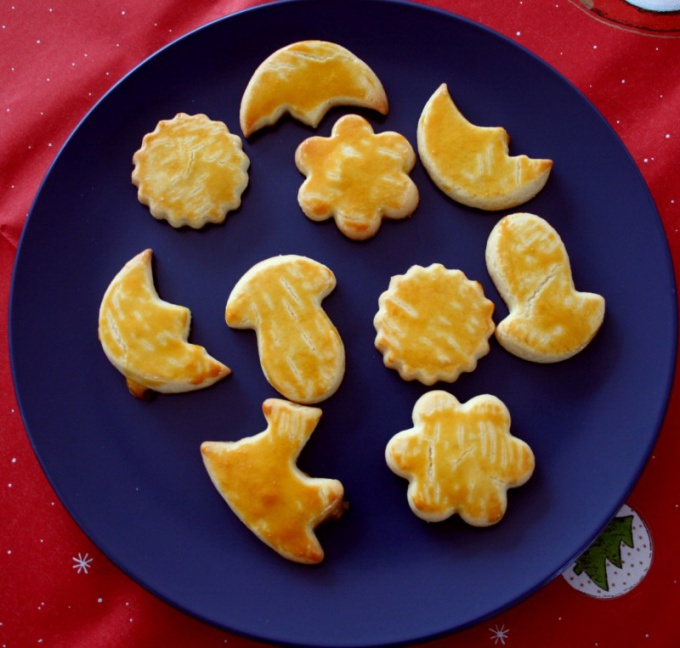 You will need
— 125 g butter;
— 0.5 cups of sugar;
— 1 Cup of flour;
— powdered sugar to taste.
For quick oatmeal cookies:
— 3 cups of oat-flakes "Extra";
— 200 g of butter;
— 1 Cup of sugar;
— 2 eggs;
— 1.5 cups of flour;
— 1 tsp of baking soda;
— 0.5 teaspoon of salt.
For a quick sponge:
— 1 Cup of flour;
— 1 Cup of sugar;
— 3 eggs.
For a quick cheese biscuits:
— 2 processed cheese;
— 1 egg;
— 0.5 cups of sugar;
— 2 cups of flour;
— 1 tsp of baking powder.
Instruction
Quick shortbread
cookies
Beat with a mixer softened butter and sugar until smooth. Add the sifted flour and stir the dough. It should be fairly pliable and does not stick to hands.
Roll out the dough on a floured Board to a thickness 1 cm Cut molds figurines or cut into strips. Put the biscuits on a baking tray, sprinkle with icing sugar and leave in the fridge for 5-10 minutes. Bake cookies in preheated oven at temperature of 180 degrees for about 15 minutes until Golden brown.
Quick oatmeal cookies

Mix with a mixer the melted butter, eggs, sugar, baking soda and salt. Then add oats and flour. Thoroughly knead the dough. Roll the dough into balls with a diameter of not more than 4 cm, and then slightly press down to make the beads form pellets.
Preheat the oven to 180 degrees. Put biscuits on a greased baking sheet and place in oven for 15 minutes. Then leave the finished oatcakes for 10 minutes to cool and remove from pan.
Quick biscuits

Separate the whites from the yolks. Yolks pound with sugar, and whisk the whites in a solid white foam. The yolks will combine with the sifted flour. Then add whites and gently knead the dough with a spoon movements from the bottom up.
Spread the dough with a teaspoon in small portions on a greased baking sheet. Bake for 15 minutes until cooked in a preheated to 180 degree oven.
Quick cheese biscuits

Grate previously frozen melted cheese on a grater. Add sugar, egg, baking powder or vinegar gashenuyu soda. Pour the flour and thoroughly knead the dough.
Roll the dough out into a thin layer with a maximum thickness of 7 mm. Cut out figures and place them on a baking tray lined with baking paper. Bake cookies in a hot oven at a temperature of +200 degrees for 10-15 minutes until yellow-Golden color.
Advice 3: How to cook delicious cookies
In the store you can buy the different
cookies
: butter cookies and dessert, sweet and salty, with cream or jam. Homemade cakes seem to taste better - the aromas of baking fill the kitchen, and crunchy
cookies
prepared by their own hands, just begging to be eaten.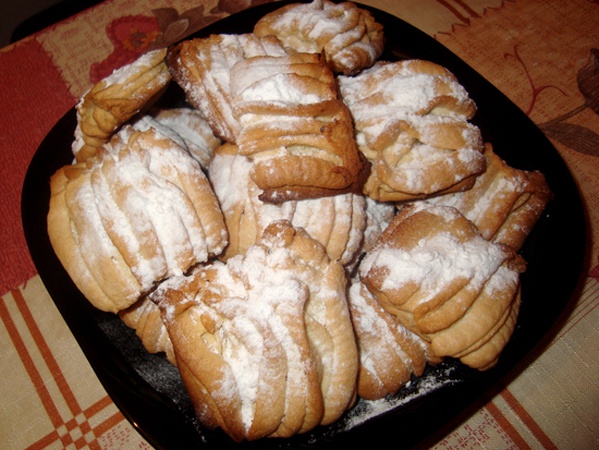 You will need
eggs – 3 pieces;
sugar – 1 glass;
butter or margarine – 180 g;
baking powder – 1 teaspoon;
powdered sugar
vanilla.
Instruction
Even our grandmothers were preparing the cookies from the grinder, the recipe is not complicated. Separate yolks from whites and pound them with the sugar until white foam. Separately, beat egg whites and mix with the yolks. Mash with butter or margarine. Add the eggs and stir well.
Connect the flour with the baking powder and vanilla, pour in mixture. Knead the dough, but the long knead not necessary, otherwise it will lose its airiness. If the dough is watery, add a little flour. Put the cookie dough in the fridge for one hour.
Shape chilled dough small "sausages". Assemble the meat grinder without a knife, use the large grate. Roll the dough through a meat grinder, the resulting tape is cut into small portions. For beauty can be rolled rosettes, cords, braids.
Lay out cookies on a greased baking sheet and put in the oven with the temperature 180 degrees. Bake until Golden color. After 15 minutes it turns crispy delicious cookies. It cool and sprinkle with icing sugar.