You will need
- cheese - 100 g;
- kefir - 1 glass;
- egg - 2 PCs.;
- flour - 1,5-2 glasses;
- sugar - 0.5 cups;
salt - a pinch;
- soda - a pinch.
Instruction
Yogurt along with cottage cheese, place in the bowl of a blender. This mixture is mix until smooth. Put the resulting mass in a deep bowl.
Eggs mixed with sugar, whisk using a blender. The resulting mixture is added to the cheese-yogurt mass. Then there vysypite flour, but sifted. Also don't forget to put the salt and soda. Mix everything properly. In the end you'll have the cookie dough, the consistency is a bit thicker than the dough for pancakes.
Took a dish of deep bottom, pour a sufficient quantity of sunflower oil.
Pinching off from the dough small pieces, roll them into balls and put in hot oil with tablespoon. Future cheese fry doughnuts on each side until Golden brown. Watch carefully so the dish in no case did not burn.
When the doughnuts are cooked, carefully remove them from the oil. This can be done using two forks and with a slotted spoon.
Soaked balls of cheese paper napkins or towels, sprinkle them, for example, powdered sugar or sugar. Cottage cheese donuts on kefir is ready! Serve them to the table, pre-cool.
Advice 2: How to cook pancakes with cheese
Hot pancakes from the cottage cheese are great for Breakfast and perfect for an evening tea party. Pancakes with Golden crust and juicy filling, with raisins and nuts, is a favorite treat even for those who don't like cheese in its purest form.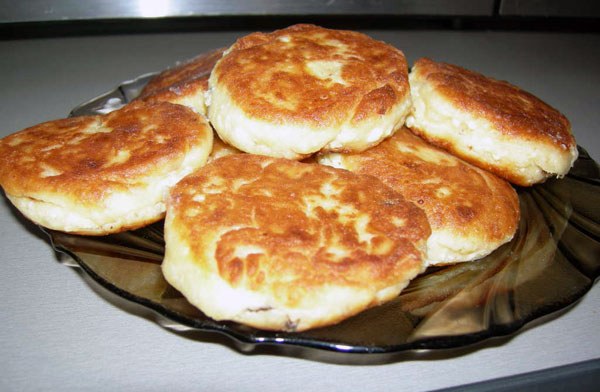 You will need
Sour milk – 200 ml.
Eggs – 2 PCs.
Flour – 1.5 cups
Sugar – 5 spoons
Sour cream – 2 tablespoons
Vegetable oil – 2 tablespoons
Salt – pinch
Soda – 0.5 teaspoon
Baking powder – a pinch
Instruction
To obtain a homogeneous cheese mass, wipe the cheese through a fine sieve, or mash thoroughly with a fork. To make the pancakes turned out fluffy, you can scroll through the cottage cheese through a meat grinder. After that it is smooth without large lumps.
Put dry dishes raw eggs, add the vanilla and sour milk. Carefully whisk the mixture, then add grated cheese and mix well. To obtain a uniform consistency of cottage cheese can be mixed with a mixer. In the process of kneading add the sugar and a little salt. If you don't like sour milk, you can substitute another milk product. Fit yogurt, fermented baked milk or yogurt drink.
In a separate bowl, mix the flour with the baking powder and sour cream. Put the cottage cheese into the dry mixture and mix thoroughly. Optional cooked cottage cheese, you can add walnuts, raisins or chopped dried apricots.
When the curd is smooth, you can begin to bake pancakes. To do this, preheat the pan with vegetable oil over high heat. The finished dough spread on a heated pan by tablespoon. As cheese fritters during frying can stick to the pan, first they need to flour them, and then start grilling.
Do this as follows: on the one hand pour the flour, scoop the dough and place it in the hand with flour. Then take the flour with your free hand and sprinkle on preparation for my pancake. Make a few moves from hand to hand, easily and without any pressure. Thus, each dumpling is sprinkled with flour, which will provide crisp and will not stick to the pan.
Cooked cottage cheese pancakes can be served for tea with jam or sour cream. You can also sprinkle them with powdered sugar.
Advice 3: How to make cottage cheese
Homemade
cheese
– a fascinating process. The taste of the final product can vary with additives, according to the preferences of family members. The easiest thing to cook at home cream cheese. It can be submitted and Breakfast, add to salads, and it makes an excellent filling for the pie.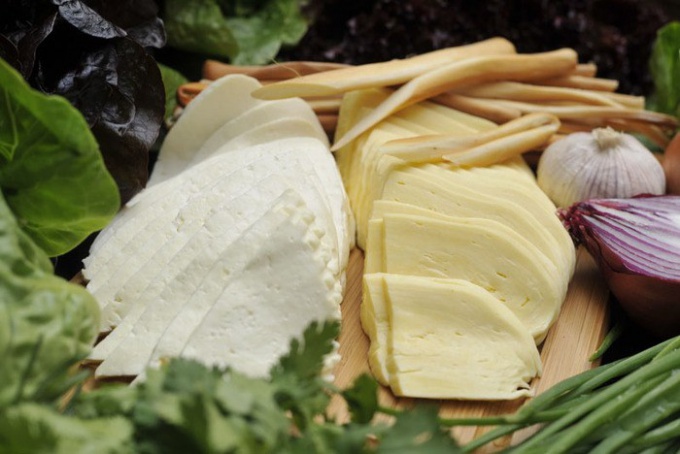 You will need
yogurt 150 ml;
butter 1-2 tbsp. spoon;
salt
spices to taste.
Instruction
Prepare the cheese. To do this, pasteurize milk at a temperature of 75-85°C in a water bath for 5 minutes. Allow it to cool to a temperature of 32-37°C.
Enter into the warm milk into the starter yogurt. It can be replaced with kefir or yogurt without sugar. As well kefir with bifidobacteria. Wrap the dishes with fermented milk with a Terry towel. Put in a warm place for 6-8 hours.
Check the readiness of the bunch. Carefully with a spoon take a little mass. If the fracture clot smooth, with a shiny surface, and selected serum greenish and transparent – you can start setting.
Place the dishes with a lot of lactic acid in a water bath with a water temperature of 50-55°C. To clot evenly warmed up in a few places make the punctures wide knife. When the temperature clot reaches 40°C, soak it for a further 3 minutes in a water bath.
Lay in a colander with linen cloth. Put in it the resulting mass to separate the serum.
The finished curd add salt, then skip the mass 1 to 2 times through a meat grinder with fine screen. Add the soft butter. Mix thoroughly.
Wrap ground in thick linen or cotton fabric. Place the bundle between two cutting boards. On top put oppression. Its weight must not exceed the weight of the curd mass. After 8 hours remove the oppression. Expand cheese and put it in the fridge.
Note
Home pasteurize milk at a temperature of 85-90°C for at least 20 minutes. This way you will protect yourself from infections. Store cottage cheese in the refrigerator for five days.
Useful advice
As additives in the preparation of curd cheese you can use olives, walnuts, cumin. To make a sweet cheese, add the apricots, prunes, honey. The best cheese is obtained from the home milk. Do not pour the serum. It can be used for making hash. Drinking one glass of whey on an empty stomach, you will improve the gastrointestinal tract.