Instruction
The first 2-3 months the woman should avoid foods that may cause allergic child. These include seafood, nuts, citrus, eggs, mayonnaise and soy sauce. Contrary to popular belief, bright vegetables, such as carrots and beets, it is possible. In the first months of a child's life it is better to exclude from a diet of tomatoes and exotic fruits and vegetables. Dairy products should be limited, but a spoon of sour cream or a few cubes of cheese in a salad is acceptable.
The relationship between nutrition of the mother and colic in the child not so much clear. Colic – physiological process of maturation of the intestine, and it is impossible to adjust due to the food. However, the food of the mother may lead to increased flatulence of the baby and it will significantly increase pain. To predict what the child will become swollen belly, almost impossible. First of all, focus on yourself: if the mother complications from taking a specific product, almost certainly the baby's tummy will react similarly. The most common culprit in gas: beans, cabbage and potatoes. However, individual intolerance of products can be identified only experimentally.
Thus, up to 3 months you can eat the following salad: cooked beets with garlic, carrot salad with Apple, salad of fresh vegetables with herbs (no tomato), a salad of boiled beef with boiled carrots and pickles (homemade): blank. These dishes can sour cream or vegetable oil to your taste. If you are behind a festive table and wish to eat harmful conventionally salad, for example, "Olivier", you can afford 1-2 tablespoons.
If the child is older than 3 months, and he had no allergic reactions to food, gradually start to enter into your diet products which I had previously declined. Thus, for half of your kid almost all restrictions on your food will be removed.
During this period, your menus can be salads containing nuts, eggs, chicken, tomatoes and other previously prohibited foods. But to add to the dish immediately 2 new product should not be. Otherwise, if the child will have an allergic reaction, you will not be able to determine its cause. You can try the following salads: vegetable salad with tomatoes; salad with cucumber, homemade pickles; salad of cucumber, radishes, eggs and green onions with sour cream; cabbage salad with carrots, bell peppers and onions.
Advice 2: What fruits and vegetables can be a nursing mom
Feeding your baby is a responsible and very serious point. To breast milk brought little benefit and supply essential vitamins, the mother should monitor their diet to include a variety of fruits and vegetables.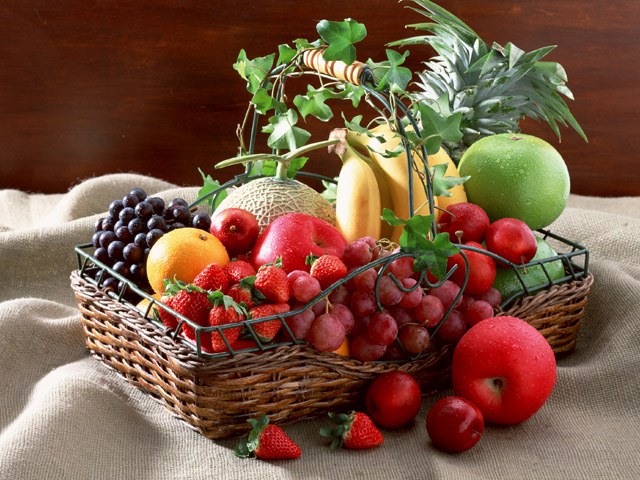 How much


Despite the fears of many lactating women that fruit and vegetables can cause allergies in children, we should not forget that they still needed to create a balanced diet.

Doctors and nutritionists have come to believe that a day should be consumed about 700 g of fruits and 300 g vegetables. It is recommended that at least one vegetable and fruit to include in every one of meals. But we should not abuse the plant food. It cannot completely replace all other products. Therefore, the menu lactating women must be present: meat, fish, cereals, dairy products.


What vegetables to choose


List of vegetables that are suitable for moms and nursing babies, including these items: zucchini, tomatoes, potatoes, cucumbers, lettuce, bell pepper and celery.

Zucchini is a great deal with swelling, which may disturb the newly born woman. They fill the body with trace elements such as copper, potassium and iron. Potato contains large amounts of thiamine, which has beneficial effects on the development of the crumbs. Remember, however, that the potato is quite nutritious vegetable, so limit yourself to 2-3 pieces a day.

Tomatoes and cucumbers — a real storehouse of vitamins. They contain zinc, calcium and iodine. And the celery will enrich the body with carotene, vitamin b and E. Please note that fresh vegetables can be eaten in the period of maturation in your region. The fact that brought in winter, cucumbers, tomatoes and peppers contain more preservatives than nutrients.


The most preferred fruit


A fruit rather allergenic, so in the diet of nursing mothers is difficult to find a variety of these products. Prefer apples and pears green. They are rich in vitamins and trace elements such as Nickel, succinic acid, fluorine, molybdenum, copper. Unique in its composition of apricots due to the presence of vitamin e, large amount of potassium and carotene. Pay attention to the cherries. These berries contain magnesium and phosphorus, and vitamins C and B.

Prepare fruit salads, make fresh juices, diluted with water in proportion 1:2, cook compotes and jellies, but also eat dried fruits to help enhance and enrich the daily diet.


Please note


It is very important to monitor closely the reaction of the baby to the introduction of a new product in the diet of mom. Indeed, there are cases when seemingly do not pose a threat to the development of allergies product will prove to be a major allergen for your baby, because every body is different. Besides currently very common intolerance of many products by young children.