Two recipes of ice cream "gourmand"
For making homemade ice cream "Lakomka" of cream you need:
- 500 ml heavy cream (at least 35%);
- 7 egg yolks;
- 170 g of sugar powder;
vanillin.
First of all, very carefully beat with a mixer chilled egg yolks with the icing sugar and vanilla. Beat the mixture should be at least 15 minutes. As a result, the yolks should be pale yellow. Cream prior is very well cooled, after which whisk them in a solid foam.
Then, using a wooden spoon to very carefully mix whipped cream with egg yolks. Put the prepared ice cream in a special container, cover with a lid or cling film and leave for 40 minutes in the freezer. When the mixture starts to harden, remove the container from the freezer and whisk the ice cream with a mixer again. This is done to break the formed ice crystals and
make
the ice cream consistency is smooth and homogeneous. Then get the whipped mixture for another 40 minutes in the freezer.
After this time remove the ice cream and whisk it again. Then put the container with "Gourmet" in the freezer for 4-5 hours. About 30 minutes before serving transfer the ice cream in the freezer to make it a little softer.
Ice-cream Lakomka you can make with condensed milk. It will need the following ingredients:
- 600-800 ml heavy cream (33-35%);
- 350-400 g of condensed milk.
Before cooking, put the cream in the refrigerator and thoroughly chill. Then remove and beat with a mixer or in blender until frothy. Still whisking, carefully, in small portions, pour in the condensed milk. That's what gives the ice cream a sweetness, so the amount of condensed milk depends on the taste of the finished ice cream. The beaten mass is put in a plastic container, cover and refrigerate as described in previous recipe.
Recipe chocolate truffle glaze
A required component of ice cream "gourmand" is chocolate icing. For making chocolate truffle frosting need to take:
- 4 egg yolks;
- 50 g of sugar;
- 1 tsp instant coffee;
- 80 ml of boiling water;
- 170 g dark or milk chocolate;
- 115 g butter.
Whisk in a small bowl the yolks with the sugar and instant coffee. Then beat into the mixture the boiling water. Do this carefully so the yolks don't cook. Then put the bowl in a big dish with slightly boiling water and heat the mixture on a water bath to 70 ° C, stirring constantly. Then remove from heat and add chopped chocolate and cut small pieces of butter.
Stir the glaze until the chocolate and butter are completely melted and mixture becomes smooth and elastic. Then prepared the glaze cool. Before serving pour in bowl lined with balls of ice cream "gourmand" chocolate truffle frosting.
Advice 2: Homemade ice cream with cream and condensed milk
We all love to eat delicious ice cream in hot weather or on holidays. Today we will talk about how to prepare ice cream at home. This will be the dessert of condensed milk and heavy cream.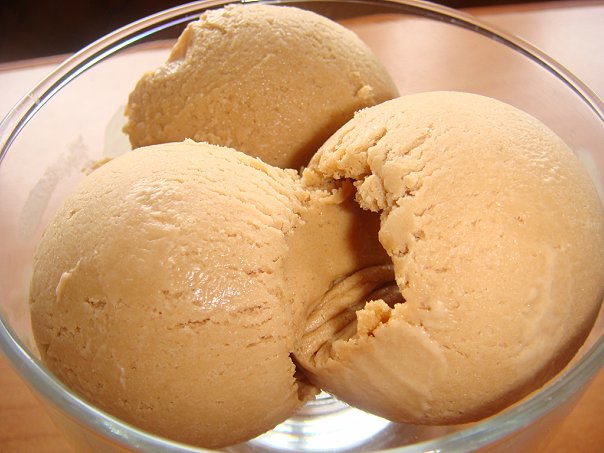 You will need
- condensed milk (100 g);
cream 30% fat or higher (300 g);
- cashews (40g);
- dark chocolate (4 slices).
Instruction
Heat a pan without oil, fry in it the nuts until Golden brown. Remove the cashews from the pan and leave to cool.
Chocolate RUB on a small grater. Nuts chop with a knife. Mix the chocolate with nuts.
Cream put on 20 minutes in the refrigerator to become cold. Beat chilled cream in 5 minutes. Add a tablespoon of condensed milk and continue to beat until the whites turn stiff.
In molds for ice cream put cream and milk a lot. On top sprinkle it with a mixture of nuts and chocolate. Close the molds with cling film, put them in the freezer for 6 hours.
If the ice cream was prepared in large plastic containers, can be difficult when removing it. To avoid them, set the container in a hot towel for 1 minute.
Advice 3: Homemade ice cream: simple, tasty, healthy
To make ice cream at home is easiest if you have a special tool - the ice cream maker. This device is able to regularly mix the cooled mass, which is what you need to get a delicate dessert without ice crystals. However, it is possible to achieve such a result and manually.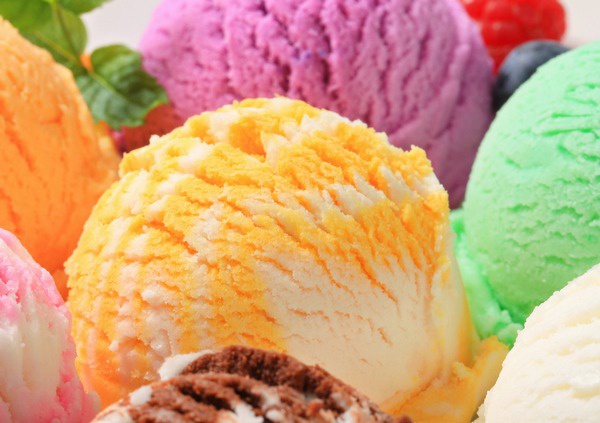 Homemade ice cream is good because it is always precisely known composition (unlike a factory product that can season with preservatives and obscure quality thickeners). Recipes are a lot better to start with ice cream without eggs in case of fear of poisoning. Mix 100 g sugar with 35 g of milk powder, mix all in 250 ml of milk and boil. When the liquid seethe, pour a mixture of 50 ml of milk and 10 grams starch. Reduce heat and, stirring, allow to thicken, then cool. 250 ml cream 35% fat content and cool whip and then fold in the broth. Put in a bowl with low sides and place in freezer. Every 15-20 minutes remove and stir vigorously with a whisk or blend in a blender until the mixture reaches the desired density and temperature. Or pour the finished mixture into the ice cream parlor.
You can make homemade ice cream without the cream. To do this, take any seasonal or frozen fruits and berries, cleaned from skin and seeds, mixed with an equal volume of yogurt (better to use homemade) and add sugar to taste. The mixture is left to blend and freeze. If there is no desire to frequently stir the product, it is better to buy a special small portion molds. They ice cream hardens quickly and evenly. For fruit dessert suitable currants, strawberries, raspberries, peaches, apricots, apples, etc.