Two recipes of ice cream "gourmand"
For making homemade ice cream "Lakomka" of cream you need:
- 500 ml heavy cream (at least 35%);
- 7 egg yolks;
- 170 g of sugar powder;
vanillin.
First of all, very carefully beat with a mixer chilled egg yolks with the icing sugar and vanilla. Beat the mixture should be at least 15 minutes. As a result, the yolks should be pale yellow. Cream prior is very well cooled, after which whisk them in a solid foam.
Then, using a wooden spoon to very carefully mix whipped cream with egg yolks. Put the prepared ice cream in a special container, cover with a lid or cling film and leave for 40 minutes in the freezer. When the mixture starts to harden, remove the container from the freezer and whisk the ice cream with a mixer again. This is done to break the formed ice crystals and
make
the ice cream consistency is smooth and homogeneous. Then get the whipped mixture for another 40 minutes in the freezer.
After this time remove the ice cream and whisk it again. Then put the container with "Gourmet" in the freezer for 4-5 hours. About 30 minutes before serving transfer the ice cream in the freezer to make it a little softer.
Ice-cream Lakomka you can make with condensed milk. It will need the following ingredients:
- 600-800 ml heavy cream (33-35%);
- 350-400 g of condensed milk.
Before cooking, put the cream in the refrigerator and thoroughly chill. Then remove and beat with a mixer or in blender until frothy. Still whisking, carefully, in small portions, pour in the condensed milk. That's what gives the ice cream a sweetness, so the amount of condensed milk depends on the taste of the finished ice cream. The beaten mass is put in a plastic container, cover and refrigerate as described in previous recipe.
Recipe chocolate truffle glaze
A required component of ice cream "gourmand" is chocolate icing. For making chocolate truffle frosting need to take:
- 4 egg yolks;
- 50 g of sugar;
- 1 tsp instant coffee;
- 80 ml of boiling water;
- 170 g dark or milk chocolate;
- 115 g butter.
Whisk in a small bowl the yolks with the sugar and instant coffee. Then beat into the mixture the boiling water. Do this carefully so the yolks don't cook. Then put the bowl in a big dish with slightly boiling water and heat the mixture on a water bath to 70 ° C, stirring constantly. Then remove from heat and add chopped chocolate and cut small pieces of butter.
Stir the glaze until the chocolate and butter are completely melted and mixture becomes smooth and elastic. Then prepared the glaze cool. Before serving pour in bowl lined with balls of ice cream "gourmand" chocolate truffle frosting.
Advice 2: How to make ice cream
The taste of ice cream today since the childhood known to everyone. It is so habitual that we are not even trying to learn how to make ice cream. But it is quite a time-consuming process. And how in compliance with all its terms, depends on the taste of the future Goodies.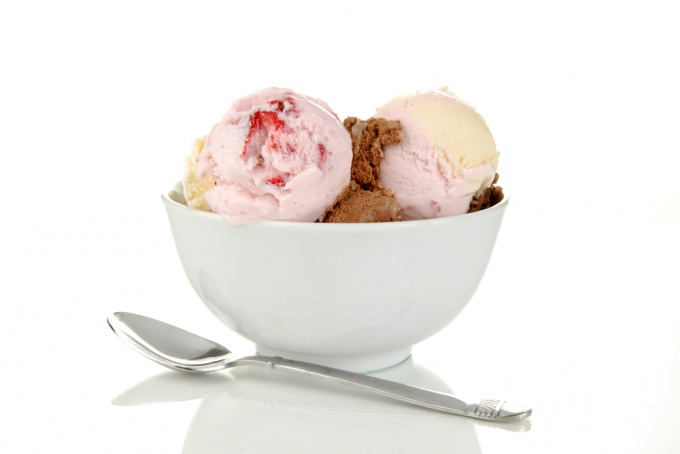 How to make ice cream production

The process of making ice cream at home and the production is very similar. Only the scale is different. First principal components (cream, milk, sugar, etc.), the composition of which is different for each factory, are thoroughly mixed in a huge VAT. Then the mixture uvarivaetsja in a special cooking facilities and homogenized. In order to prevent the development of bacteria and its pasteurized, and then it adds the necessary flavor. It may be cinnamon, vanilla, fruit and any other variation. The resulting billet freeze. This is done through a huge pipe connected to smaller pipes. By and large, the tube is pumped the future of the ice cream, and the rest are cooling substances. Their roles are different chemical compounds (ammonia, etc.) that contribute to the rapid cooling, but never directly with the ice cream do not interact, therefore health hazards are not present. The whole process is controlled by the computer.

The resulting cooled mixture is poured into special containers and is frozen for a short time (to avoid large crystals to very low temperatures. This process is called consolidation. After that, ice cream is ready for transportation.


How to make homemade ice cream
Make ice cream at home the recipes very much. But all they boil down to certain actions and products. The main components of ice cream include egg yolks and whipped cream. The delicacy owes its creamy texture. Other supplements depend on the taste of the manufacturer and used prescription. The components are mixed using a mixer, wooden spoon or whisk. Next, prepare the ice cream in the special ice cream shops. They are either manual or electric and are designed to ensure constant mixing. In the electric device provides the automatic cool mode. Manual ice cream maker consists of two containers, one of which is in the other. In the inner lays the ground for future sweets, and in foreign - shards of ice with salt. During cooking the mixture is continually stirred (automatically or using a special pen) until thickened (this hardening is not allowed). It is possible to implement the entire process manually, but it requires some effort and constant stirring, which is not always convenient.
Advice 3: Homemade ice cream with cream and condensed milk
We all love to eat delicious ice cream in hot weather or on holidays. Today we will talk about how to prepare ice cream at home. This will be the dessert of condensed milk and heavy cream.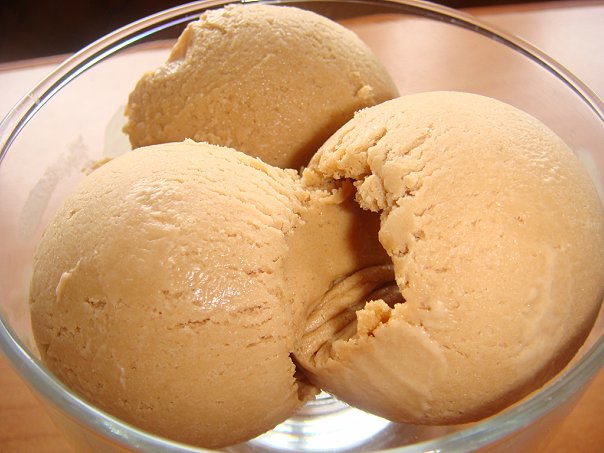 You will need
- condensed milk (100 g);
cream 30% fat or higher (300 g);
- cashews (40g);
- dark chocolate (4 slices).
Instruction
Heat a pan without oil, fry in it the nuts until Golden brown. Remove the cashews from the pan and leave to cool.
Chocolate RUB on a small grater. Nuts chop with a knife. Mix the chocolate with nuts.
Cream put on 20 minutes in the refrigerator to become cold. Beat chilled cream in 5 minutes. Add a tablespoon of condensed milk and continue to beat until the whites turn stiff.
In molds for ice cream put cream and milk a lot. On top sprinkle it with a mixture of nuts and chocolate. Close the molds with cling film, put them in the freezer for 6 hours.
If the ice cream was prepared in large plastic containers, can be difficult when removing it. To avoid them, set the container in a hot towel for 1 minute.
Advice 4: How to make ice cream from milk
Homemade
ice cream
is a great treat that will surely suit the tastes of your guests. If you make
ice cream
yourself, you can consider all the flavors, add different ingredients and in General to give vent to creative thoughts. Those who have never tried to make my own
ice cream
, it is better to start with dairy ice cream.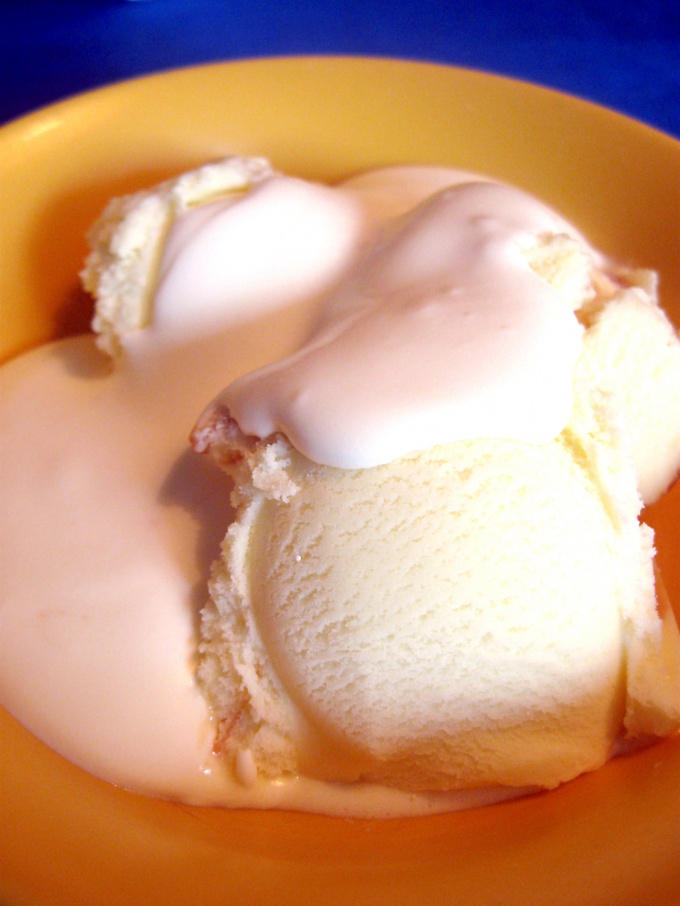 You will need
5 cups
granulated sugar 1 Cup
4 eggs
a bit of vanilla
sieve
pan
capacity for heating milk
wooden paddle
tank for ice cream
Instruction
Sift granulated sugar. A sieve is better to take not too large. After sifting the sand, wash it, you need it for straining.
Break the eggs and separate the white from the yolk. Proteins pour in a container and pour the yolks into the sugar. Carefully RUB the yolks with the sugar. If necessary, pour a bit of vanilla and mix well.
Heat milk. Spoon the mixture into the pan, fill it with hot milk and stir. Put the saucepan on medium heat and heat, stirring constantly. The mixture is very easy to digest, so you need to carefully keep track of her. Wait until the contents of the pan is slightly thickened. Foam from the surface should disappear by itself, to remove it is not necessary.
Remove the pan from the stove. Strain the mixture through a sieve and refrigerate. At this stage you can add in ice cream, raisins, nuts, soft caramel, jelly, chocolate chips. Pour mixture into container of ice cream and place in freezer.
Remove the ice cream immediately before serving and place in bowl. If you want you can add some syrup, sprinkle with coconut flakes or chocolate chips.
Note
Yolks with sugar RUB a tablespoon. A whisk or mixer for this purpose is not suitable.

Stir the contents of the pot, you need a wooden shovel.

If you add in ice cream of various flavors and food coloring, it is easily possible to obtain different varieties.
Useful advice
The glass is better to take 250 g. the Main thing is to observe proportion. You can use evaporated milk, and condensed milk.

To separate the protein from the yolk is most convenient in the traditional way. Break the egg so that the crack was in the middle. Break the shell in two halves over a mug or deep plate. Pour the yolk from one half to another, at the same time pouring the protein into the Cup. To do so, while in the shell do not remain protein.
Advice 5: Homemade ice cream: simple, tasty, healthy
To make ice cream at home is easiest if you have a special tool - the ice cream maker. This device is able to regularly mix the cooled mass, which is what you need to get a delicate dessert without ice crystals. However, it is possible to achieve such a result and manually.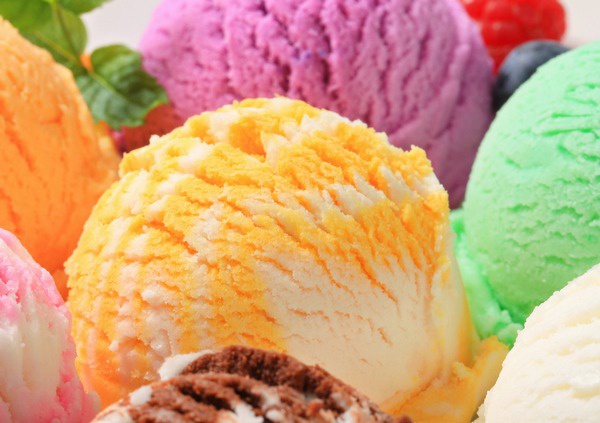 Homemade ice cream is good because it is always precisely known composition (unlike a factory product that can season with preservatives and obscure quality thickeners). Recipes are a lot better to start with ice cream without eggs in case of fear of poisoning. Mix 100 g sugar with 35 g of milk powder, mix all in 250 ml of milk and boil. When the liquid seethe, pour a mixture of 50 ml of milk and 10 grams starch. Reduce heat and, stirring, allow to thicken, then cool. 250 ml cream 35% fat content and cool whip and then fold in the broth. Put in a bowl with low sides and place in freezer. Every 15-20 minutes remove and stir vigorously with a whisk or blend in a blender until the mixture reaches the desired density and temperature. Or pour the finished mixture into the ice cream parlor.
You can make homemade ice cream without the cream. To do this, take any seasonal or frozen fruits and berries, cleaned from skin and seeds, mixed with an equal volume of yogurt (better to use homemade) and add sugar to taste. The mixture is left to blend and freeze. If there is no desire to frequently stir the product, it is better to buy a special small portion molds. They ice cream hardens quickly and evenly. For fruit dessert suitable currants, strawberries, raspberries, peaches, apricots, apples, etc.
Advice 6: How to make ice cream at home
Advice 7: What ingredients is natural ice cream
Concern about the naturalness of food consumed in the modern world stands upright. Natural products are harder to find, especially when we are talking about such a wonderful dessert, like ice cream.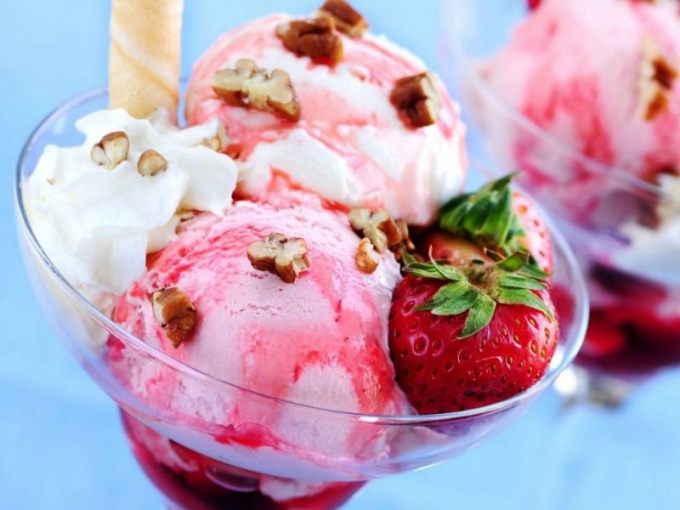 What should not be part of the purchase of ice cream
If to speak about purchase ice cream-factory production, it is important to pay attention to the composition. Natural ice cream should not be chemical substances, dyes and vegetable fats. Carefully study the composition of ice cream for the presence of palm oil. This is a very cheap and dangerous ingredient that is not processed by the human body, settling in the form of plaques on the walls of blood vessels. The composition of natural ice cream should be free of emulsifiers, oils and TRANS fats. All of these ingredients are harmful to health. Especially should carefully examine the packaging, buying ice-cream to children. TRANS fats, for example, clog the cell membrane of the body, complicating the process of cellular nutrition and elimination of toxins.
Easier at home the most simple ice cream, and then to modify it with additional ingredients to taste.
Natural ice cream must be milk fat (milk or cream) that contains nutrients and vitamins. Natural milk fat is very often replaced with vegetable, because it seriously reduces the cost of the product. Unfortunately, a good non-chemical ice cream to find in regular stores all the more difficult. You can do a search for the correct eco-friendly shops and markets where products are sold with minimal chemical treatment. Typically, these products are much more expensive than those that you can find in conventional stores.
You need to consider that are made without ice cream treat is usually pretty solid, so before use it is necessary to take a little at room temperature.
Homemade versions
However, the easiest way to make real ice cream without the questionable ingredients and additives, and the presence of ice cream done is not necessary, but if you like frozen desserts, the purchase of this unit will bring you a lot of joy. The most simple ice cream, which is suitable for all those people who have chosen vegetarian or vegan lifestyles, this ice cream is based on bananas. To do this, first freeze the fruit and then whip it with a blender. To the banana, you can add honey, sugar syrup, peanut butter. The result is a natural ice cream, which by its consistency will resemble custard. It will not be artificial ingredients, and preparing it simply and without unnecessary red tape.