An important role plays the choice of onions turnips varieties introduced for a given region, also play an important role. Not everyone knows at what temperature to store onions, to avoid strelkovanie.
Why bow strelyatsya?
The main reason that onion goes in the arrow – improper storage of planting material. Onion is a biennial plant, the storage period with decreasing temperature below the critical values he takes as a signal that it's the next stage in its development and to prepare for reproduction. Arrows – not that other, as the flower stalks, which are then formed seeds. To avoid strelkovanie, you need to prepare onion turnip planting and to know how to store onions properly.
Onion turnip keep it at positive air temperatures and low humidity. This can be achieved by storing it at room temperature. What to do if the bow is purchased just before boarding, and about the conditions of storage do not know anything? In this case, prepare the onion turnip planting?
In this case, bought bow just need a good dry near a radiator for 10-14 days, subsequently you should store onions turnip indoors, in a cardboard box with good air access.
Some gardeners recommend before planting to warm the onions in hot water 40-45 ° C, for several hours, then dry them well.
What if the onion goes into the arrow?
There are a few rules to avoid or reduce strelkovanie onions turnips:
no need to put onion in cold soil. Better to wait until the ground warms up to at least 20oC. Very often the arrow leaves the bow, planted before winter";
select for planting only strong onion varieties already familiar to you, with no signs of growth;
has a value and size of the bulbs in the arrow leaves large onions, so planting is necessary to choose onions of medium size, too big or too small onions on the pen also works.
before planting, soak the onion in a weak solution of potassium margantsevokislogo. This procedure you will accelerate the formation of roots, the bow will rise faster and begin to form a mass gain.
watering planting onions liberally and regularly but settled with warm water, since strelkovanie can be a response of plants to stressful growing conditions.
if the arrow is still there, pinch them in time to preserve nutrients. The bulbs will continue to grow, but for storage, they will be useless, unfortunately. Therefore, in the autumn of this onion only fit on the pen, you will need to use it in food in the first place.
Advice 2: Why bow strelyatsya
To get a good harvest of onions -turnips, should be planted onion sets in the very early stages, when still a lot of spring moisture in the soil. Many gardeners are faced with this unpleasant phenomenon. Planted onion sets "runs away" arrows.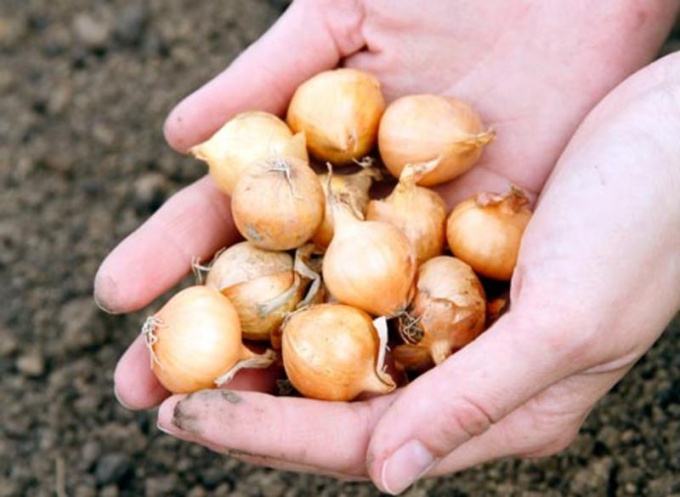 Instruction
If you bought the onion sets in the spring and don't know in what conditions it was stored -be sure to warm it. This is done so. Scatter onions in a single layer in a shallow box (boxes) and put in a warm place. For example, near the radiator. Warmed onion for 15 -20 days.
Strelkovanie affected mostly large sets. Such heating will significantly reduce strelkovanie plants.
Sets the small diameter of less than 1cm is usually not subject to strelkovanie. And regardless of the time of landing, conditions of storage at any temperature - the shooter throws.
Small onions can be planted in the spring and before winter.
Before planting onion sets to warm up and the sun if the weather permits.
It will be sufficient to take such sunbathing. Just don't leave your spring sets for the night on the street. Remember that spring night is still cold.
If onion you heat failed and the arrows still appear on the plants, willywayne them in the initial stage.
Plants, which continue to receive new arrows, alas, full of bulbs will not. This onion use to the greens in the first place. Pull out a bow from the ground.
Useful advice
On landing, use onion sets with diameters from 10 to 25mm.
Save big onion sets only warm method at a temperature of above 18 degrees.