You will need
- 300 g of fresh mushrooms;
2 tbsp soy sauce;
2 tbsp olive oil;
- 0.5 teaspoon of honey;
- the juice of half a lemon;
- a couple of sprigs of thyme;
- a mixture of peppers.
Instruction
Whole fresh mushrooms, rinse or gently wipe with a damp cloth.
Make each hat incisions in the form of "snowflakes", because of this they marinated better, and will look very beautiful.
Prepare the marinade for the mushrooms. Mix the olive oil with soy sauce, pour lemon juice, add the honey, the mixture of peppers to taste. Thyme leaves, remember your fingers, add to the marinade for flavor.
Now put in the marinade prepared mushrooms, toss them. Put the mushrooms in the fridge all night.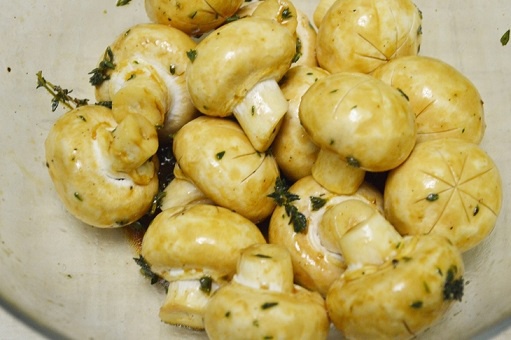 Preheat the pan, put the mushrooms, pour a small amount of marinade.
Fry the mushrooms over high heat about 5 minutes, stirring them.
Cooked mushrooms in soy sauce can be served warm or cold - either way they are delicious, being a universal appetizer in any table.