You will need
- minced meat - 700 grams;
- tomato paste - 2 tablespoons;
- olive oil
- carrots - 2 pieces;
- onions - 2 pieces;
- tomatoes in own juice - 2 banks;
- garlic - 2 cloves;
- pepper - 1 piece;
- dry red wine;
- milk;
Sol.
Instruction
First, cut all vegetables in small cubes. Razdelyaet in chesnokodavilke garlic.
In a frying pan, pour and heat the olive oil, spread chopped vegetables. Fry them until Golden brown.
To the vegetables add the minced meat and mix it very well with vegetables so as not to leave large lumps.
Once the mince starts to brown, pour in a pan the milk so that it cover the whole mass. All stir again. Cook 10-15 minutes, during this time, milk is well impregnated with our meat.
After soaking milk in the stuffing, you need to add the same amount of wine in the pan. The wine must also cover our ground, and after to soak into the meat.
When the wine is absorbed, you need to put minced tomato paste and add tomatoes.
Now we start to push all the tomatoes, most importantly, there is not one whole.
In the pan filled up all the spices, cover with a lid and reduce the flame.
Leave our sauce is stewed for 3-4 hours. While most of the water has boiled off.
The result is a thick and delicious Bolognese sauce. Bon appetit.
Note
When roasting vegetables, ensure they don't burn. While simmering the sauce, do not forget to stir it every 30 minutes.
Useful advice
In the sauce add parsley.
Advice 2: Tagliatelle with Bolognese sauce
Tagliatelle with Bolognese sauce is an Italian delicious dish of pasta soaked in a tomato-meat sauce. Due to the fact that the Bolognese sauce is stewed for a long time, it just melts in your mouth.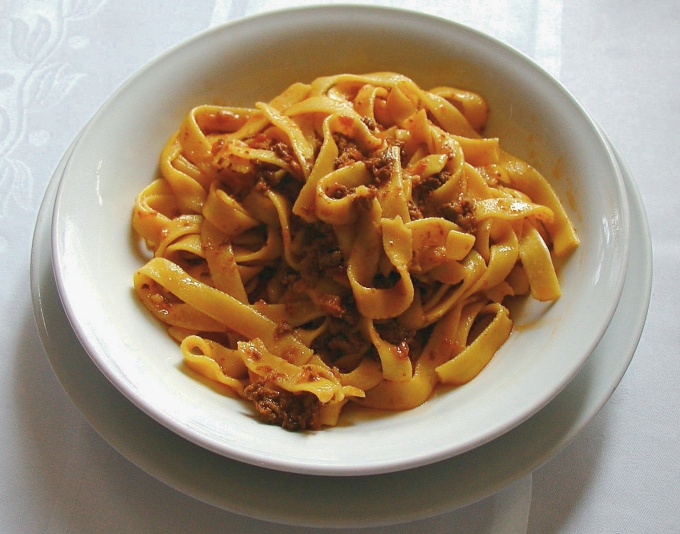 You will need
For the Bolognese sauce:
- 800 grams of tomato;
- 500 grams of ground beef;
- 100 ml cream;
- 50 grams of carrots;
- 50 grams of onion;
- 2 cloves of garlic;
- 1 stalk of celery;
- vegetable oil for frying;
- 1 tsp dried oregano;
- pepper and salt.
For serving:
- 350 grams of pasta tagliatelle or other pasta;
- for sprinkling Parmesan cheese.
Instruction
Brush the carrots and onion. Cut into very small cubes. Do the same with celery.
Heat the pan vegetable oil. Put the celery, carrots and onions, fry vegetables for about five minutes, stirring from time to time.

Add to the pan the ground beef and continue to cook for another 10 minutes. While cooking, break the mince with a spatula into small pieces for the sauce to obtain a homogeneous mass.
Tomatoes scald with boiling water, remove the peel, cut into small cubes and add to the pan.
Add oregano and chopped garlic. Pepper, salt, mix thoroughly.
Cover and simmer on low heat approximately 2 hours.
For half an hour until tender pour in the cream, stir and continue sautéing.
Boil the pasta as written on the packaging.
Lay out pasta on plate, put sauce on top and sprinkle with grated cheese.